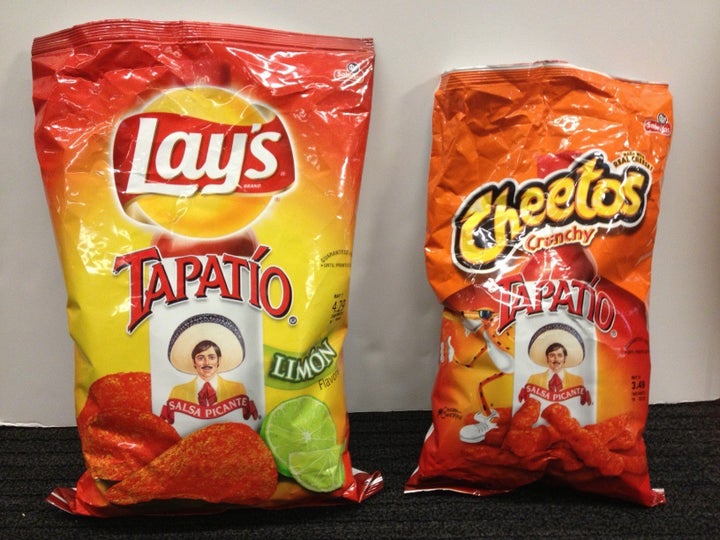 Attention fans of Tapatio hot sauce -- Frito-Lay is rolling out a mini-line of snacks flavored with the spicy condiment. Two new flavors, Lay's Tapatio Limon-flavored potato chips and Tapatio Cheetos, join Tapatio Doritos tortilla chips as new offerings in the Frito-Lay universe.
Both pack a spicy punch, the Cheetos in particular. In that respect, they're certainly in competition with Flamin' Hot Cheetos. (You might recall the latter product caught some negative press for its nutritional content, which culminated in the banning of the product in California, New Mexico and Illinois.) Tapatio Cheetos may not be as spicy at first bite as the Flamin' Hot Cheetos, but its burn lasts longer.
According to a company press release, "both snacks include a unique combination of red chili peppers, spices and a hint of garlic -- the same ingredients used to create the original Tapatio hot sauce recipe."
HuffPost editors largely agreed that the new products actually tasted like hot sauce, and that's a good thing. "Really spicy, much more than expected," one editor said. "I love that they really taste like Tapatio, especially because it's one of Earth's greatest hot sauces."
Not everyone was wowed, though. "I felt like they were all heat with no taste," another editor lamented.
Unfortunately for Tapatio enthusiasts on the East coast (which includes some HuffPost editors), both new chips are only available at stores in western and central U.S. states. What gives, Frito-Lay?