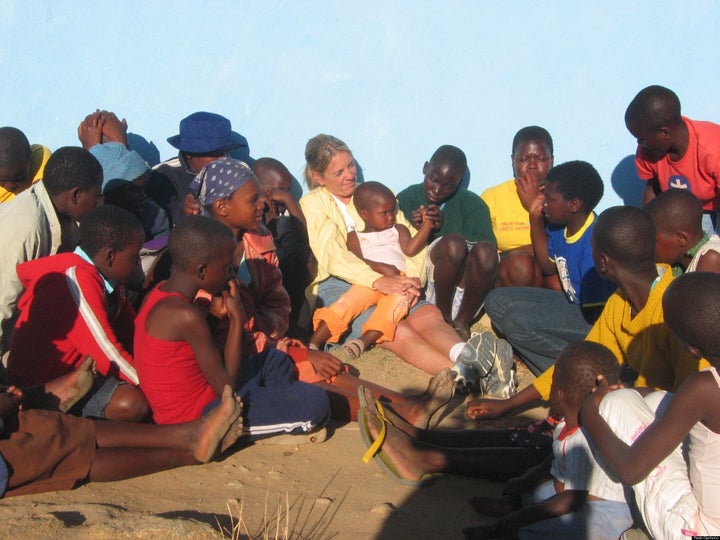 In 2007, American filmmaker Michealene C. Risley found herself sitting in a car outside activist Betty Makoni's Zimbabwe home. The driver whispered frantically, "Stay in the car, something's wrong."
Before she knew it, the vehicle was surrounded by 15 menacing officers from the country's Central Intelligence Organisation. Convinced Risley was a spy, the officers arrested her and her assistant, taking the two women to jail for questioning.
Despite accusations the women were working for the CIA, the women were really in Zimbabwe to document a human rights crisis -- the ongoing violence against women and girls.
Officers rifled through Risley's personal papers -- notes on the documentary film she was making. One officer threatened Risley, telling her if she did not burn all the papers, she would be tortured.
The women were imprisoned for two more days, without food and water. When Risley contacted the U.S. Embassy, their advice was: get out of the country as soon as you can or risk death.
Risley paid off prison guards to get her and her assistant out of jail and paid for their own deportation. After only 10 days in Zimbabwe, the filmmaker was on her way home.
In a poor nation fighting the AIDS crisis, a persistent myth tells HIV-positive men that they can be cured by raping a virgin. As a result, young girls continue to be brutally assaulted and left with disease.
After a chance meeting with Zimbabwean activist Betty Makoni in California, Risley boarded a plane, intent on filming a documentary about Makoni's courageous work. Makoni, who was later honored as a 2009 CNN Hero, founded of the Girl Child Network, an organization providing help for young victims of rape.
Risley's film "Tapestries of Hope" is now complete and set to be released next week. She affectionately refers to the film as the "little engine that could," a testament to the struggles she endured to document the abuses of girls in Zimbabwe. Grateful for all the help she received along the way, Risley told The Huffington Post, "Without the pro bono efforts of so many people...this would not have gotten done."
The film will be shown in over 100 theaters across America on September 28 -- for one night only. Cinema advertising company Screenvision and Brainstorm Media's documentary event series Something To Talk About have teamed up to bring the film's taboo subject matter to national attention.
A full list of theaters showing the film is available online -- along with links to purchase tickets.
Each screening will be not only a cinematic event, but a call to action. Risley tells HuffPost "It's not just a movie, it's a mission." She says, "[The film] hits a chord and people say, 'How can we help?'"
Volunteers at each location, many of them law students or human rights activists, will encourage audience members to sign a petition urging Congress to pass the International Violence Against Women Act.
The petition is also available online and supporters can follow the campaign on Facebook and Twitter for further updates.
Viewers who are inspired by the film can make a donation to Risley's nonprofit, Freshwater Haven. The organization raises international awareness about violence against women and supports the girls of Zimbabwe through Makoni's Girl Child Network.
According to Risley, a $10 donation can keep a girl in school for four months, a $50 donation can fund a rescue mission to save a girl that's been raped in a remote region of the country or a $300 donation can feed a girl for an entire year.
Popular in the Community