In June 2017, I traveled to Slovenia at the invitation of the US Embassy in Ljubljana to lead seminars on entrepreneurship. A few months prior to my departure, I asked my friend Tom Kosir for suggestions on what to do and where to go. Tom is a second generation Slovenian living in Cleveland, and he often travels back to Slovenia to vacation and visit relatives. But he doesn't have to go all the way to eat fresh-baked Slovenian bread or hear Slovenian music. Cleveland actually has the largest population of Slovenians outside of Slovenia—close to 100,000 people with Slovenian roots live in our region! Tom loaded me up with travel brochures and useful information, and I eagerly planned my trip.
Situated north of Italy, Slovenia is slightly smaller (geographically) than New Jersey. It joined the European Union in May 2004 and is home to two million people. Upon our arrival in Ljubljana, my family and I enjoyed a stroll next to the River Ljubljanica, ate a delicious meal of Prekmurje bograc (a traditional goulash of spiced beef, pork and venison) in a charming restaurant, and bought fresh strawberries at the busy central market. With its picturesque, Baroque-style buildings, the city center reminded me of Prague.
Slovenia is a haven for nature enthusiasts or anyone looking for outdoor adventure. While my wife and children (who joined me on my visit to Slovenia) rafted, hiked, and went paragliding in the snow-capped Slovenian Alps and crystal-clear rivers, I led seminars on entrepreneurship with the local startup community in Ljubljana and Maribor.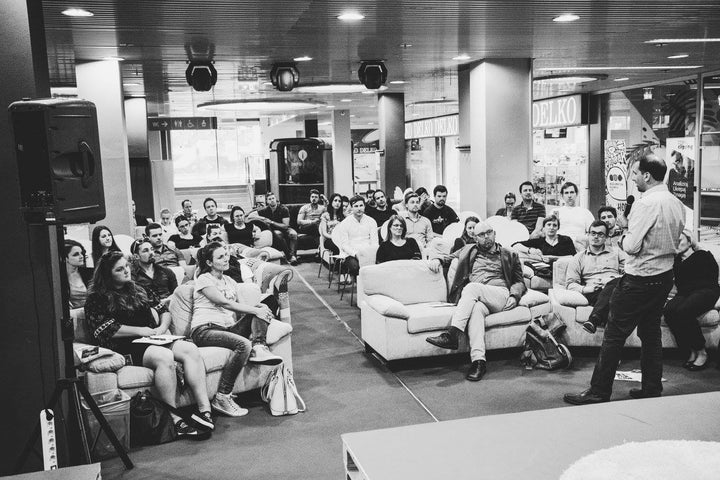 Among the topics I covered in my seminars in Slovenia was angel investing. I've led discussions about how communities can more effectively support the growth of entrepreneurship in 24 countries in the last 5 years. No matter what part of the world I'm in, people are always eager to discuss angel investing. It's no wonder—entrepreneurs everywhere need capital to start and grow their businesses, and in some places, angel investing is relatively new or non-existent.
While in Slovenia, I saw that the Slovenians were having a hard time finding angel investors within their home country. Angel investing there is a nascent idea. A different approach came to mind. I thought of the people I knew who had moved to the U.S., built successful businesses, and turned around and supported companies back in their country of origin. I thought of the large and successful Slovenian community in Cleveland. I wonder if they've talked to those people? I thought.
At a couple of my meetings, I brought up the possibility of Slovenian entrepreneurs approaching wealthy Slovenians living in the diaspora to fund their startups. Jakob Gajšek, the Co-Founder and Head of Venture Relations of the ABC Accelerator, told me that he's thought of this idea, but it's not been easy. ABC Accelerator has a small office in San Francisco, but even with a physical presence, finding Slovenian diaspora angel investors has been a challenge.
One of the champions for Slovenian startups looking to expand and raise capital in the U.S. market is Jure Leskovec, Chief Scientist at Pinterest and Associate Professor of Computer Science at Stanford University. Jure was born in Slovenia and earned his undergraduate degree in computer science at the University of Ljubljana and a Ph.D. at Carnegie Mellon in Machine Learning. After graduate school, Jure co-founded Kosei, a machine learning startup in Palo Alto, which was acquired by Pinterest in 2015.
Jure acknowledges the challenge for Slovenian startups to attract investment interest from Slovenian diaspora. Many of the Slovenians that have immigrated to the U.S. over the past few decades were fleeing communist Yugoslavia and may not have a deep connection with modern Slovenia. Also, Jure points out that the Slovenian startup community hasn't yet built a strong track record of exits (acquisitions or IPOs), and some concerns exist related to Slovenian companies' corporate structure.
Borut Zemljic, CEO of Producta, an ABC Accelerator portfolio company in Slovenia, shared with me that while his visit to Silicon Valley in March 2017 helped him polish his pitch and better understand the U.S. market, he did not connect with any Slovenian-American investors interested in backing his company. I was surprised to hear from Borut and other Slovenian entrepreneurs how challenging it has been to engage the interest of Slovenian diaspora investors.
My friend of Slovenian descent in Cleveland, Tom Kosir, told me that no one had ever approached him to invest in Slovenian startups. I shared with Tom a list of Slovenian companies that were currently looking for investment capital (including Producta, which produces drinking water treatment products; SleepyBottle, which creates bottles for baby formula; and Homey, an app that allows families to manage chores and give out rewards). Tom thought the companies sounded interesting, but he was focused on funding the growth of his own business At least for now he wasn't interested in becoming an angel investor in any startup (whether it be Slovenian or from the U.S.).
Tom's response is not surprising. It takes a great leap of faith for a potential angel investor to start deploying capital in startup companies in sectors they know little about, let alone from overseas markets where they likely have less oversight and protection of their investment.
Though the entrepreneurs in Slovenia have not yet found much success with their diaspora (or they haven't yet found a way to systematically reach out to them), I have seen entrepreneurs in other international communities with a completely different story to tell. Working with a partner in Tel Aviv, I set up a Cleveland-based venture capital fund in 2006 called the Bridge Investment Fund to invest in Israeli medical device companies that had strong synergies with the medical institutions in Cleveland. Our investor base included a number of angel investors in Cleveland who were interested in supporting the growth of Israeli startups as well as seeing them develop their U.S. market entry activities in Cleveland.
It was not easy to attract investors to our fund, and most of the angels we pitched had a reaction similar to Tom Kosir's: they were focused on growing their own businesses and did not have confidence in deploying capital in companies that were an ocean away. But (after a ton of phone calls and meetings) we found enough people who believed in the idea and made significant investments. What truly motivated my angel investors was ROI and Israel's growing track record of producing successful technology-based startups. Plus they wanted to grow jobs in Cleveland. We offered a way for our investors to kill many birds with one stone. Thus, a diaspora community can become a source of external capital (including for my own venture fund), and it can help to grow a startup ecosystem.
As entrepreneurs try to raise investment capital in diaspora markets, using the "shared nationality card" can be a way to get the door open to an initial meeting. While it is not easy to identify and get meetings with investors overseas, I would encourage entrepreneurs to continue to try and broaden their networks of potential investors when making their pitches. With time (and a lot of determination and effort) entrepreneurs can educate potential angels in their diaspora, and I believe they will ultimately find interest from investors.
Related
Popular in the Community