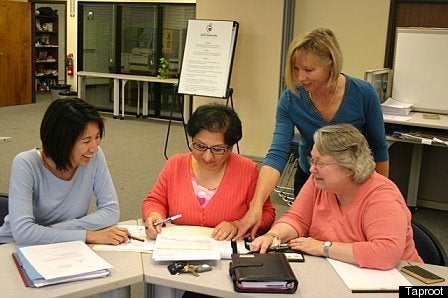 Last year, volunteer interest was so high in America that "for many nonprofit groups, every day [felt] like Thanksgiving at a soup kitchen," wrote Aaron Hurst, founder of volunteer-matching veteran, Taproot. Many came from the newly unemployed or underemployed and fed into the valuable sub-sector of skilled volunteers-- skilled professionals who volunteered "expertise, not just youthful zeal".
Things are looking a little different this year. As the job market recovers (albeit at a glacial pace) last year's honeymoon period of volunteerism may be dissipating as skilled volunteers find paid work elsewhere.
"As the economy improves there's been a significant decrease in volunteers this year, which is creating issues for us," Hurst told HuffPo.
"Non-profits need support now more than ever before. There have been extreme budget cuts at both the city and federal level, so non-profits have had to cut a lot of their admin staffing, or fundraising, human resources, tech, strategy--major cuts--we really desperately need people," Hurst says.
Founded in 2001, Taproot is one of the oldest and largest facilitators of skilled volunteers, matching business professionals at both the corporate and individual level with non-profit opportunities. With branches in Chicago, Los Angeles, New York City, the San Francisco Bay Area and Washington, D.C., Taproot claims it has facilitated millions of dollars worth of services to non-profits, and aims to offer $2 billion worth of services to nonprofits every year by 2020.
Areas with the greatest need are Los Angeles and Washington, D.C., says external affairs manager Dupe Ajayi, and particularly in the marketing domain.
"Americans need to be reinvigorated to continue to serve," Hurst says.
Hurst also doesn't buy the "no time, no money" excuse for not volunteering.
"Some of our best volunteers work 70 hours a week," he says. "The reality is that it's never a question of time and money, it's a matter of making this a priority in your life. It's like going to the gym for me . . . I say I don't have time to go, but in reality I just don't want to."
Click here to learn more about Taproot.

Related
Popular in the Community