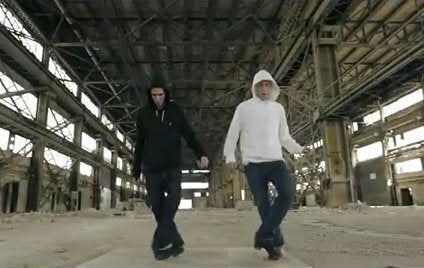 TapTronic, a group which describes itself as "a progressive fusion of Irish dance and electronic music," has premiered its first video.
TapTronic draws from old-style Irish step dancing to add an extra layer of "step" to dubstep dancing. Like traditional step dancing, there is an emphasis on making percussive sound with one's feet, and the dancing space is limited to a small area.
Scroll Down For TapTronic's Dance Video
The Flight Facilities original is by and large a pop song. The Adventure Club remix chops and screws the beat into the dubstep format, an electronic genre that started in the United Kingdom and has since spread around the world.
One semi-technical video primer on dubstep, describes the electronic genre as an "ultra slow, ultra dirty spawn of hip-hop."
While dubstep is a relatively new genre of music, it does have its own type of dancing. "Traditional" dubstep dance, if that term can be used, more closely resembles dancers doing "The Robot."
WATCH: TapTronic Dances To "Crave You" (Remix), And Related Videos
Related
Popular in the Community