Until about a year ago, it didn't even have a marketing team.
But it didn't take content guru Tara-Nicholle Nelson long to put her stamp on the already booming company. When Nelson first took on MyFitnessPal as a client at her consulting firm, the start-up already had 45 million users. In addition to its 85 million users, MyFitnessPal is one of the top health apps in over 72 countries around the world.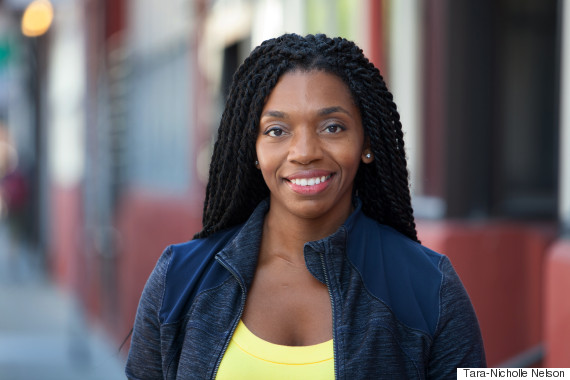 Nelson was eventually wooed to join as head of marketing, and her life experience seems almost predestined to have landed her in this role. She is a lawyer, published author and licensed real estate broker, and has a master's degree in psychology. While working in real estate, she wrote a book called The Savvy Woman's Homebuying Handbook, and it launched her into a career with HGTV.
At the age of 39, she has already had multiple successful careers by anyone's standards. But even before all of that, she was a mother.
When Nelson got pregnant at age 16, her high school principal in Bakersfield, California, stepped in and called colleges on her behalf. Nelson had started school young and was already taking night classes at a junior college for fun (and so she wasn't "bored," as Nelson put it). Because of this, she was able to get into California State University, Bakersfield way ahead of schedule.
"I am the only person I know with as many degrees as I have who never took the SAT," she laughed.
"I feel like my life story really is one of reinvention. Serial reinvention. When I decide that I want to do something or that something is not working, I'll think about who I really believe I can be. I will start to change my belief system and behavior and even who I spend my time with."
Nelson came from a hard-working family. Her 85-year-old grandmother and all of her grandmother's sisters have college degrees. She describes her father as smart and very achievement-oriented.
"I think he probably drove me too hard as a very young child," she said. "I went to this great private school and I was the valedictorian of my kindergarten class. That shouldn't even be a thing. But it was. I was 4 years old and was really proud of it!"
Whatever normal childhood anxieties she may have had, Nelson said, she knew she was smart and knew she was good at school. "These things were a core part of my identity as a kid."
As a freshman at Cal State Bakersfield, she was paired with a mentor who was a professor of psychology and had had multiple kids very early in life. "My first exposure to university was this woman who told me on day one that I had to start thinking about graduate school," Nelson said.
Nelson's drive, mixed with immense support from teachers and mentors, pushed her to take on graduate school, an internship at the FBI Academy and eventually law school -- all while raising two kids with special needs.
She had one child with her first husband, and raised her stepchild for about nine years after getting divorced. Her older child has Asperger's Syndrome, and the younger has glaucoma and learning differences.
"Now I look back on it and think, I'm so glad that I was that young when I was faced with all of those things," Nelson said. Because she was awarded a scholarship for her undergraduate study, she was able to work part time while being in school. A big factor in choosing the University of California, Berkeley for law school was its fantastic childcare program and support for student families.
But raising kids while she was in school for multiple degrees was never something that Nelson saw as an obstacle. Thinking back to her grandmother, who was one of four black female students growing up in Texarkana, Texas, and still got her college degree, Nelson says being pregnant as a teen wasn't a stumbling block.
"When you look at that kind of a history and people surviving and thriving with great obstacles, having a kid at 16 years old just didn't seem like it should stop anything," she said.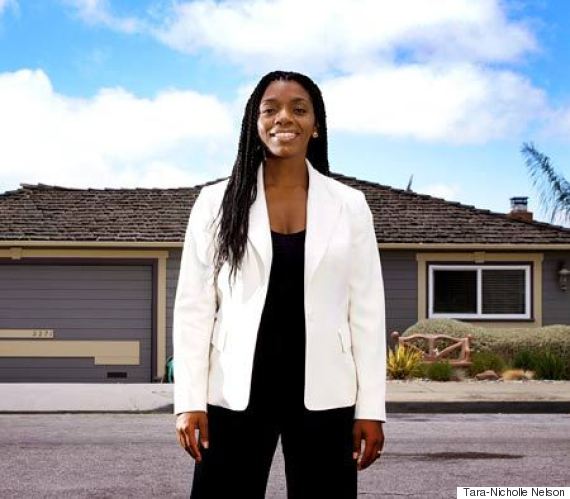 Nelson in front of the first home she ever bought.
Her personal mantra is three words: "Dwell in possibility."
This Emily Dickinson quote is something that she said has guided her through every chapter of life. "That's my theme song. I have had a number of people in my life at various important times that I call my 'pivot people.' My mentor in college was one."
She tells the story of finishing her master's degree in psychology and casually applying to a tiny law school called the Bakersfield School of Law, which no longer even exists.
When the school registrar received her test scores, she personally called Nelson and said she shouldn't go to school there. "You can get into any school in the country. You have to go apply wherever you want to go," Nelson said the stranger told her. Because of that, she got into the law programs at Stanford, UCLA and Berkeley -- some of the best in the entire country.
"I have had a number of pivot people who have given me some variant on that Dickinson quote. Basically telling me this way bigger thing is possible and to go look at that."
Her real estate book put her in the spotlight right around the time the market crashed in 2007, and as she went on press tours she began to learn about branding and marketing. Before long, Nelson was hired for a role specifically built for her at the popular real estate website Trulia in San Francisco.
She stopped selling real estate and joined the company full time in-house. After that, she moved over to the agency that did PR for Trulia (taking them with her as her client) and was so good at that, she decided to build her own marketing and consulting firm called Rethink.
MyFitnessPal became a client of Nelson's at the firm -- but her connection to fitness and health reinvention was not strictly business. In the summer between grad school and law school, Nelson lost over 60 pounds, inspired by a three-minute Tony Robbins speech about the power of identity.
"Every decision I made after that was filtered through that lens of what would a fit person do?" Nelson said.
"Sometimes the answer is yes, a fit person will eat truffle fries as part of staying balanced and not feeling deprived. I changed everything. I changed what I read in my spare time. I changed whom I hung out with."
During law school, she worked as a personal trainer.
Her background in psychology, her marketing experience and even her personal history with weight loss all primed Nelson for MyFitnessPal. But she wasn't overly eager to walk away from the business she had built.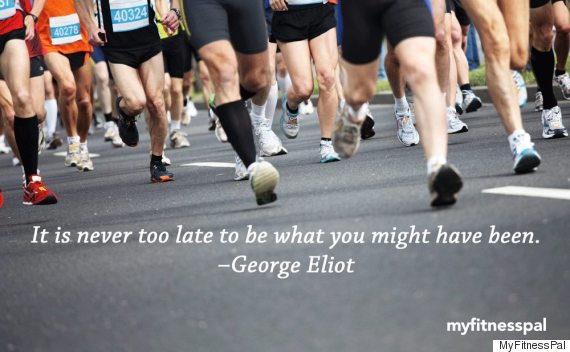 Nelson was hired to map out exactly what MyFitnessPal's marketing plan should look like -- even down to hiring the roles for the company. All roles except the one at the top.
"CEO Mike Lee made the job offer over and over again," she said. "Over time, I could hear how I was talking about the people in the company. They are very high quality human beings and are exceptionally empathic to users. I have worked with a lot of tech companies and it's surprising how strong of a 'helper gene' people at MyFitnessPal have."
Nelson says she accepted the job, expecting it to take four or five years to get to an acquisition. On almost exactly her one-year anniversary with MyFitnessPal, Under Armour acquired them for more money than they imagined.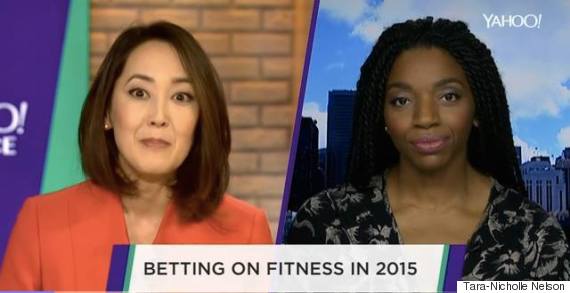 Today her new title is VP, Marketing for Under Armour Connected Fitness, and she says it's a little like being back at a start-up while they build a new organization under the Under Armour umbrella. The future entails a brand new holistic health, fitness and sports performance platform that will serve both Under Armour's and MyFitnessPal's massive audiences.
Nelson has taken risks at every turn of her career and shows no signs of stopping. This year she will celebrate her 40th birthday by attending and throwing parties and traveling around the globe -- every other month for 18 months. She will do some of it alone and some of it with friends, and Mexico, Cuba and Croatia are already on the list.
Asked about her experience as a woman in tech, she said, "I leaned in because, frankly, I love to work and love to create impact in the world -- and because I had a mortgage to pay and children to support. More women have this kind of an issue than women who don't."
She has her Dickinson quote and her pivot people, but she also is adamant about believing in yourself. "I think it's great to have women modeling leadership roles for other women. But if you don't see that, it doesn't mean it's not doable for you. Maybe that means you're supposed to be that role model."