It's not often you hear about big innovations in the cruise industry, so when I first learned of Fathom, a new offering from Carnival Cruise Line dedicated to impact travel, volunteering and social immersion, my ears perked right up.
Last month I traveled to the Dominican Republic with Fathom to see what this new company was all about. For three days I found myself doing things fantastically out of the realm of my normal life: building and delivering clean water filters to families who struggle with finding and affording this basic necessity; picking, cleaning and shelling cocoa beans for a women-owned chocolate factory co-op, and teaching English in a local school.
As an entrepreneur myself, I'm fascinated with ingenuity. So, I decided to speak with Tara Russell, 38, president of Fathom, to find out how this all began.
Like most good ideas, it started over dinner.
How did the company originate?
"It's an interesting story. I've known Arnold Donald for years, and shortly after he took the job as CEO of Carnival [Corporation], I was in Miami for meetings and we were having dinner, and I brought up the fact that there were a lot of travelers like me who weren't traveling by cruise ship and were interested in having a different type of experience.
It started with a basic conversation in August of 2013, and the rest is history."
Did this all just come up organically in conversation over dinner, or did you go with the intention of pitching this idea?
"It was just a conversation at dinner at first. I was just really for the first time learning a lot about his new role and about the industry, and as a person who is a serial entrepreneur, I was eager to understand the cruise industry."
"That initial conversation was in the summer of 2013, and that fall I began to build the vision and the strategy and began to identify our first team members. In early 2014, I brought on a team and we spent the first year in extensive qualitative research, trying to understand the market and explore whether or not there was a hunger.
What we found was it was a niche market, but growing, and so we started building the model of the company in the summer of 2014.
We'd been at it for a year when Obama eased restrictions on Cuba, so it wasn't until then that we started to look at Cuba. In the spring of 2015, we made the announcement when we got approval to be able to travel to Cuba."
What's your personal travel style?
"I've spent a lot of time abroad in Southeast Asia and throughout Europe. I lived in Bangkok for years, my husband was based there as well, and my son was also born there. We love to travel--we've been to 60 some countries and have done a ton of backpacking abroad and lot of job training all over.
We've done every kind of travel there is, really, and we've really become international travelers and explorers and we've fallen in love with the many different types of travel. I love to run and bike and hike, and we spend a lot of time outside. We spend a lot of time now in the mountains, so this is fun to be able to enjoy the mountains, and the ocean as well."
Do you have experience volunteering abroad as well?
"My first career was in the corporate world [engineering] and in the past 15 years, I've been building social enterprises and non-profits focused on social missions. I was involved with a company called Create Common Good, a food company that provides training to refugees and women at risk and many other groups of people, and that was what I was doing when I met Arnold.
It wasn't new to me to be building an enterprise focused on a social mission."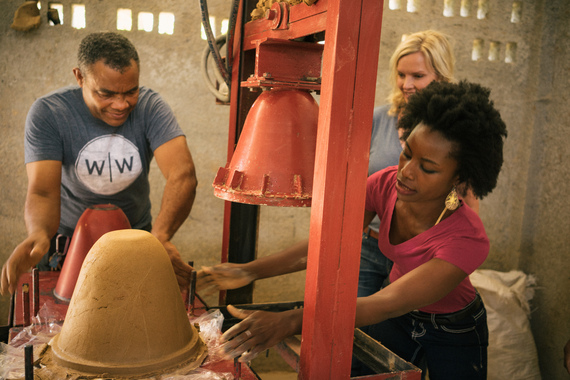 Fathom will bring guests to Wine to Water, a local company that creates clean water filters. Pic by Carnival Corporation.
What sorts of travelers do you find you are attracting to Fathom?
"The demographic of our travelers are quite diverse; we have travelers from age 8-80 and above. While they all have similar interests and desires, we see three key target profile groups. One is purposeful millenials, those hungry to combine value with their purchases.
We also see mindful families, with families like mine, kids 8-10, who wants to create experiences together that are impactful and enriching but want to do it in a way that someone else takes charge of details. Then there is the last group of those who are veteran travelers who want an opportunity to get in the game and have their chance to use their own gifts and talents."

With the inaugural voyage this week, how do you feel?
"I'm sort of a mess of emotions. I have so much excitement to finally be able to share this with the world, and I have enormous gratitude for each and every one of the thousands of people who have been a part of making this possible. I'm proud of our ship, which I'm on right now, and I'm proud of what we've been able to do together, and I'm also very hopeful.
There are a lot of things we've planned and predicted for, but the reality is none of us really has any idea or comprehension of about the ripple of impact we are going to create. I'm excited to see how greatly the lives of travelers are going to change when they come back home, and what great things they are going to go on to do afterwards."
--
Fathom's inaugural voyage to the Dominican Republic is this Sunday, April 17th. Their ship, the Adonia, will also bring travelers to Cuba via their people-to-people program beginning in May. Visit Fathom online for more info.