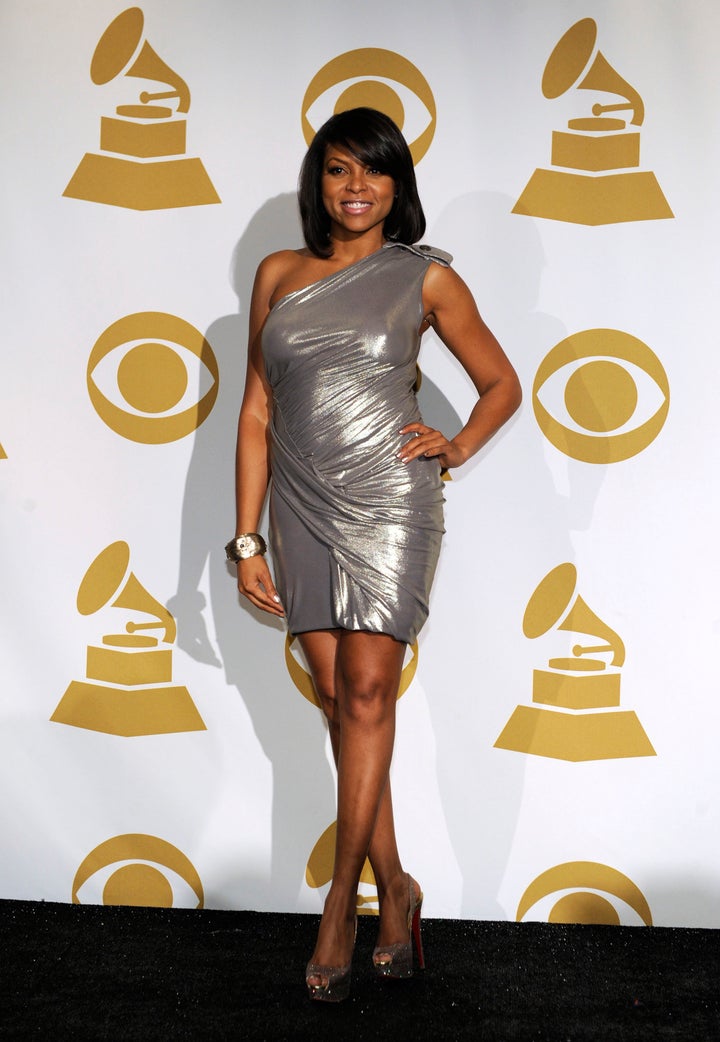 Taraji P. Henson plays tough-as-nails Detective Carter on the CBS drama "Person of Interest," but her turn on the small screen follows an eclectic movie career, from her roles in movies like "Hustle & Flow" to her Academy Award-nominated turn in "The Curious Case of Benjamin Button."
The 41-year-old single mom spoke to The Huffington Post about the show, working with Brad Pitt and what she thinks is the best birth control out there.
On "Person of Interest," you play the tough cop who yells, "I need those reports now!"
Yeah, she's pretty tough. She's seen some things, done two tours, but she's one of the good cops. I know sometimes cops can have bad reputations but there are good cops that exist and she's one of them.
This show is about vigilante justice. Do you agree with it?
As long as no one's getting hurt and as long as it's safe. But that's the thing about it, you don't know. You have no idea. That's why cops take a risk; that's why there are laws to prevent people going out and doing things.
You're in this show with Jesus (Jim Caviezel, "The Passion of the Christ") and the creepiest guy on TV (Michael Emerson, "Lost").
(Laughs) Everybody was all concerned if we were going to get picked up. I was like, "Are you kidding me? Jesus is in this."
You've had an incredibly diverse career so far.
I'm just getting started. I still haven't done theater yet. It's funny, my audience is a wide range of people: Kids from "Karate Kid," and then I have a mature crowd from "Benjamin Button." I have a cult following because of "Baby Boy," my very first film. They play it a lot on the channels that play videos. It's a really interesting mix and I love it.
You've done a couple of movies with Tyler Perry and John Singleton. It's great to be a stock actor for a director.
Absolutely. In a pickle, I could get a job.
I don't think you have to worry.
Every actor -- I don't care how long they've been in the business -- worries. That fear of "When is the phone going to stop ringing?" But I don't suspect it will ever stop ringing. I'm going to be like Betty White. I'm going to work for as long as I want to.
You're also a single mother. Is it hard to juggle being a mom and a working actress?
It's difficult but such is life. It comes with challenges but at the same time I love being a mother. It's the best part of my life. It enriches my life so much. It gives me other things to think about besides this crazy industry that I decided to partake in. It keeps me grounded and focused on what life is really about.
You were in "Benjamin Button" with Brad Pitt. He's super hard to look at.
You know, he found it very hard to look at me. You see, that's what people don't realize. He was extremely nervous to be around me. No, true story: When I was working with the actual Brad Pitt, my character had already aged, so he was used to seeing me with droopy boobs and wrinkled skin and gray hair. So the first time he saw me out of my wardrobe, he was like, "Whoa momma! Hot momma!"
I knew I had him when we came back for re-shoots and he told me that he watched all of my movies. I started naming them and he was like, "Yep, yep, yep." I thought that was great.
So did you give Angie a run for her money?
No, you know what? I think that's a match made in heaven. You know how you see couples and you say they were put on this earth to be together? That's how I feel about them. It doesn't seem contrived; it seems really real.
All actresses complain about work, but is it even harder for black actresses?
For me, it's about other characters that I would love to play and I know I will probably never get to.
It does, but I try to think about the positive. I think one day I'm going to meet that producer who's thinking outside of the box, like ["Person of Interest" executive producers] J.J. Abrams and Jonathan Nolan did. This is a three-person cast. They didn't have to go black, you know what I mean? I'm just going to continue to focus on my craft and I've got to know that there are people out there that think like most people do.
You're a mom and your son is 17. He's almost all grown up!
Yeah, people assume when I say that I have a son that he's little. He's looking at colleges now.
Are you going to cry or be really happy when he leaves?
I'll probably be 50-50. It'll be like, "Woo-hoo I'm free!" The other half will be like, "What do I do now?" I'm so used to being a mom, and so used to saying, "Put your dirty clothes in the washroom! What do you want to eat for dinner?"' I'm so used to that. What do I do with myself after that?
Noooo! No, thank you. You want to know what my birth control is? It's called "teenager."

Related
Popular in the Community