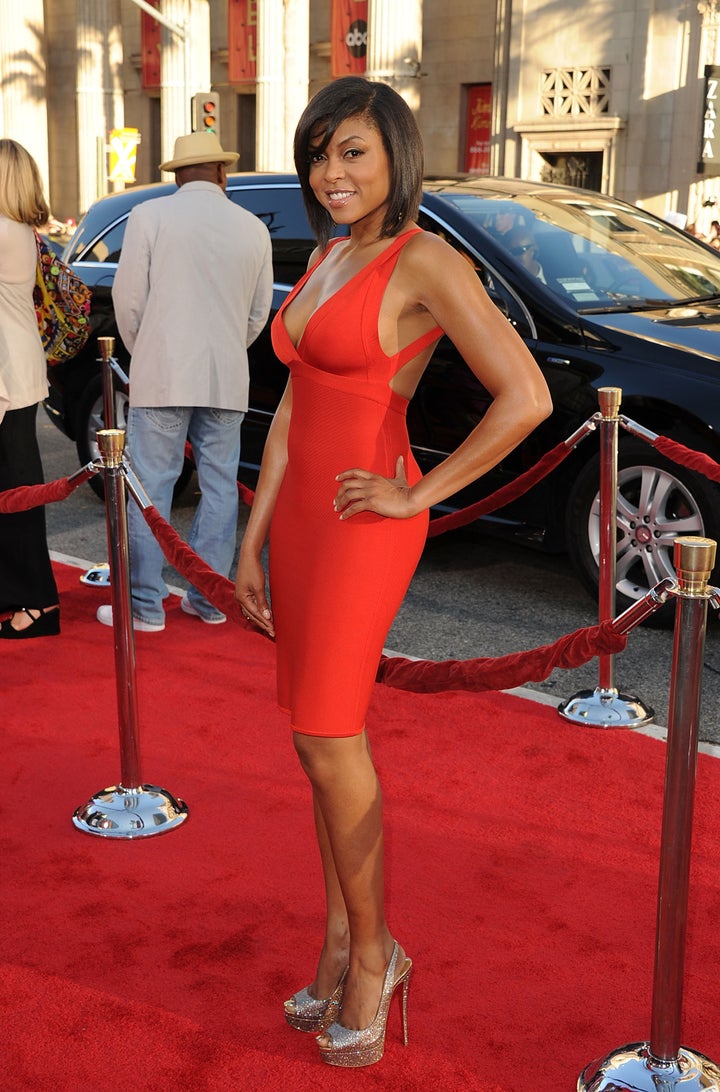 The name Tom Hanks means something.
With over three decades on our screens, small and large, he's more than an actor: he's a draw, a guarantee, a promise of some sort of emotional experience. When Tom Hanks says 'come see my movie,' well, audiences do just that. And, as it turns out, even in a jaded Hollywood, with its backstage machinations and egos galore, Hanks has the exact same magnetic pull on his fellow actors, no matter how big their stature.
Taraji P. Henson, a veritable star with an Oscar nomination under her belt, felt the pull immediately upon learning that Hanks wanted her for his new passion project, "Larry Crowne." It's the story of a blue collar big box retail employee who gets fired and heads back to junior college, but before she even knew that much, Henson had excitedly accepted the role.
"Apparently, Tom wanted me involved. So he called my manager and my manager called me and said, Tom Hanks really wants you to be in his movie and I said, sure," Henson told The Huffington Post in a conversation Tuesday. "And my manager was like, maybe you should read the script first, and I was like, 'No, I don't have to read the script, it's Tom Hanks, that's a no brainer. I don't care, I could play a tree or a rock, it's Tom Hanks.'"
As it turns out, the "Benjamin Button" star didn't have to play scenery to get into the film; she tackles the role of Hanks' next door neighbor, B'Ella, a working class woman who hits it rich when she and her husband, played by Cedric the Entertainer, win the lottery. Hanks' character, the titular Crowne, isn't so lucky as he struggles to stay afloat amidst house payments, schooling and a job as a short order cook. And while he's a multiple Oscar winner who has played war heroes and detectives, among many other glamorous roles, Henson says his magic lies in his ability to be the everyman.
"He's one of those actors who can just take on any role," she said. "What I think is so great about him is, because he's still a very down to earth, big, big superstar, it makes it easier for him to play these common characters, like regular people, and believe it, and not be Tom Hanks. Some people get too big and you can't separate the star from the character."
As Crowne begins cleansing himself of old, lonely habits, Henson and Cedric are cleansing their lives of all the clutter that accumulated as they held on for dear financial life. Throughout the film, they're found hosting a massive garage sale -- and interestingly, though it was Hanks' invitation that led her to agree to the film, it was the garage sale aspect that sold her on the character she was playing.
"Oddly enough, it's the garage sale that did it for me, because I used to be a garage sale fanatic. I would have the most amazing garage sales," she laughed. "I have people to this day, my girlfriends are like, 'Are you having another garage sale?' They were waiting for my garage sales, that's how spectacular they were. I had a lot of stuff but it was the presentation. You didn't go through boxes, you didn't see stuff thrown on the tarp or grass, I had every individual piece, it was color coordinated, I had individual price tags on stuff, I had wigs heads and shades and hats, it was like a boutique."
Call it some sort of cosmic match, then, because Henson said she barely knew Hanks when the offer came; in fact, she could only remember one brief meeting they shared before filming.
"I met him the year I sang at the Oscars," Henson remembered, referring to her 2005 ceremony performance of 'It's Hard Out Here For A Pimp' by Hustle & Flow. "And I just remembered being so embarrassed about having to sing about pimps and whores, and so I saw him backstage and I'm a jokester anyway and I go to him and say 'I'm so sorry I had to sing about bitches and whores, I'm so sorry,' and he grabs his publicist and he's like, 'what are you talking about? I call her a bitch all the time!'" she laughed.
"He's a sweet guy like that, he totally broke the ice and made me feel really comfortable about the whole deal. And then on the movie, he just makes you feel like you've known him forever, and I haven't."
Henson was effusive about Hanks' directing style, noting that, even in his massive role of writer/director/producer/star, he was very easy going.
"It's amazing working for him. The set is very stress free," she said. "Even though he was director, producer, he co-wrote it, there was no tension. And I've been on sets where the director is just wearing that one hat and there's just so much tension. And it was a low budget. And you know, you're gunning it. It felt so easy, breezy, we laughed a lot on the set."
All fun and games aside, it wasn't the joy on set that Henson believed to be the most important takeaway from the film, with its reality of job loss, education and foreclosure drawn directly from today's troubled middle class landscape.
"With so many people losing their jobs, when you get up to a certain age, it's like, now what do i do?" Henson said. "I thought it was a positive spin on something that could be so negative, can be looked upon as so negative. Some people could buckle and give up, but change could be something good."
Henson is set to continue her busy filming schedule, as, right before the interview, she was screen testing her hair and makeup for her lead role in the upcoming film, "Think Like a Man," based on Steve Harvey's hit book.
"Larry Crowne" opens on Friday.
WATCH
:
Popular in the Community