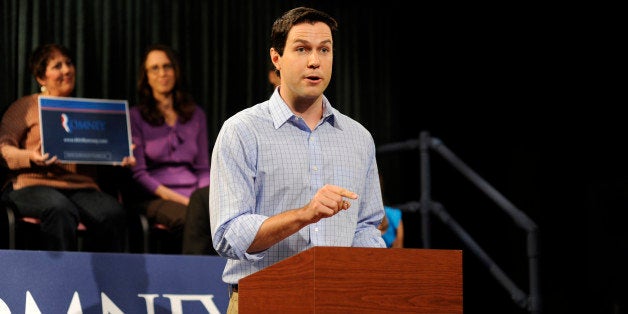 As it enters its 39th season, "Saturday Night Live" has likely encountered more peaks and valleys than any other entertainment property, period. So it makes sense that the announcement that "SNL" will be adding six -- count 'em, six -- new cast members would be met with widespread curiosity: Will the show survive such drastic upheaval?
Of course it will, according to "SNL" player Taran Killam. With three seasons under his belt, Killam is now one of the more senior cast members on the show, and his impressions (his Brad Pitt and Piers Morgan earned high praise) and original characters (Mokiki, anyone?) have led some to name him one of the most promising young comedians of his class.
But his credentials extend beyond "SNL": This summer alone, he appeared in the action/comedy blockbuster "The Heat" as a (spoiler) fresh-faced villain, announced that he will write a comic book, and voiced a character in "The Awesomes," an animated Hulu show created by his soon-to-be-departing "SNL" co-star Seth Meyers.
We chatted with Killam the Tuesday before the "SNL" Season 39 premiere about the new season, his favorite former cast members and why "SNL" has such staying power.
HuffPost Comedy: Thanks for talking to me. I know that you guys are very busy.
Taran Killam: We're stretching right now, before the starting gun is fired.
HPC: When does the starting gun get fired?
TK: For me, it'll probably be around 3:00. The gun fires, then you stand in place and panic for about eight hours, then you wait for the sun to set and for the fourth coffee to kick in. Then, you just write in a fury of panic.
HPC: You've had a big summer, between "The Heat," your new comic book and "The Awesomes." How does it feel to be back after all that?
TK: It's a crazy exciting time. It's such a positive energy at the show right now. We have six new cast members, and around four new writers, however you want to dice it. We have almost a dozen new people, which is almost half the cast and writing staff. And the people who are returning are still relatively new. I mean, I'm only three seasons in. It feels like there's a real opportunity to claim ownership of the tone of the show, which is very exciting.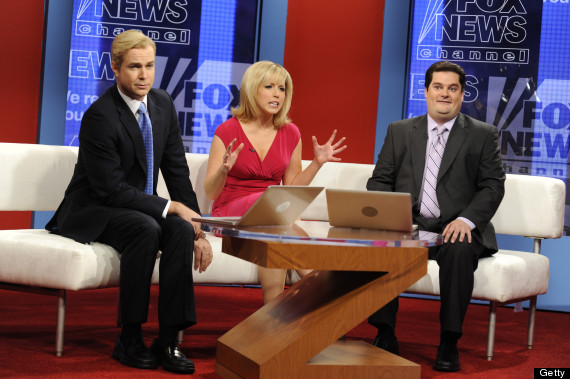 HPC: I know you haven't started working with the new cast members yet, but what do you think audiences can expect this season?
TK: The first table reading is going to be very awesome, and ultimately interesting, because you have at least 10 new comedic voices who you've never heard before, who have never written anything specifically for the show. It's going to be a chaotic cacophony of comedy, and it's going to be interesting to see what lands on Saturday for the first show. It always takes the first four to five episodes before the show takes on this subconscious agreement in terms of what direction the show's going. It's weird -- there's this unspoken thing where you'll be at a table read, and there will be, like, four references to, say, a raccoon's nest. And you're like, "Did someone just say 'raccoon's nest' again?! Nobody said anything about a raccoon's nest, and it's not a topical thing. Well, I guess we just have a bunch of raccoon's nest sketches." It's an evolving process. It's like the first day of school. The person you sit next to in homeroom may not be your best friend by the end of the school year, but there's no way to know without taking classes with everybody. It's very, very exciting, and people are so happy to be here, and are hanging out almost every night of the week. It's a very positive time to be on the show.
HPC: I imagine that some part of the change is that Seth Meyers has stepped down from his head writer role as he transitions to "Late Night." What's his role been like so far?
TK: That loss hasn't been felt yet. Seth is still here. Maybe he doesn't have the title of head writer anymore, but he's very much staying on as a mentor, and he's very involved. He's doing the job without the title on his door, basically. Whenever he decides to shift his full focus over to his show, that will be a huge loss. I think that Seth is so funny, so smart, and also very approachable, which isn't always the case for people in positions of authority. I'm glad he's still here. It doesn't feel like he's gone yet. Colin [Jost] was helping him out last year as co-head writer, and Rob Klein, who was a writer I worked pretty closely with, is sharing the responsibility of head writer with Colin. The show is already in good hands, and hands that know and care for the show. So I don't think that will be the shake-up. The shake-up is that when people turn on their TV on Saturday they're going to see six new faces they've never seen before, and three or four they care deeply about.
HPC: One thing I'm excited about with those new faces is that many of them became popular on the Internet. I'm curious to see how their sensibilities mesh with more senior cast members and writers.
TK: Me too, because I think peoples' instinct in a new situation is to cling to what you know. As a senior cast member, it's going to be my responsibility to shake things up and work with those guys. A lot of them know other people and will probably write amongst themselves, but some of the best stuff in the show comes from people saying, "Hey, do you want to try to do something?" and then two voices colliding to make something brand new.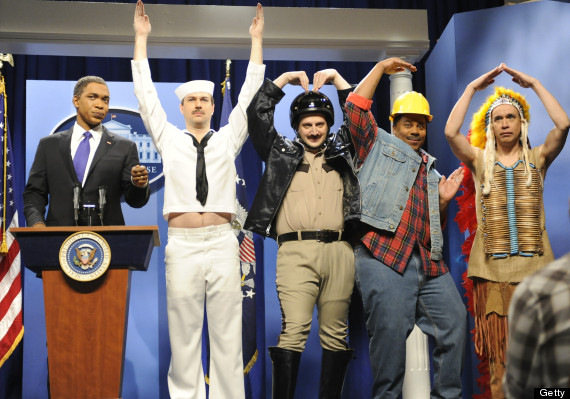 HPC: You've said you think it'd be amazing if Eddie Murphy came back to host the show. Was he one of your favorite cast members growing up?
TK: Oh, yeah. Eddie Murphy was my guy for a long time. My first exposure to "SNL" was his "Best Of" VHS, and I would watch it over and over again. He was one of the few people on the show to play with the live elements, and engage with the audience. "Little Richard Simmons" is a pun in terms of the premise of the sketch, it's not a strong pitch, but he just commands the entire audience in it. It's one of the few times you see someone go out in the audience and engage them in that way. That's what's special about the show. What you see is happening in that moment. There is no room for corrections. He was always my favorite for that. Also, in a sketch he did, I think "A Moment in Black History," he flubs the line, and people laugh. He just says, "Yeah, I messed up. So what! Shut up!" [laughs]
HPC: Who were your other favorite cast members?
TK: I had older sisters, so I would definitely watch the Lovitz/Hartman/Carvey/Myers era. And Jack Handey -- for whatever reason, I was very aware of Jack Handey more than even some cast members, although he happened to do a lot of his stuff with Phil Hartman. But Jack Handey was one of my heroes. When I started watching regularly, it was with Ferrell, and Kattan, and that era. Then I went away to college and stopped watching, because other priorities came up. The first show I ever went to -- before I got the job, just as a fan -- was Andy [Samberg] and Bill [Hader]'s first episode. It was crazy. That was the episode that Bill did his Al Pacino. It was apparent to me from that very first episode that this guy was one of the biggest talents that has ever been on the show. So getting to work with him was great. And then after being on the show, I had the pleasure of sitting across from Fred Armisen, who is a certifiable genius. Some of my favorite creative moments at the show were just sketches that he would read at the table that never got picked, but were some of the funniest things I've ever heard. And obviously, Kristen [Wiig]. My buddy Mikey Day and Kristen were in a class together at The Groundlings, and that was the first time I ever saw her. It was just apparent that this girl was at another level. The fact that her Suze Orman and Björk impressions are her third tier material is incredible. Oh, and Will Forte. As I come to define my comedic sensibilities and tastes, my favorite sketches that have ever been on the show are Will Forte's.
HPC: My favorite is his spelling bee sketch, where the whole sketch is just him saying letters and numbers.
TK: I recorded that! I watched it back and counted how many Qs he did in a row. It was 14. When I finally got to meet him, I said, "I know you did that at The Groundlings, and you did 14 Qs!" And he said [does Will Forte impression] "Oh, honey, when I did that at The Groundlings, I did twice as many!"
HPC: As someone on the inside, why do you think "SNL" has remained such a strong cultural force for so many years?
TK: Lorne always says that it's the closest thing in television to sports, in that people claim ownership of the show. New players are drafted, you pick your favorite, and you claim ownership of it. If I laugh at that person's thing, then when that person does well, it's a victory for me. And it's always topical, so it's contemporary in that it's what's happening in the moment. As for the stat sheet business reasons behind its success, if you look at the talent that it's groomed, the biggest names in comedy that exist have come from the show. I think it was [former "SNL" cast member] Gilbert Gottfried who said, "It doesn't matter if the show's funny anymore. It's a restaurant in a great location."
Related
Before You Go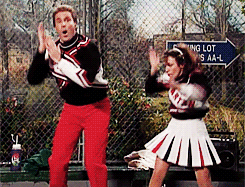 SNL GIFs
Popular in the Community