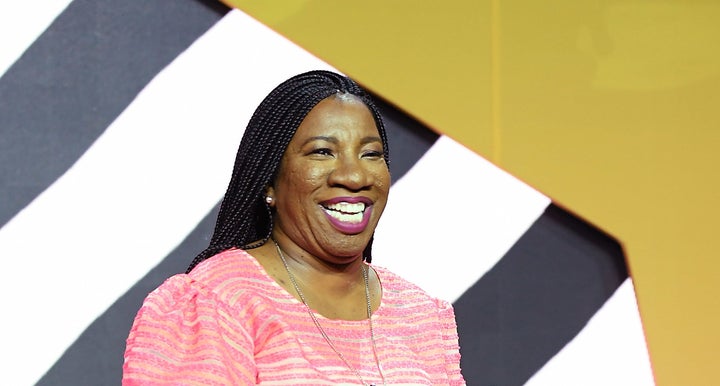 A year after the Me Too movement sparked a worldwide reckoning, activist and creator Tarana Burke is still taking it all in. 
Burke, who created the campaign in 2007, celebrated the one-year anniversary of the day the Me Too campaign went viral in a tweet thread published Monday morning. The 45-year-old reflected on her conflicting emotions when she first realized the hashtag #MeToo had gone viral on Twitter. 
"A year ago today I thought my world was falling apart," she tweeted. "I woke up to find out that the hashtag #metoo had gone viral and I didn't see any of the work I laid out over the previous decade attached to it. I thought for sure I would be erased from a thing I worked so hard to build."
Actress Alyssa Milano tweeted the hashtag on Oct. 15, 2017, asking her followers to respond with the phrase "me too" if they had ever experienced sexual harassment or assault. In the days following Milano's tweet, some media outlets credited the actress with creating the entire movement and essentially erased Burke and her years of work.  
"I remember calling my friends frantic and trying to figure out what to do. I didn't know whether to go online and say ― THIS ALREADY EXISTS!" Burke continued. "Or to just let it go, but then I realized letting it go wasn't an option in this moment." 
It was black women, Burke wrote, who pointed out to the media that Me Too had been created by Burke a decade prior. "I was definitely in danger of being erased if YOU ALL Black women and our allies and friends, didn't speak up," she tweeted.
The week Me Too went viral, thousands of women shared their stories of sexual harassment, assault and rape using the hashtag #MeToo on Facebook, Twitter, Instagram and other social media platforms. Their stories opened the eyes of many people, but men specifically, and highlighted a systemic issue that had been silenced for too long. 
"My work has always centered Black and Brown women and girls. And it always will ― but at the heart of it all it supports ALL survivors of sexual violence. And I committed to that work a long time ago so watching people open up with what felt like no covering online was hard," she tweeted.
"The whole time I was fretting about saving my work," Burke continued. "And I didn't realize that 'my work' was happening right in front of me." 
HuffPost's "Her Stories" newsletter brings you even more reporting from around the world on the important issues affecting women. Sign up for it here.
Calling all HuffPost superfans!
Sign up for membership to become a founding member and help shape HuffPost's next chapter
BEFORE YOU GO