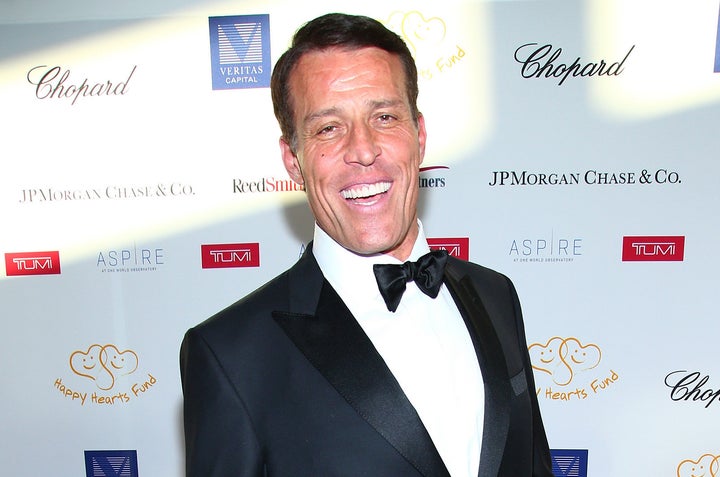 UPDATE: April 10 ― Tony Robbins issued an apology Sunday afternoon to say his comments "failed to reflect the respect I have for everything Tarana Burke and the #MeToo movement has [sic] achieved."
″[S]ometimes, the teacher has to become the student and it is clear that I still have much to learn," Robbins continued in the statement, which did not address his praise of a male client who declined to hire a qualified woman on the basis of her good looks.
Actress Jessica Chastain, an outspoken advocate of gender equality, seemingly criticized that moment from Robbin's March event over Twitter on Tuesday.
"If you don't hire a qualified interviewee because of fear that you'll be tempted to sexually harass her, perhaps you should consider speaking to a mental health expert about impulse control," she wrote.
Something amazing happened during one of Tony Robbins' huge self-help lectures ― but it was not his doing.
A woman identified as Nanine McCool stood up in the audience to call out Robbins' take on the Me Too movement in San Jose, California, last month after he tried to characterize some of its proponents as people who don't take responsibility for themselves. Robbins also bizarrely championed a man who chose not to hire a qualified female applicant because of her looks.
As video of the event began circulating on social media, Tarana Burke ― who created the #MeToo hashtag ― chimed in herself.
"I was made aware of this video BEFORE I ever saw it because Tony Robbins' people reached out to do damage control within 24 hours," Burke said over Twitter. "They wanted to 'give me context' apparently. I don't need any. I have eyes. The full video is 11 mins. And it's gross. Bravo to this woman."
Some on Twitter replied saying the full six-hour event cast Robbins' comments in a different light, but Burke was still not convinced.
"His misogyny runs deep," she continued in her series of tweets, going on to explain exactly what the movement was all about ― not victimhood, but survivors.
Robbins made a name for himself in the '80s and '90s by authoring a series of self-help books. He now tours the world giving lectures and has been featured on the Oprah Winfrey Network.
McCool, handed a microphone, attempted to voice her concern over Robbins' "mischaracterization" of the Me Too movement during the event while the life coach repeatedly drowned her out.
"I'm not knocking the Me Too movement," Robbins said, claiming that McCool's explanation was simply her own "experience."
"I'm knocking victimhood," Robbins said.
"What you're seeing is people making themselves significant by making somebody else wrong," he continued, before invoking Jesus, stones and glass houses.
Still, McCool calmly tried to tell Robbins that many of the movement's proponents are advocating for safety at home and at work, to create environments that are free from sexual harassment and violence.
"I think you do the whole movement a disservice," she said.
Robbins then tried using McCool to illustrate his argument, pushing his fist against her fist in a spectacle made more uncomfortable given the so-called guru's towering 6-foot, 7-inch stature.
"When you push someone else, it doesn't make you more safe. It just makes them angry," he said.
("It's awareness. It's not pushing," a voice near the source of the video can be heard saying in response.)
Robbins then shared a story about a "very famous man, very powerful man" who seemed to illegally decline to hire a woman because, even though she was the most qualified candidate, he considered her good looks a liability.
Burke had something to say about that, too:
HuffPost reached out to a representative for Robbins but did not receive an immediate response.
Popular in the Community