Big hairy spiders and flying seem to be two of the world's most common fears. Putting them together? Well, that's just unspeakably terrifying.
Now, passenger Catherine Moreau is asking for a partial refund for her family's tickets, though Canadian news reports haven't specified the exact amount she's seeking.
"I was wearing a skirt and a spider crawled up my leg," she said in a French-language Radio-Canada interview, as translated by The Guardian. "It was during the meal. My husband managed to catch the spider in a plastic container, but it wriggled its legs out. My daughter was crying, she was in shock." Flight attendants captured one spider, but the other remained on the loose until the plane landed.
Entomologist Etienne Normandin told the CBC that the spiders were likely a species called Phormictopus cancerides that's common in the Dominican Republic and Haiti. He suspects someone brought them in a carry-on in order to later sell them as pets.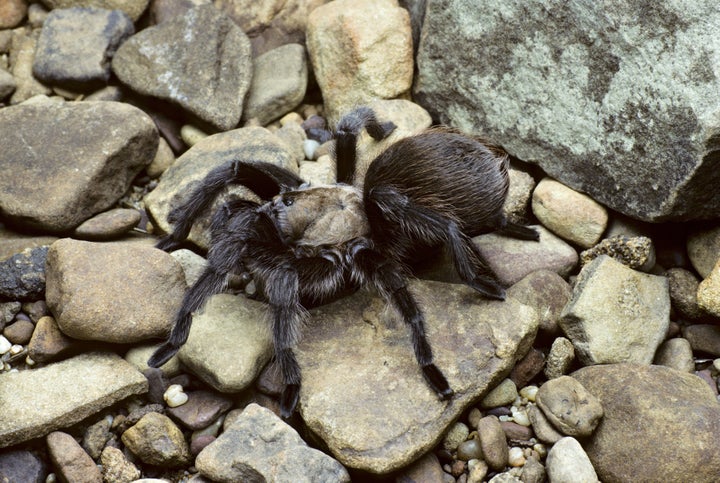 It's legal to import live spiders into Canada, though the country requires people to report what the are bringing, according to Radio Canada. It's unclear what Air-Transat's policy on transporting arachnids is, and the company did not immediately respond to The Huffington Post's query about the rules.
Flight attendants "did what they could to calm people down," Julie Roberts, vice-president of Air Transat's flight attendant union, told the CBC.
But even so, Moreau said that her daughter has had continued nightmares (and now we are, too) and that the airline failed to send her a report identifying the spiders species, in case she suffered any subsequent health issues from the arachnid scratching her. Air Transat is not commenting on that allegation, spokeswoman Debbie Cabana told HuffPost. But she did tell the CBC that staff "reacted promptly and efficiently" and that in the future, they'll be prepared with a "clear procedure."
A spokesperson told the Guardian that the event was "extraordinary and isolated." (That's obviously true, but these events aren't totally unheard of. Last year, Delta grounded a flight from Baltimore to Atlanta after a baboon tarantula got loose in the cargo hold.)
It's unclear what fate ultimately befell the tarantulas. We hope they're OK.