Target became the latest corporation on Wednesday to be dragged into a battle brewing in Texas over open carry gun rights.
Weeks after rallies by rifle-toting activists in the Lone Star State prompted restaurant chains like Chipotle, Sonic and Chili's to announce no-gun policies nationwide, Moms Demand Action for Gun Sense in America, the group that led the charge for those rules, has turned its attention to Target.
On Wednesday, the group launched a national petition calling on the retail giant to prohibit the open carry of guns in its stores.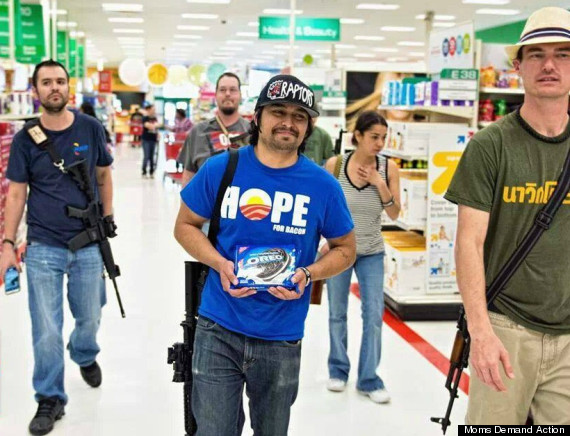 "Target is a central part of the lives of American moms," Shannon Watts, the group's founder, said in a statement. "We're asking one of our country's largest retailers, a store where American moms flock to, to follow the lead of Chipotle and Starbucks and make a clear statement that open carry of firearms is not welcome in their stores."
"Target does not sell firearms or ammunition," Molly Snyder, a Target spokeswoman, told HuffPost by email. "What I can tell you is that Target is committed to following all state and federal laws."
Joe Feldman, an analyst at Telsey Advisory Group, told HuffPost that Target is unlikely to take a stance on such a "hot-button issue" while interim CEO John Mulligan, who says he plans to return to his position as financial chief, is in charge.
"I'm not sure they want to go down that path," said Feldman. "They might want to wait for a new CEO."
The move by Moms Demand Action drew some support on Twitter:
@Scully64 @NRA I'm a huge open carry supporter and I agree with you. Nobody needs to be carrying an AK47 into Target (no pun intended :o) )

-- Stinkburger (@EgoAenigma) June 3, 2014
Open carry laws vary by state. Texas bans openly carrying handguns, but it is legal there to carry a rifle or shotgun.
In recent days, Moms Demand Action has been circulating photos that Open Carry Texas, the group responsible for last month's restaurant rallies, posted to its Facebook page in March. The photos show Open Carry Texas members shopping in a Dallas-area Target with semi-automatic rifles slung over their shoulders.
Since Open Carry Texas first posted those photos, C.J. Grisham, the group's president, has urged members to back down. In a statement last month, the group acknowledged that its tactics, though intended to encourage broader acceptance of firearms in public, were having the opposite effect. Carrying rifles and shotguns into businesses was the approach that has "gotten the most resistance and suffered the largest setbacks," the group said.
"This 'issue' is proof that Moms Demand Action is desperate for attention," Grisham told HuffPost by email on Wednesday. "They are trolling into our months-old photo archives to create a controversy over a non-issue in an attempt to smear our organization. Open Carry Texas long ago ceased carrying rifles into businesses, but Moms Demand Action crave attention and thrive on controversy by engaging in bully politics against corporations to spread their gun hate."
On Saturday, members of an Open Carry Texas affiliate in Fort Worth assembled at a Home Depot, Forbes reported. A spokesman for the home-improvement chain deferred to local laws.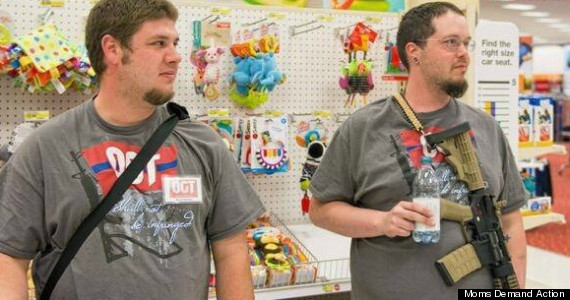 More than a dozen restaurant chains and stores contacted by HuffPost over the last week, including Walmart, Applebee's and Arby's, did not respond to questions about their gun policies.
The one company that did respond, Darden Restaurants -- which owns Olive Garden and recently agreed to sell Red Lobster -- told HuffPost that its "approach has always been to follow all local and state laws."
The silence from so many businesses underscores the reluctance many corporations feel about wading into the gun debate, which has become particularly heated in recent months, agitated in part by the actions of the Texas open carry groups.
On Memorial Day, men from Open Carry Texas and Open Carry Tarrant County harassed a former Marine marksman when he questioned their decision to tote firearms around in broad daylight. The groups also harassed women with vicious rape threats and by spitting at them, Mother Jones reported.
This article has been updated to include comments from Joe Feldman.
Related
Popular in the Community