It's no secret that many moms love (and I mean, LOVE) Target. There's even an Instagram account dedicated to their devotion.
"Okay, so today I made a mistake. A HUGE mistake," she wrote in the caption. "I took my family with me to Target."
While it may have seemed like a good way to spend time with family while being productive, Alpert said she quickly learned otherwise.
"Taking your family to Target with you is basically the perfect way to destroy that awesome inside fuzzy feeling you get when you walk past those big red glorious cement balls," she wrote.
First, her kids fought over who got to ride in the shopping cart. After Alpert told them neither could sit in it, "both kids decided to hop on the sides of the cart and ride it around the store because God forbid they actually walk and get some exercise," she wrote.
"FYI, this made my cart weigh over 100 pounds and feel like a Costco cart after you decide to stock up on water and soda," she wrote.
Then her husband, Greg, completely disappeared in search of soda. Finally, at the self-checkout, things escalated as Greg struggled with the scanning and bagging process.
When it came time to pay, Alpert reached her breaking point.
"Just as he was about to scan his credit card, I realized what was about to happen and was like NOOOOOOOOOOO, and dove in slow motion and batted his credit card out of the machine," she recalled. "Dear God, what are you thinking?!! We get 5% off with my Red Card!!!! You NEVER use a regular credit card at Target!!"
At the end of the post, Alpert offered a lesson from the experience: "Always lie and tell your hubby you have a doctor's appointment so he'll watch the kids while you go to Target ALONE."
The mom's post resonated with fellow parents and reached over 7,000 likes by Wednesday morning. Commenters shared similar tales of their Target excursions with spouses and kids.
"And that's the story of why I go twice a week; once with my husband and son (apparently they want to shop too) and then again on my day off by myself so I can get everything that they made me forget because they were annoying me," wrote one mom.
"Target is my happy place," commented another. "The entire school year I go when the kids are in school, when I go in the summer and I'm forced to take them with me, I just might be overheard yelling, 'you're ruining my happy place' to the kids."
All is fair in love and Target.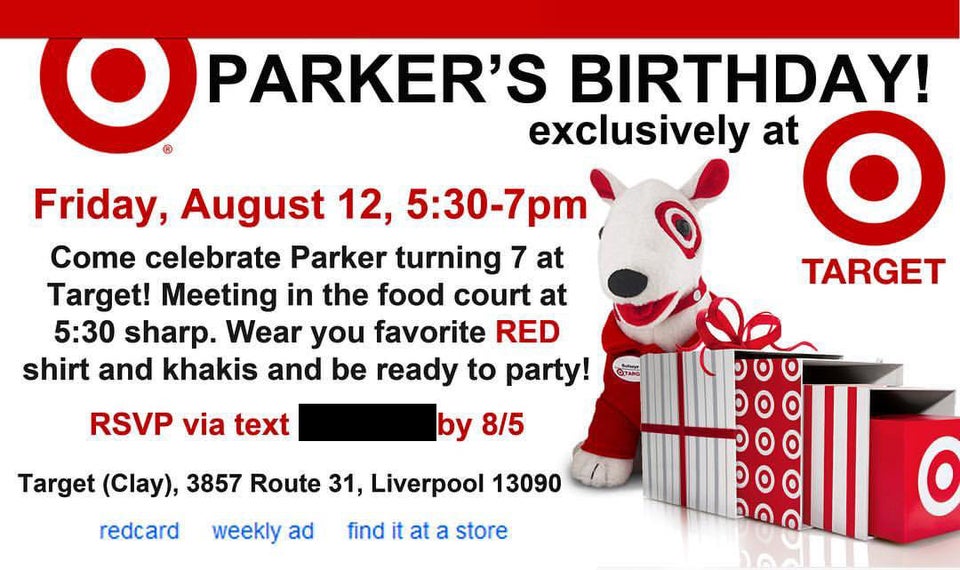 This Kid Loves Target So Much He Had His Birthday Party There