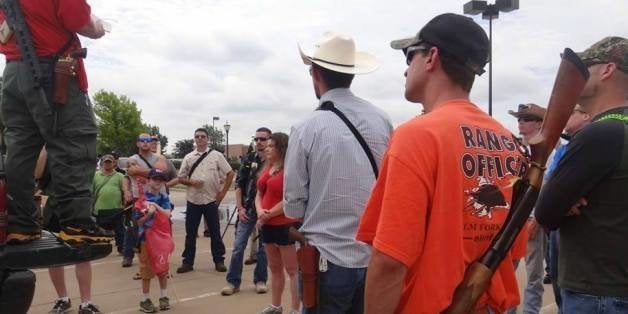 Open-carry gun activists are once again staking out their ground at Target.
Rifle-strapped protesters from the gun rights group Open Carry Texas rallied in a Target parking lot in the Dallas suburb of Irving, Texas, on Saturday. It was the group's first public appearance since the gun control group Moms Demand Action for Gun Sense in America launched a campaign to ban guns in all Target locations nationwide earlier this month.
"We are alarmed and appalled by this weekend's event, but this is not an isolated incident," Shannon Watts, the founder of Moms Demand Action, said in a press release. "Target's refusal to enact policy on open carry has led gun extremists to believe the company supports their campaign to normalize a behavior that is not only abnormal, it's dangerous."
Moms Demand Action provided The Huffington Post with the photos and video of the rally that accompany this post. There appears to have been between 10 and 20 attendees. According to Moms Demand Action, Target was aware the rally was going to take place. Target did not respond to a request seeking further comment.
At least four times since September, shoppers with assault rifles slung over their shoulders have been photographed at Target locations in Texas. A March rally at a Dallas-area store became the focus of media attention this month after Moms Demand Action circulated photos downloaded from Facebook that featured heavily armed Open Carry Texas activists.
The rally is part of a shift in tactics for Open Carry Texas, a cadre of rifle enthusiasts who drew some unfavorable attention last month for hauling shotguns and semiautomatic rifles into several chain restaurants, prompting gun bans at Chipotle, Chili's Bar and Grill and Sonic.
"We don't go into businesses anymore. We haven't done that in quite some time," C.J. Grisham, the founder of Open Carry Texas, said during a Friday interview on Slate's podcast The Gist.
A post on the group's Facebook page shows the staging area for the protest at the far end of the Target's parking lot.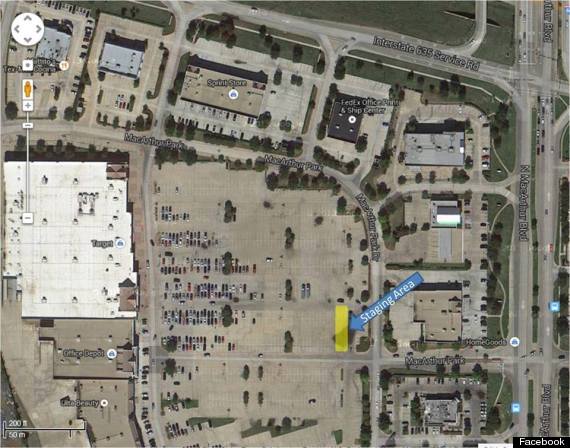 "I reject the notion that what we are doing is in any way inflammatory or threatening," Grisham told The Gist.
Skip ahead to 4:05 to hear the interview:
Grisham said the group always warns businesses in advance of its rallies, though videos posted on YouTube by an Open Carry member seem to contradict that. In the videos, managers at Chili's and Sonic ask group members to leave after customers at both restaurants seem upset by the sight of men carrying large firearms.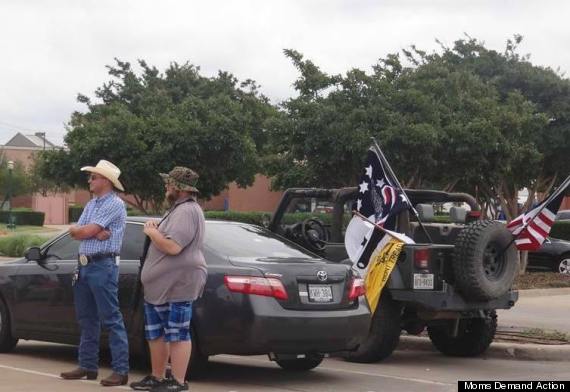 Grisham did not respond to an email from HuffPost requesting comment.
Last week, more than a dozen women from Moms Demand Action demonstrated across the street from Target's annual shareholder meeting, which was held this year in Dallas. The protesters held signs reading "Target needs #gunsense" and "Texas moms expect more."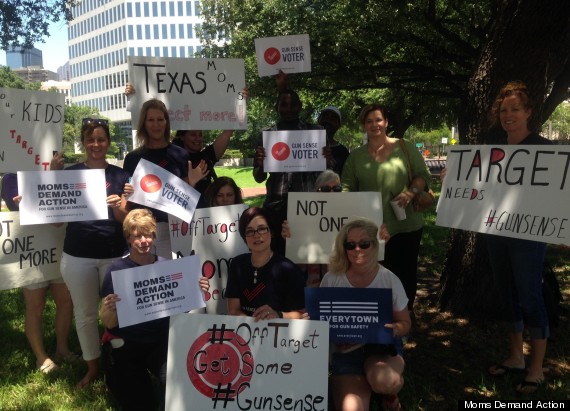 For now, the company seems unlikely to come down on either side of the polarized gun debate.
"I'm not sure they want to go down that path," Joe Feldman, an analyst at Telsey Advisory Group, told HuffPost earlier this month, noting that Target is between chief executives at the moment. "They might want to wait for a new CEO."
Popular in the Community