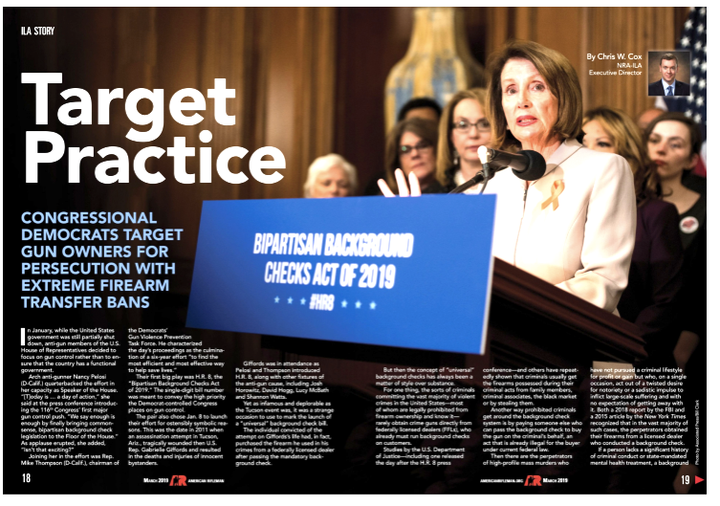 The furor erupted Saturday after HuffPost senior politics reporter Jennifer Bendery tweeted a screenshot of the magazine spread that appeared in American Rifleman, which is published by the gun lobbyist organization. The article examines Democrats' efforts to strengthen gun control, claiming that legislators are attempting to "target gun owners for persecution." (One Twitter response characterized that phrase as a built-in excuse for the NRA to use in the face of aghast reactions to the headline.)
The large headline for the article "Target Practice" is next to a photo prominently featuring Pelosi. Giffords stands next to her. Giffords suffered catastrophic injuries in 2011 when she was shot in the head at a Tucson mall where she was speaking to constituents. Six people were killed in the gunman's attack.
The controversial spread appears in the Rifleman's March issue. Pelosi is identified in the piece, written by chief NRA lobbyist Chris Cox, as the "arch anti-gunner."
Twitter melted down over the startling juxtaposition of the headline next to NRA "foes." Pelosi's daughter Christine slammed the headline in a tweet as an "intentional, outrageous criminal incitement."
Fred Guttenberg, the father of Jaime Guttenberg, who was killed in the mass shooting last year at Marjory Stoneman Douglas High School in Parkland, Florida, said the page design was no accident, and also branded it an incitement to violence.
The NRA did not respond to HuffPost request for comment.
Popular in the Community