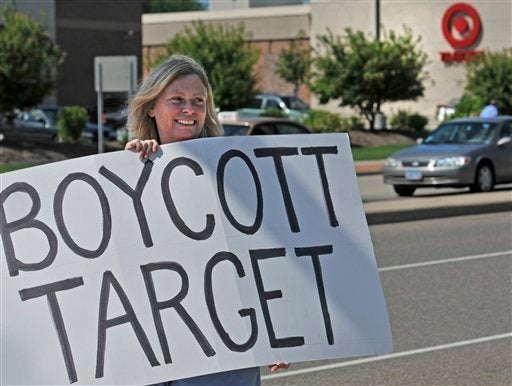 There are many fronts in the battle to rein in unlimited corporate spending on political campaigns. One involves using shareholder groups to pressure companies to adopt policies that prohibit such donations.

Activists this week are taking aim at Target Corporation, where shareholders on Wednesday are meeting for the first time since the company became the poster child for political-donation blowback. Facing widespread criticism and calls for a boycott, Target was forced to apologize in August after it donated $150,000 from its treasury to a group that ran an ad for a candidate in the Minnesota governor's race who was an outspoken opponent of gay rights.
Target reviewed and revised its policy on political contributions after that incident. Mike Dean, executive director of Common Cause Minnesota, said the Minneapolis-based company took some positive steps, such as requiring the trade associations to which it contributes not to spend its money on campaign contributions.
But Dean said that the new rules, which still allow spending directly from its corporate treasury, aren't specific enough. "Target has really failed to learn the true lessons from this controversy," he told HuffPost.
As a result, citizens' lobby Common Cause, the United Steelworkers Union and the pro-gay-rights Delta Foundation of Pittsburgh have combined forces to demand at the Target shareholder meeting in the city on Wednesday that the company stop spending any of its corporate funds on political campaigns. And they have brought big gun to Western Pennsylvania: a trustee of a $40 billion public-employee pension fund.
Ever since the Supreme Court's dramatic Citizens United ruling in early 2010 freed companies to spend as much as they want on political advertising, New York City Public Advocate Bill de Blasio, a trustee of the New York City Employee Retirement System, has been lobbying companies to choose to refrain from doing so. He's had success with companies such as Goldman Sachs, JPMorgan, Citigroup and Morgan Stanley.
On Tuesday, de Blasio sent a letter to the New York City comptroller about Target. He suggested that the fund withhold its support from Target directors "in the absence of a change in policy on political spending."
"The company's experience in political spending, and the lack of effective reforms taken by the company after the controversy surrounding the company's 2010 corporate political spending make the company a leading candidate to receive a shareholder resolution regard political spending from the funds," de Blasio wrote.
Dean said activists will be at Wednesday's shareholder meeting in full force. Inside the meeting, which is being held in a new Target store in Pittsburgh, activist shareholders intend to question Target executives about their policies. Outside, there will be a rally. The meeting is scheduled for 1:30 p.m. ET and will be webcast to the public.
Target's policy continues to take a toll, costing the company a sweet deal earlier this year. Pop phenom Lady Gaga decided against an exclusive Target special edition of her latest album on account of the company's continued political activity.
Dean said corporate spending in elections "is bad for our democracy" and he said Target, of all companies, should be aware of "the reputational risk posed by this type of involvement."
Shareholders, he said, should ask: "What is the real reward that Target gets out of making them?" -- and then ask if corporate political donations are worth the possible downsides.

Popular in the Community