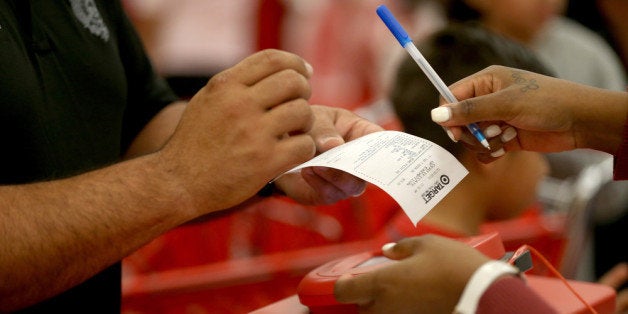 Target's once-envied reputation may never fully recover from the massive data breach that affected more than 100 million customers during the holiday shopping season.
Public perception of Target fell off a cliff after the breach and remains at historic lows, according to data provided to The Huffington Post by YouGov BrandIndex, which has tracked the perception of brands over the past six and a half years.
If any further problems crop up while the data breach is still in the public consciousness, Target may never return to its previous heights, warns Ted Marzilli, chief executive and global director of YouGov BrandIndex.
The real danger for the company lies ahead as investigations and lawsuits progress. "It takes repeated episodes for the reputation to change," Marzilli said, adding that the brand could recover its stature in a few months, barring any further setbacks.
"I don't think this is a life-threatening problem for Target, but it is going to have a financial impact," he said. "Maybe they aren't the poster child for everything nice."
Target had long enjoyed a reputation as the cooler, more accessible counterpart to discount titan Walmart, with a devoted following of loyal fans who affectionately christened the retailer with the fancy, French-sounding nickname of "Tarjay."
Target did not respond to a request for comment.
Following reports of the hack, Target's perception scores plummeted more in a single day than did the scores of either PlayStation or Citibank over a full week after disclosing similar breaches last year, according to data from YouGov BrandIndex.
Consumers found out about the data breach at Target a week before Christmas, in the middle of the holiday shopping frenzy, amplifying the public spotlight. Americans, primed to shop and worried about the security of their personal data, paid close attention to the failures of one of the most-recognized brands in the U.S.
For its part, Target has rolled out several initiatives to benefit customers affected by the breach, such as a program to provide free credit monitoring and identity theft protection.
Dorothy Crenshaw, CEO and creative director of public relations firm Crenshaw Communications, said Target "shot itself in the foot" in the weeks following the hacking revelations because it didn't project a strong, confident attitude. Instead, it posted legalistic responses that made the company seem "less than transparent."
When the retailer sent out an email blast in January containing an apology signed by CEO Gregg Steinhafel, along with the offer of free credit monitoring, some customers thought it was nothing more than a phishing scam.
Since the initial revelation, shoppers have continued to hear bad things about Target, as details about the size and scope of the data breach become known.
In late December, Target announced that the breach was worse than initially thought, revising estimates to 70 million people affected, up from 40 million, and revealing that encrypted PIN numbers were stolen as well. Estimates later increased to 110 million customers affected, as Target worked hard to put out the flames of public opinion.
Disgruntled customers are still voicing their anger and dismay on the retailer's Facebook page. "Wow do I regret shopping at Target. Because they can't secure info I had to have a card canceled and it dropped my credit score 12 points," one commenter complained. "I was understanding in December ... but now I am just pissed off," wrote another who was frustrated with Target's lack of compensation.
With each new detail, with each additional day the story persists in the media cycle, the more difficult it becomes for the company to make customers forget about its previous failings.
In order to start mending its fences, Crenshaw suggested that Target needs to reward customers for what they've been through.
"People want to get discounts, rewards, free merchandise," said Crenshaw. "It's up to those kinds of offers. Like a restaurant that says, 'Okay, we did something wrong, it's on us,' and they comp your meal."
Related
Popular in the Community