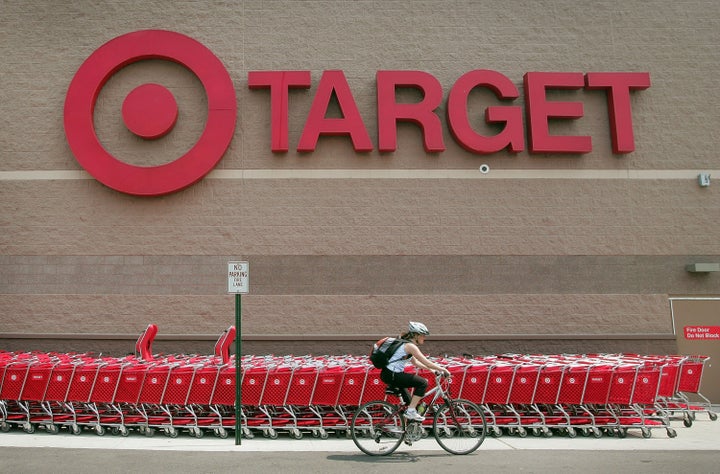 VALLEY STREAM, N.Y. -- Workers at a Target store in Long Island have a different twist on the discount retailer's famous catch phrase, "Expect More. Pay Less." "'Expects more, pays less,' that's how we say it," said Averail Bracey, a Target employee for 7 years who is among those seeking to unionize the store in the hopes that life as a big box employee making less than $10 an hour might get better.
In February, dozens of workers at the Valley Stream store contacted the United Food and Commercial Workers to seek representation. This Friday, a government-supervised election will determine whether store employees become part of the union, marking the first time in more than two decades that Target has confronted such a vote.
But the fight at Valley Stream is about more than the fate of one store, or even the fate of America's second-largest retailer, say labor historians. Hanging in the balance, they assert, is nothing less than the future of worker compensation in what remains the world's largest economy. In the wake of the Great Recession, corporate profits have rebounded but most rank-and-file employees are still waiting for the benefits, with wages stagnant and unemployment high. For organized labor, the election at Target is shaping up as a crucial battleground in a campaign to claim a share of the spoils.
For the labor movement, the vote also amounts to a challenge as unions struggle to retain relevance in the face of waning membership and mixed public sentiment. Target occupies a central space in the retail world, a part of the economy that is expected to add a lot of jobs in coming years -- though jobs that typically pay wages associated with the poverty line.
Retail workers pull in median hourly wages of $10.94 an hour, according to the Labor Department. Since early 2010, retail has accounted for nearly 7 percent of all private sector job growth. Meanwhile, industries such as construction and manufacturing -- once stalwarts of middle class wages and organized labor -- remain far below their pre-recession employment levels.
"Retail is now at the core of the economy," said Nelson Lichtenstein, a labor historian at the University of California, Santa Barbara who has written two books about Walmart, Target's chief competitor in the world of big box retail. "It's not where homemakers go to earn pin money. It employs more people than manufacturing and construction combined."
For organized labor, adds Lichtenstein, retail presents a great opportunity to recruit large numbers of low-wage workers in need of representation. But success is far from assured.
"That's where the game-changing will take place," he said. "They can be successful, but I just hate to say it, I don't think they will be. All of these big box stores have perfected their anti-unionism to a science."
Target is clearly cognizant of the stakes. In advance of Friday's vote, the company has unleashed an aggressive anti-union push, distributing pamphlets and other propaganda to employees in recent days. Pro-union employees accuse the company of engaging in an intimidation campaign. In recent days, the UFCW has filed numerous charges with the National Labor Relations Board accusing the company of "unlawful denial of access to the store, unlawful dress code policy, unlawful no solicitation policy, unlawful use of social media policy as well as threats, interrogation and surveillance," according to the union press release. The UFCW claims the company has threatened workers with the closure of the store in the face of a vote to join the union.
Target broadly disputes the union's accusations, asserting that it has broken no labor rules, while maintaining that it has merely sought to convey to its employees that they are better served through a direct relationship with the company, free of intermediaries.
The company specifically denies threatening to close the Valley Stream store.
"We've never said that," said spokeswoman Amy Reilly. "Stores stay open when they're economically viable. We do close a couple of stores a year if they're not performing."
But a pamphlet Target distributed to its employees warns that a closure is a real possibility. "Will the store close if the union gets in?" the pamphlet begins. "Nothing is guaranteed."
This growth has proven beneficial for those in Target's executive ranks. Last year, the company's chief executive Gregg Steinhafel received a pay package of $23.9 million -- an 83 percent raise over his 2009 compensation.
That contrasts sharply with the situation for Target employees working the floor -- team members, in Target's corporate lingo -- who describe raises of ten cents an hour over the previous year. This discrepancy is one of the key factors motivating workers to seek union representation.
Another issue is hours. Workers complain that in the past months, the hours of long-time employees have been cut while the store continues to bring on new employees, who are hired at lower wages. Target says that no such reduction has occurred.
Bracey, 54, said her hours have been cut back to around two days a week. She would like to work full time. Instead of increasing her hours, Bracey said, the team leaders -- who are exempted from Friday's union vote -- push employees to work harder in the hours they are on the floor.
In recent months, Bracey said, team leaders have pushed employees to be more productive by calling their name out on the loudspeaker or standing behind them when they are working, clapping and urging employees to move more quickly.
"It's a whip. They crack a whip. They clap their hands. They ask you, how long you think you're going to finish this work?" Bracey said Tuesday at a meeting of Target employees and union organizers at UFCW local 1500 headquarters.
Bracey works at night, and she came to the meeting straight from her shift. "By the time you go home, you be so exhausted you got nothing else to do," she said wearily. "Because you're still working 40 hours worth of work. But you're getting paid for 16."
Walmart has long been a lighting rod in the labor movement, confronting relentless accusations of worker exploitation. Now, Target finds itself in that spotlight. Valley Stream, the UFCW says, is just the first stop; they are trying to organize 5,000 workers at 27 Target stores in the New York City area.
A majority of workers at the store have already signed cards supporting unionization. But union advocates worry that when the votes are cast, Target's refined union-busting strategy along with a dismal job market will prove to be too much for the intimidated employees.
On Tuesday, the core group of the most outspoken pro-union employees met to discuss tactics and go through the list of workers still to be contacted. Most of the workers at the meeting are immigrants from the Caribbean with positive feelings about unions imported from their home countries.
"If it wasn't for the way management portrayed the union negatively, the store would be unionized already," said Kevin Whyte, a four-year Target employee wearing a red Target Change t-shirt, whose young son sat on his lap and wrote out the alphabet on a piece of printer paper as his father talked shop. "They are gaining ground through fear."
Whyte was one of the workers who first contacted the UFCW back in February. He worries that Target's anti-union campaign is succeeding. In a recent pamphlet distributed to employees, Target warned that the workplace would become uncomfortably inflexible under union direction: Any employee who breaks a rule "could be put on TRIAL before the union bosses."
Whyte construes such words as an implicit warning -- one that resonates in an atmosphere in which a worker's relationship with the boss often determines the nature of his or her work experience.
"Management always retaliates," he said. "It might be reducing your hours. They might harass you. But they will do something."
At the Valley Stream store, the tension is palpable. On Tuesday, as a group of several Target employees and union organizers enters the store's parking lot -- set in a giant strip mall complex -- a security guard on a three-wheeled stand-up vehicle zooms out to escort the group around the grounds. Several more security guards stand watch around the door. As the group enters through sliding doors, security trails the employees and organizers up and down the aisles, past the marked-down groceries and knock-off designer dresses. Team leaders approach the group. "Can we help you find anything today?" they ask.
Target doesn't allow employees to discuss the union on the job, the organizers assert, except at meetings management organizes to formally answer questions. Union representatives are not allowed to discuss the union or explain their point of view on store property.
"Our focus has been, in many different ways, to give our team members all the facts that they need," said Jim Rowader, Vice President of Employee and Labor relations who has come to Valley Stream from Target's corporate headquarters in Minneapolis to oversee the response to the vote. "We're a retail store open to the public for business. The reality is that the union has taken advantage of ample opportunities."
Target's stance -- as outlined in pamphlets, videos and public statements -- is that union representation would be an unnecessary intrusion in an already productive relationship with its employees.
"Target prides itself on being a great place to work," said Reilly, the company spokeswoman. "We feel we can work with our employees directly. We don't feel that a third party can help with that. We want to have an open communication with our team members."
But Target employees in favor of unionization feel that communicating directly with management produces no results.
"Why would we go out on a limb, reach out for help, if we had the hours and the respect and we were satisfied?" said Sonia Williams, one of the workers leading the organizing drive. "Does that make sense to you? I am a strong person, but there's a tension in the store that's becoming unbearable. It's like they're pitting team members against team members."
Target portrays the union as a waste of workers' wages, a bureaucracy that will take employees' dues and provide nothing in return. But labor historians and advocates challenge that characterization.
"It's very well documented that workers do much better in a union as far as their wages go, as far as their total compensation packages including health care and retirement go," said Sylvia A. Allegretto, an economist at the Institute for Research on Labor and Employment at University of California, Berkeley. "But it really goes far beyond the typical wages and benefits story. What unions do is they give workers a say: the ability to bargain over wages and compensation."
Allegretto is currently researching lawsuits about illegal practices that companies use to prevent unions from forming among their employees. "Companies are often not punished for doing it because the time it comes to light, what they did wrong, it's too late," she said. "This happens all the time. There are a lot of people in this country who do want to unionize but they don't have the support or the way to go about it."
In the days before the vote at Valley Stream, pro-union employees gathered to express their growing frustration with Target's tactics, accusing the company of spreading disinformation.
At a recent group meeting, Whyte said, Target played an anti-union video, prompting him to raise his hand and ask a question. "I want you to tell me an honest answer you can sleep with tonight," Whyte recalled telling the Target executive running the meeting. "'Is the union a good thing or a bad thing?' I asked. And he says, 'Well, it's a good thing, but its time is passed.' So I said, 'What do you mean? Are you telling me that Martin Luther King Jr. died in vain?'"
King was assassinated in Memphis, Tennessee, where he travelled to address striking sanitation workers. "He says, 'Don't get me wrong. I have great admiration for Dr. King. And the unions caused OSHA to be passed, and that was good. But their time has passed,'" Whyte recalled. "And so I said, again, 'So are you saying that in 1968, the assassination of Dr. Martin Luther King was in vain and now, for nothing?' And he changed the subject."
The group, sitting around the table, nodded solemnly.
Related
Popular in the Community