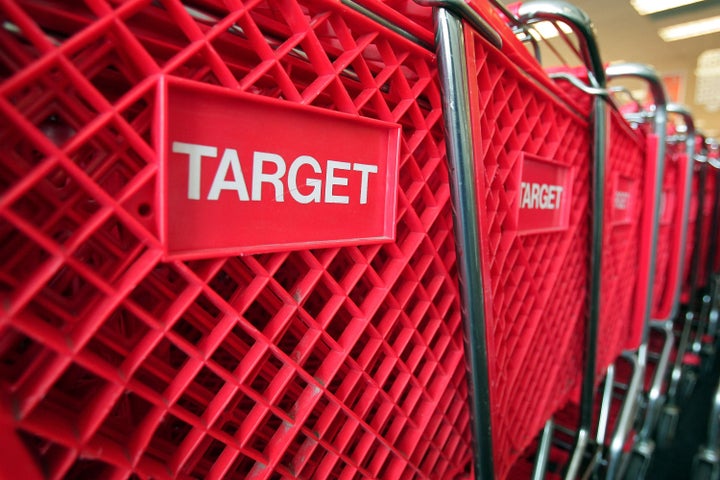 Late last week, an administrative law judge in New York ruled that big-box retailer Target had violated labor law in the runup to a union election at its store in Valley Stream, N.Y. For Target, the largest U.S. retailer behind Walmart, the 40-page decision amounted to a rather firm rebuke of the tactics the company employed in trying to keep its store union-free.
For Tashawna Green, a former Target employee at the store in question, the ruling amounted to a second wind.
"When I heard the news, I literally cried tears of joy," said Green, who now works for the union trying to organize the store, United Food and Commercial Workers (UFCW). "Target thought they had beat us and won. But no, they didn't."
In his decision for the National Labor Relations Board (NLRB), Judge Steven Davis ruled that managers at the Target in Nassau County went afoul of labor law by "interrogating" employees over their union activities; threatening to discipline workers for their organizing efforts; and distributing a leaflet suggesting the store would close if workers unionized, among other violations. Although Target may appeal, the ruling by the NLRB -- the federal agency that interprets and enforces labor law for companies and their workforces -- nullifies the union election held in June 2011, in which the UFCW lost by a wide margin. The decision calls for a new election to be held on an as-yet-unspecified date.
In an email to HuffPost on the ruling, Target spokeswoman Molly Snyder said the company was "disappointed" by the decision and disagrees with the judge: "We firmly believe Target followed all laws throughout the union's campaign at its Valley Stream store and that the process leading up to the June 2011 election was fair and legal, resulting in a strong rejection of unionization by our team members." She wouldn't say whether the company plans on appealing.
But the ruling doesn't merely throw out the election. By finding that Target broke rules during a union drive, the decision gives the UFCW and other labor groups some fodder in a larger public-relations battle with a retailer that enjoys a devoted following. The UFCW has been a relentless critic of Walmart for years, continuously shining a light on the megaretailer's labor practices, and the NLRB ruling is just the kind of wedge the union would use in trying to crack Target's rosy reputation among shoppers.
"This is the thing they can no longer say: We follow the rules according to the NLRB," said Pat Purcell, spokesman for UFCW Local 1500. "Target's biggest mistake is they should have run a fair, clean election, and whatever happens, happens. But they have awakened a sleeping dog. ... We're not going away. This ain't going to stop."
As HuffPost previously reported, workers at the Valley Stream store first contacted UFCW about representation last February. Rank-and-file workers, or "team members" in Target lingo, complained of sub-$10-per-hour wages, meager raises and less-than-predictable scheduling. Amidst a union drive that drew national headlines -- Target stores are union-free, and the election would have implications for all big-box retailers -- UFCW accused the retailer of carrying out an intimidation campaign, something Target flatly denied. The union lost the election by a count of 85 to 137.
Davis' ruling calling for a new election presents an unusual situation. The Valley Stream store temporarily closed earlier this year for renovations, displacing the workforce that voted in the original election. (The union claimed that Target closed the store due to the union drive, but a judge dismissed that claim on Thursday.) According to Snyder, Target plans on reopening the store before the 2012 holiday shopping season. Assuming it does -- and assuming the ruling isn't overturned on appeal -- the second election would take place with the store's new workforce.

"This is an unusual situation, but we will work it out," said Nancy Cleeland, spokeswoman for the NLRB.
The union would obviously prefer to have as many of the original Valley Stream employees voting in the new election as possible. According to Purcell and Green, some of the Valley Stream employees have moved to other Target stores, while others simply left to take on different jobs or look for new work. Snyder said that any workers who transferred to other Target stores or took a leave of absence will have the option of coming back to the Valley Stream store once it reopens.
In his ruling, Davis also suggested that Target should change some of its corporate policies.
According to the court papers, in its handbook the company maintained a "no solicitation, no distribution" policy for employees when it came to certain types of literature. Davis said the rule infringed on workers' rights to distribute union information. The company's "after hours" policy, which required off-duty workers to keep off of store premises unless they were on authorized company business, would also "reasonably tend to chill employees in the exercise" of their labor rights, Davis concluded. And a dress-code policy that prohibited workers from wearing buttons -- workers in the midst of a union drive might choose to wear union insignias -- also infringed on their protected rights, according to Davis.
Asked if Target intends to change company policies in light of the ruling, Snyder said in her email, "Target prides itself on operating stores where our guests love to shop and our team members love to work. The policies we have in place are intended to protect our team members and guests by creating a safe working and shopping environment."
Green, 22, says the UFCW is reaching out to workers who took part in the previous election. She now works full-time for the union after being let go by Target last August. The company has said Green was fired for behavioral problems; Green claims she was canned because she was organizing with the union. Green said that the next election at Valley Stream, assuming it happens, is her "main focus" at the moment.
"We're positive, and we're going to continue to stay positive," Green said. "If a judge decided this, then I believe that it's going to happen, and that we're going to win this election."
Popular in the Community