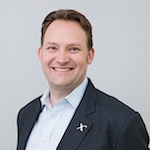 We at XPRIZE take aim at the world's Grand Challenges and inspire people to solve them. Among these challenges, climate change stands as the one with perhaps the most overwhelming potential consequences and the power to impact literally everyone's lives. This is why we recently announced the NRG COSIA Carbon XPRIZE: to put a target on the back of climate change and invite people from everywhere to step up and offer real solutions.
The Carbon XPRIZE is built on two important convictions: (1) solutions to climate change are out there, and (2) we need to inspire thousands of innovators to begin addressing this challenge.
We can break down the reasons this prize is so crucial to our energy future into three primary points:
Energy drives the global economy. It is critical to everything we do as a modern society. But most of that energy comes from burning coal and natural gas to produce electricity. As a consequence, the CO2 emissions from fossil fuels are a key contributor to climate change.
CO2 doesn't need to be merely a waste product from burning fossil fuels. Carbon is a fundamental building block for materials and products as diverse as one can imagine.
By creating valuable products out of CO2 instead of merely emitting it, markets can be developed that provide an economic incentive for capturing that carbon before it contributes to climate change.
Electricity produced with coal and natural gas is expected to be a significant part of the planet's energy system for the foreseeable future. But there are currently only limited financial incentives for power producers to capture their CO2. Efforts at putting a price on carbon are important, but they will still require technologies that can effectively mitigate the CO2. There have been efforts at reducing the carbon intensity of fuels, improving efficiencies, and more limited efforts to promote carbon capture and storage. But we can and should still do more.
The NRG COSIA Carbon XPRIZE targets an area that has not seen as much attention or investment: carbon utilization. This is a prize to incentivize breakthroughs in converting CO2 into useful--and valuable--products. These products could be anything from advanced cements and ceramics, to liquid fuels, to novel materials like graphene or carbon nanotubes. And the teams that turn the most CO2 into the product(s) with the highest net value will share in the $20 million prize purse.
The real prize, however, is not the $20 million purse. It is the market potential for the products that teams invent. But the real winners will be all of us, those that live on a planet threatened by climate change. Once the profit motive can be aligned with reducing CO2 emissions, the natural ability of markets to drive adoption of new technologies can be harnessed in the fight against climate change.
We recognize that reducing CO2 emissions from burning fossil fuels is a daunting task--a task that will take much more than novel carbon utilization technologies. Everything from energy efficiency to renewable energy to carbon capture and storage are needed. But even more importantly, we need market mechanisms and new technologies in all of these fields in order to see rapid adoption and scaling of the solutions.
By using the power of markets to change how we view CO2, we are enlisting an incredible ally in the fight against climate change. And this is the core motivation of the NRG COSIA Carbon XPRIZE: to not only prove that breakthrough technologies that can turn CO2 into a product are possible, but also that there truly are radical new approaches to be employed in solving the Grand Challenge of climate change.
As a result of this prize, we anticipate the development of dozens of new innovative technologies, exponentially more investment in carbon utilization, and new companies and even industries employed to reduce CO2 (because they are employed to take it as a feedstock for their new product). Even more important will be how the competitors for this XPRIZE demonstrate that valuable breakthroughs will come from investing in energy technologies.
The Carbon XPRIZE is just the beginning, the gauntlet thrown down to all of the world's innovators to lean into solving this challenge as rapidly as possible. We know this is possible. Watch the teams compete: they will prove it is possible.
Imagine all the people who might be inspired to try their own solution to address climate change. And imagine all of the other new technologies, investments, and solutions that will emerge to take on this Grand Challenge. That is the exponential power we hope to unleash.
Dr. Paul Bunje is Principal and Senior Scientist, Energy & Environment at XPRIZE.
Calling all HuffPost superfans!
Sign up for membership to become a founding member and help shape HuffPost's next chapter