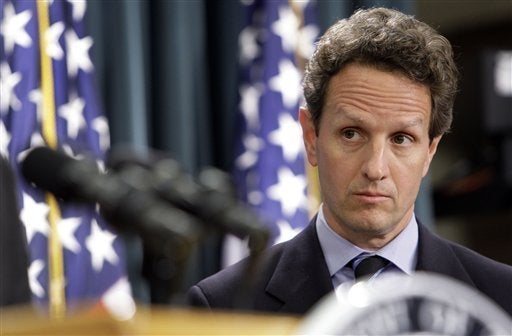 Republican leadership in the House of Representatives wants the Treasury Department to give taxpayers their money back when bailed-out firms repay government investments under the Troubled Asset Relief Program.
Republican Minority Leader John Boehner (Ohio) and Whip Eric Cantor (Va.) proposed new budget cuts on Thursday to reduce the deficit. An item near the top of their list: "Devote Repaid TARP Funds To Deficit Reduction."
In April, Treasury Secretary Timothy Geithner announced that the department would reuse $25 billion in funds paid back by banks participating in the TARP's Capital Purchase Program (CPP). Geithner subsequently announced that repaid funds would be invested in small banks.
Rep. Brad Sherman (D-Calif.) questioned the legality of reusing TARP funds, since the law says repaid money "shall be paid into the general fund of the Treasury for reduction of the public debt."
The Wall Street Journal reported in November that Neel Kashkari, former assistant to then Treasury Secretary Henry Paulson, said that the department "has no plans to recycle funds from the $700 billion Wall Street rescue package to make more capital injections into financial institutions."
When the Huffington Post raised the issue with the Treasury Department in early May, spokeswoman Stephanie Cutter wrote that dividends from CPP investments went to debt reduction but repaid principal went back under the TARP.
On May 20, Geithner came up with an entirely new justification for reuse of the funds. He said at a Senate hearing that because the law allows only $700 billion "outstanding at any one time," money returned to the government can be reused for more bailouts so long as the total amount in the TARP at any one time doesn't exceed the $700 billion cap.
The TARP's Congressional Oversight Panel will weigh in on the recycling issue in its June 9 report.
Just give it back to the taxpayers already, says the House GOP.
"Recycling these funds means they will not be available for deficit reduction and instead will be used for additional bailouts," said the Republicans in their proposal. "Consistent with the intent of the TARP program all repaid TARP funds as well as any proceeds from TARP investments should be immediately used to reduce the deficit."
Popular in the Community