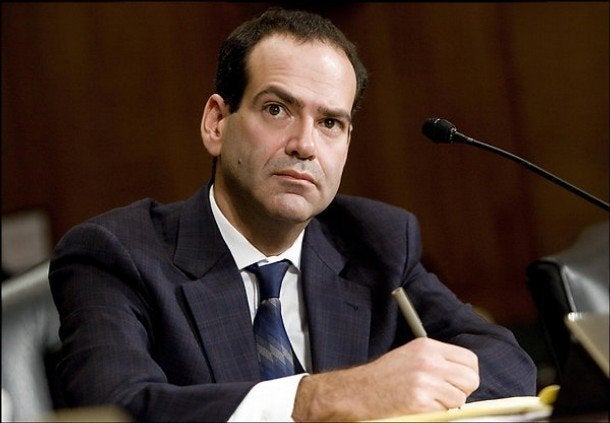 Neil Barofsky, the special inspector general for the Troubled Asset Relief Program (SIGTARP) is set to deliver much anticipated testimony on Tuesday before the House of Representatives. Judging from a look at his prepared remarks -- provided by a congressional office to the Huffington Post -- the message won't be a good one.
Barofsky is set to testify that the Treasury Department, while making improvements since this past spring, continues to operate with far too little transparency when it comes to the handling of the TARP.
"[Treasury] has repeatedly failed to adopt recommendations that SIGTARP believes are essential to providing basic transparency and fulfill Treasury's stated commitment to implement TARP 'with the highest degree of accountability and transparency possible," Barofsky will say.
In particular, SIGTARP highlights four specific areas in which recommendations for making the financial industry bailout more accountable and open, have gone unheeded. Treasury has not committed itself to providing taxpayers with updated information on the financial performance of its TARP investments, according to Barofsky's prepared statement. It has not acted on a recommendation that [Term Asset-Backed Securities Loan Facility] borrowers who fail to repay their loans be identified. It has not required the disclosure of "all trading activity, holdings, and valuations of assets of the PPIF" on a timely basis. And perhaps most significantly, Treasury has declined to require all TARP recipients to report on the actual use of TARP funds -- notwithstanding a few agreements with Citigroup, Bank of America and AIG.
"Treasury has declined to adopt this recommendation, calling any such reporting "meaningless" in light of the inherent fungibility of money," Barofsky will testify. "SIGTARP continues to believe that banks can provide meaningful information about what they are doing with TARP funds."
"In rejecting SIGTARP's basic transparency recommendations, TARP has become a program in which taxpayers (i) are not being told what most of the TARP recipients are doing with their money, (ii) have still not been told how much their substantial investments are worth, and (iii) will not be told the full details of how their money is being invested," Barofksy adds. "In SIGTARP's view, the very credibility of TARP (and thus in large measure its chance of success) depends on whether Treasury will commit, indeed as in word, to operate TARP with the highest degree of transparency possible."
Not all of Barofsky's testimony will be critical. He will note that while most banks claimed to not tracking "TARP fund usage on a dollar-for-dollar basis," many were able to "provide insights into their actual or planned future use of TARP funds."
"For some respondents the infusion of TARP funds helped to avoid a 'managed' reduction of their activities," Barofsky will state, "others reported that their lending activities would have come to a standstill without TARP funds; and others explained that they used TARP funds to acquire other institutions, invest in securities, pay off debts, or that they retained the funds to serve as a cushion against future losses."
In addition, Barofsky provides a numerical and detailed update as to the extent and scope of the financial industry bailout. Treasury, he notes, has created a dozen programs "involving Government and private funds of up to almost $3 trillion." Of the $643.1 billion that Treasury has committed to the TARP $441 billion has actually been spent. The TARP, however, is just one component of the bailout. Finally, through the end of June, SIGTARP has launched 35 criminal and civil investigations into the misuse of taxpayer money.
Bloomberg News adds that the bailout and related rescue efforts could total $23 trillion, according to Barofsky:
Barofsky's estimates include $2.3 trillion in programs offered by the Federal Deposit Insurance Corp., $7.4 trillion in TARP and other aid from the Treasury and $7.2 trillion in federal money for Fannie Mae, Freddie Mac, credit unions, Veterans Affairs and other federal programs.
Popular in the Community