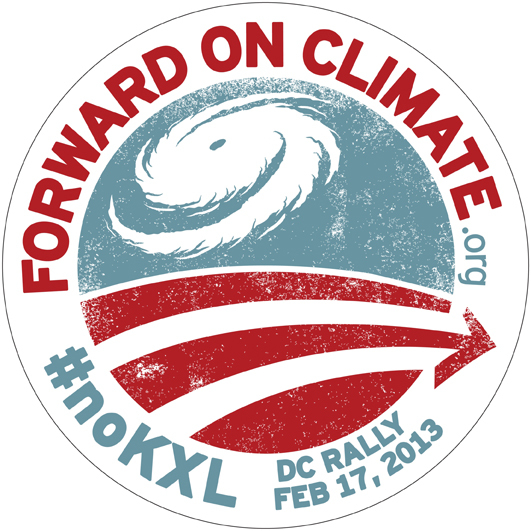 Global warming is a threat to all of us regardless of our politics, religion, or culture. People from all walks of life are realizing this and converging to address this common threat and 350.org, Bill McKibben, along with The Sierra Club are leading the charge. "At 12 Noon on Sunday, February 17, thousands of Americans will head to Washington, D.C. to make Forward on Climate the largest climate rally in history." Idle No More has shown us that this is not merely an environmental issue. This is a social issue because we are seeing the effects of strip-mining, clear-cutting, fracking, pipelines and other forms of exploitation directly affecting communities around the world. It is a political issue since most of the people elected to make decisions about energy policies are receiving lots of campaign money and other incentives from oil and gas interests which have corrupted their ability to see beyond short-term profits. While a few benefit from these policies, millions suffer from them. A healthy eco-system is central to economic stability as well as social and cultural justice. There is literally no more time for hollow promises from our leaders on this issue that is critical to all of us.
On the 350.org website, there is a letter to President Obama with almost 70,000 signatures. The letter is signed by Becky Bond, Michael Kieschnick, and Elijah Zarlin of CREDO and Bill McKibben of 350.org. CREDO is a mobile phone company that advocates for progressive social change and has donated over $70 million to various non-profits that work towards environmental and social justice. 350.org is building a global grassroots movement to solve the climate crisis with volunteers in over 188 countries. Some of the highlights of their letter include:

-Mr. President, you are the first leader in our history who will be judged by what you do -- or do not do -- to protect your people from the already-begun ravages and disruptions brought about by fossil fuels.
-So far, Mr. President, you are failing in the face of our earth heating up, and the damage is accelerating.
-Your support for fracking and drilling, coal mines and pipelines, continues to obliterate the progress you could be making with your administration's gas mileage rule, or your investments in renewable energy. Even if you finally issue a carbon pollution rule that addresses existing sources of pollution, it will mean nothing if you are simultaneously lighting the fuses on carbon bombs by approving the Keystone XL pipeline, Arctic drilling, or fossil fuel export projects.
-This is the moment. We will support you. But you must lead and take action, starting first and foremost with your rejection of the presidential permit required by the Keystone XL pipeline, which is your decision and yours alone.

While environmentalists and scientists gear up with political activists to gather at The White House, indigenous elders from Canada and The United States have also chimed in with a Treaty to Protect The Sacred. On January 23 - 25, 2013, on the 150 year anniversary of the Treaty Between the Pawnee and Yankton Sioux, representatives from many sovereign nations signed a treaty and held ceremonies to commemorate the occasion. The entire treaty is available for viewing here, below are some highlights:

-We act with inherent, lawful, and sovereign authority over our lands, waters, and air, as recognized by Article 32 of the United Nations Declaration on the Rights of Indigenous Peoples (That Obama adopted) which provides:

States shall consult and cooperate in good faith with the indigenous peoples concerned through their own representative institutions in order to obtain their free and informed consent prior to the approval of any project affecting their lands or territories and other resources, particularly in connection with the development, utilization or exploitation of mineral, water or other resources.

-We mutually agree that tar sands projects present unacceptable risks to the soil, the waters, the air, sacred sites, and our ways of life including:

*The destruction of rivers, lakes, boreal forests, homelands and health of the Cree, Dene, and Métis peoples in the Northern Alberta tar sands region and downstream Dene communities of Northwest Territories

*The threat of pipeline and tanker oil spills into major river systems, aquifers and water bodies such as the Salish Sea, the North Pacific coast, and the Ogallala Aquifer.

*The negative cumulative health and ecological impacts of tar sands projects on Indigenous Communities.

*The irreparable harm to irreplaceable cultural resources, burial grounds, sacred and historic places, natural resources, and environmental resources of the central plains region which is the aboriginal homelands of many Indigenous Nations.

*Greenhouse gas pollution that could lock the planet onto a path of catastrophic climate change.

-We affirm that our laws define our solemn duty and responsibility to our ancestors, to ourselves, and to future generations, to protect the lands and waters of our homelands and we agree to mutually and collectively oppose tar sands projects which would impact our territories, including but not limited to the TransCanada Keystone XL pipeline, the Enbridge Northern Gateway, Enbridge lines nine (9) and sixty-seven (67), or the Kinder Morgan Trans Mountain pipeline and tanker projects.
With all of this momentum, one has good reason to be hopeful that President Obama will do the right thing. Unfortunately, justice has not been a top priority in Washington compared to the power of money to influence policy. Let's put it into perspective. Charles and David Koch are worth $31 billion each and head Koch Industries worth $115 Billion according to Forbes. A recent Reuters article by David Sassoon states that The Koch Brothers, "have created and supported non-profit organizations, think tanks and political groups that work to undermine climate science, environmental regulation and clean energy. They are also top donors to politicians, most of them Republicans, who support the oil industry and deny any human role in global warming." Sassoon continues by stating:
Koch Industries has touched virtually every aspect of the tar sands industry since the company established a toehold in Canada more than 50 years ago. It has been involved in mining bitumen, the hydrocarbon resin found in the oil sands; in pipeline systems to collect and transport Canadian crude; in exporting the heavy oils to the U.S.; in refining the sulfurous, low-grade feedstock; and in the subsequent distribution and sale of a variety of finished products, from jet fuel to asphalt. The company has also created or collaborated with other companies that have become leading players in the development of Alberta's oil resources.
Luckily for sacred sites, diverse cultures, the animals, the water, the air and about 99 percent of the population, Koch Industries $2.3 million dollars spent on elections went primarily to Republicans. Though Obama has been known to look the other way when it comes to corruption on Wall Street, he is a bit less beholden to Koch Industries. Yet the temptation to make the wrong choice is still overwhelming.
The best way to encourage the president to make the right choice is to let him know that we are watching, that we are aware, and that we are determined to see him keep his promise to actively address climate change. Learn more about the events coming up this weekend by visiting 350.org and participate in the largest climate rally in history along with celebrities, scientists, and other concerned citizens. Share this information on Facebook, and Twitter. You are formally invited to make history and take part in changing the world for the better. Can we count on you?
REAL LIFE. REAL NEWS. REAL VOICES.
Help us tell more of the stories that matter from voices that too often remain unheard.