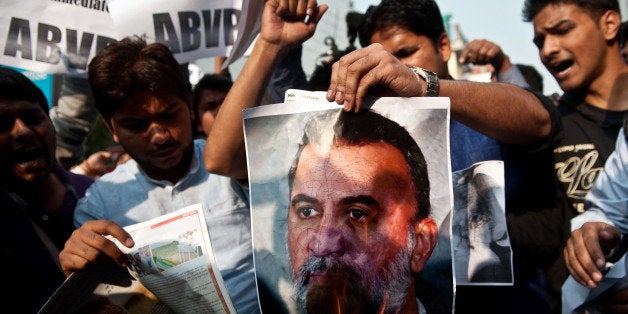 By Nita Bhalla and Sruthi Gottipati
NEW DELHI, Nov 22 (Reuters) - The editor-in-chief of India's leading investigative magazine is being probed over claims that he sexually assaulted a woman colleague, a senior police official said on Friday, after the media, activists and politicians urged a criminal prosecution.
The case came to light after the victim complained in an email to a superior that Tarun Tejpal, founder of the award-winning weekly, Tehelka, assaulted her twice in a hotel elevator during a conference in the resort state of Goa this month.
While she has not formally complained against Tejpal, police said they decided to act on the basis of the media reports of the leaked complaint, and that Tejpal could face charges of outraging the modesty of a woman and rape.
"It's apparent from the media reports that something serious has taken place," said Sanchita Rodrigues, a spokeswoman for the chief minister of the western state of Goa.
Police were studying closed-circuit video footage from the hotel to establish what happened, but there were no cameras in the elevators, she added.
The incident has triggered a media debate about silence over the harassment of women at their places of work, underlining a heightened awareness about rising cases of sexual violence in India after the fatal gang rape of a woman in Delhi a year ago.
Tejpal, 50, has stepped down from his position for six months, saying he was ready to cooperate with the police.
"There have been serious allegations cast on me in this last week, and unfortunately as sometimes happens in life, the complete truth and the need to do the honorable thing can come into conflict," Tejpal said in a statement on Friday.
"I offer my fullest cooperation to the police and all other authorities, and look to presenting all the facts of this incident to it."
Arun Jaitley, a leader of the main opposition Bharatiya Janata Party (BJP), lambasted suggestions in some televised debates that a criminal investigation might not be necessary as the alleged victim had not formally complained to the police.

"A CRIME AGAINST SOCIETY"
"A criminal offence is a crime against a victim. It is also a crime against society," Jaitley, who is also a lawyer, said on his page on social media website Facebook.
"It is the duty of one and all to encourage victims to depose truly and faithfully. Public interest must always prevail over private embarrassments."
Many of Tehelka's investigations have targeted the BJP.
In 2001, a team of its journalists posed as arms merchants, capturing a web of public figures, army officers and bureaucrats on video apparently accepting money to swing a fictional deal. The sting forced the then president of the party to resign.
Asiaweek listed Tejpal as one of Asia's 50 most powerful communicators in 2001, while the Guardian newspaper ranked him among the 20 who constitute India's new elite in 2007. BusinessWeek rated him one of the 50 most powerful Indians.
Women's groups and journalists are among those condemning Tejpal's actions, and criticising the magazine's management for considering his offer to leave his position for six months to be sufficient reprisal.
Tehelka's Managing Editor Shoma Chaudhury told reporters on Friday that accounts differed on whether the Goa hotel events were consensual, but that she had set up a formal complaints panel to investigate.
India's working women often face sexual harassment from colleagues, managers or employers, yet few report these cases, fearful of losing their jobs or facing persecution simply for speaking out, gender rights activists say.
The government passed a law in March to discourage exploitative behaviour such as sexual advances, requests for sexual favours and innuendo at work.
But activists say few outfits have set up the grievance panels stipulated by the law, which would give women a safe forum to report cases and bring offenders to book.
Four men were sentenced to death in September for last December's gang rape in New Delhi, which came to symbolise the dangers women face in a country where a rape is reported on average every 21 minutes.

(Writing by Nita Bhalla and John Chalmers; Editing by Clarence Fernandez)