WASHINGTON ― Taser International, a company known for arming the nation's cops with its controversial electroshock weapons, is rebranding and shifting its business model to focus on police body cameras.
When NASDAQ opens on Thursday, Taser International will officially be known as Axon, adopting the name of the company's body camera division, which launched in 2009. In an effort to further dominate the market, Axon will offer law enforcement agencies body cameras and a year of premium service for free, the company announced Wednesday.
The move appears to serve two purposes. Axon's decision to dedicate more resources to body cameras allows it to capitalize on an emerging market with huge potential for growth, thanks largely to police reform activism. And by dropping the Taser name, it can shed some of the unsavory connotations associated with a device connected to scores of civilian deaths at the hands of police.
"Taser can be a little bit polarizing," Rick Smith, the company's founder and CEO, told The Huffington Post in an interview ahead of the rebranding announcement. Cops "absolutely love the brand," Smith said, but for people who "have negative views of police," the name Taser evokes something more unpleasant.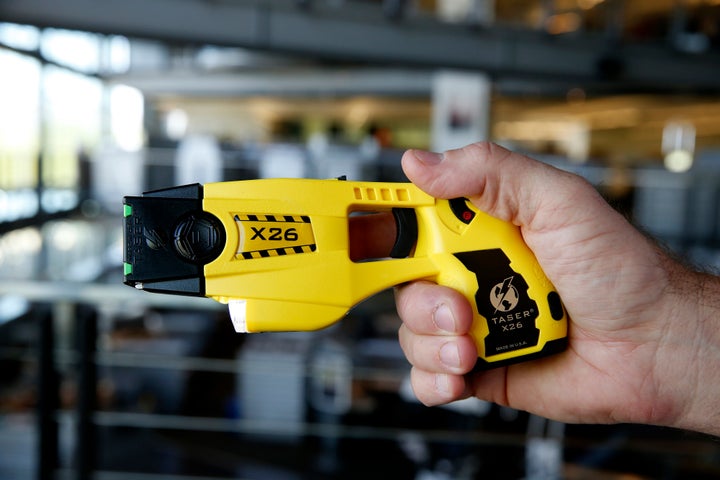 The company claims to have prevented more than 180,000 deaths or serious injuries by enabling officers to avoid the use of deadly force. But Tasers have also contributed to many deaths, as the 2015 film "Killing Them Safely" and recent investigative reporting show. In 2015, law enforcement officers killed an average of one person a week in a confrontation involving a Taser, according to an investigation by The Washington Post, with many of the deaths connected to improper use of the weapon.
Although Axon will continue using the Taser name for the devices themselves, not everyone in the company supports the overall departure from the Taser brand, which Smith founded in 1991 with his brother Tom. But Smith predicted the change would help them recruit employees who may have been hesitant to join a weapons company. "There's times when we're talking about cameras and cloud software that talking about Taser weapon issues can be a bit of a distraction," he said. "This is a way to sort of segment that as a brand, not a company name."
Body cameras have already proven to be a lucrative investment for the company. The body camera division brought in $65.6 million in 2016, up 84.7 percent from 2015, and now makes up nearly one-quarter of overall business, according to an annual report released last month.
The company has already provided gear and service to more than 85 percent of major cities that have adopted body cameras, and the opportunities seem likely to keep growing. It lost out on a huge contract in New York City, where it was undercut by the Seattle-based Vievu by $11 million (Vievu's $6.4 million contract is reportedly now under investigation).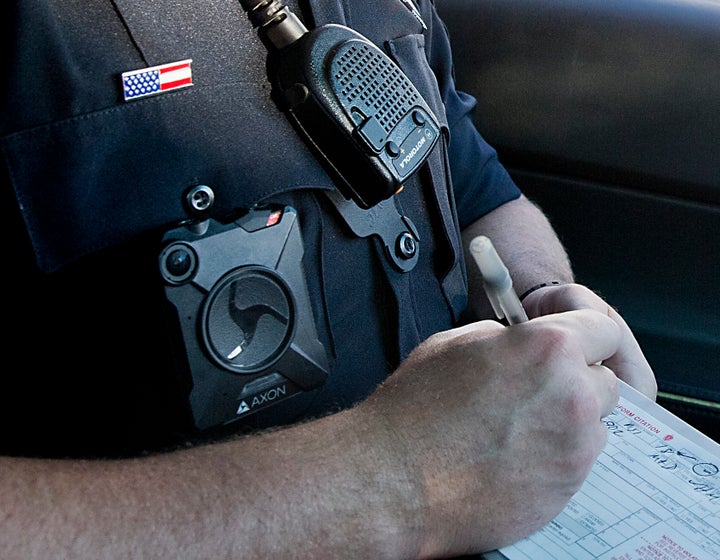 Axon sees a major opportunity in the body camera space. Smith estimates the U.S. body camera market could expand to up to $800 million per year (or about $1,000 per officer annually).
But despite the influx of money and the evidence of body cameras' effectiveness, many major cities still haven't equipped their officers with the devices. As of August 2016, only 43 of the 68 "major city" police departments in the U.S. had implemented body camera programs, according to a review by the Leadership Conference on Civil and Human Rights. Smith estimated that only about 20 percent of cops in the U.S. have been issued cameras.
Many agencies are now in various stages of rolling out the equipment. Some are running pilot programs to test different products. Other departments are in the midst of bureaucratic battles to get funding for their body cameras.
Cost is one of the key factors preventing police from adopting the technology more quickly, said Darrel Stephens, executive director of Major Cities Chiefs Police Association. He predicted that Axon's decision to offer free equipment, as well as a complimentary year of data storage ― which can cost millions of dollars each year for large departments ― would accelerate the push. (Departments will have to pay for data and service beyond the initial year.)
"If there's significant cost savings coming down the road, especially for the storage and data access, the likelihood is that will help facilitate the process of equipping every officer, particularly in large cities, with this kind of technology," Stephens said.
Axon's "freemium" model may give it a significant advantage over its competitors. Smith can sometimes sound like a Silicon Valley CEO, proud of his roster of employees who came to Axon from companies like Facebook and Tesla. And he says they're actively recruiting at top universities, often against tech giants like Google or Uber.
Company president Luke Larson compared Axon's Evidence.com platform, which police use to store and manage body camera footage, to networks like Facebook and Instagram. The "vast majority" of the competition, Larson said, is building "point solutions."
"The value of the network is actually the people that are on the network and their ability to communicate and facilitate and share information," Larson said. "I would say we're much closer to building that, a network of connected devices and software capabilities."
Smith is also excited about the potential of artificial intelligence, and notes that Axon recently acquired two AI companies. He believes advances in body camera technology will allow officers to be able to use the devices to automate much of the data collection process, freeing them up to do more policing and less paperwork. Axon recently developed a process that can automatically redact people's faces out of body camera footage, which takes hours to do manually.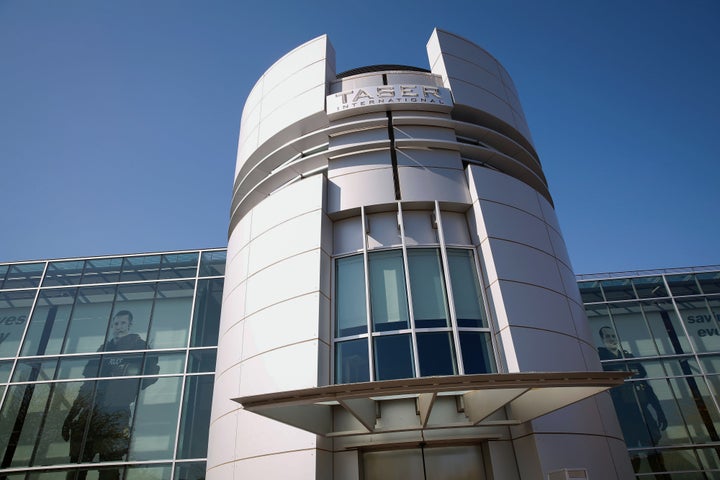 But the company's vision of a world in which every cop is outfitted with one of its body cameras may prove to be controversial as well.
Civil liberties advocates fear it's only a matter of time before police use this technology for more disturbing purposes. Advancements in real-time face recognition are fueling concerns that body cameras will lead to a system of mass surveillance, in which every person who falls into an officer's field of view is scanned and checked against a database.
Smith is dismissive of his skeptics. "We don't want this to just become a tool of the surveillance state," he said.
But at the end of the day, Axon is a company that answers to its clients, which are overwhelming police departments, said Jay Stanley, senior policy analyst with the American Civil Liberty Union's Speech, Privacy, and Technology Project. And that could make it difficult for Axon to resist pressure to deliver on some of these emerging technologies.
"We would urge the company not to issue tools that are most likely to be used for pervasive surveillance dragnets ― and if they do, make them available because of demand, then not to push them where there is no demand," Stanley said. "We'll be watching carefully what products they issue and we hope that they continue to shape the technology in ways that will have beneficial social effects and not bad ones."
Axon has been proactive on this front. Earlier this year, the company announced a new product that will automatically activate all nearby police body cameras when an officer draws a gun.
Although officers have been wearing body cameras during a number of fatal police shootings over the past few years, it's not yet clear if they'll have a broader effect on these sorts of encounters. Ten of the the 31 officers charged with murder or manslaughter for on-duty shootings between 2015 and 2016 were wearing body cameras, according to Philip Stinson, a researcher and former police officer at Bowling Green State University.
Last month, body camera footage of two Louisiana deputy marshals shooting into a vehicle as the driver appeared to raise his hands likely aided in a conviction. One officer was sentenced to 40 years in prison for the shooting, which injured the driver and killed his 6-year-old son. The second officer's trial is set to begin later this year.
"In most of these cases with body cams, or with video more broadly stated, I don't think the officer would have been charged without the video evidence," said Stinson.
Axon's early domination of the body camera market has also been a point of contention, and key rivals in the body camera industry have accused the company of using improper tactics to win contracts with law enforcement agencies. Last year, The Wall Street Journal turned up emails showing a company salesman coaching police officials in Virginia on the state's rules regarding no-bid contracts and offering free trips to conferences for police officials considering their product.
While those tactics and the company's history as a weapons maker is controversial, its brand recognition in law enforcement circles has been valuable as its body camera business has grown. "I get hugged at trade shows from cops who come up and say, 'Hey, thanks, I didn't have to kill someone because of the work you've done,'" Smith said.
The old Taser brand came in handy at the International Association of Chiefs of Police conference in Chicago in fall 2015, which took place just over a year after the Michael Brown shooting. It was a few weeks before the release of video showing the fatal October 2014 shooting of 17-year-old Laquan McDonald by Chicago police officer Jason Van Dyke.
The previous year had been a big year for the body camera industry. "Last year, maybe there were five or ten booths," said a representative of another body camera company. "Now it seems like just about everybody has a camera."
One night of the convention, Taser hosted a huge party with a Star Wars theme, and its booth at the convention hall was one of the biggest attractions of the conference. Middle-aged men spent hours walking around the conference holding the plush astronaut dolls Taser was handing out.
Inside Taser's exhibit, a woman playing a space captain described a future with no paperwork in which bullets were obsolete, and told police chiefs "the idea of killing someone to incapacitate them has become brutally outdated."
Technology, she said, "protects your officers from false allegations." She told them that they were just like other leaders who were "faced with the decision to either resist or embrace technology," like President John F. Kennedy when he decided to send a man to the moon, or Steve Jobs when he started Apple.
With Taser ― now Axon ― on a path toward dominating the body camera market, Smith has a similarly optimistic vision of policing in a world where every officer has a body camera.
"We want to triple the world's police force," Smith said. "We want to end this resource limitation that there aren't enough cops to do the job by basically freeing them from the shackles of this bureaucracy [of] sitting at keyboards all day, and get them out doing police work."
Popular in the Community