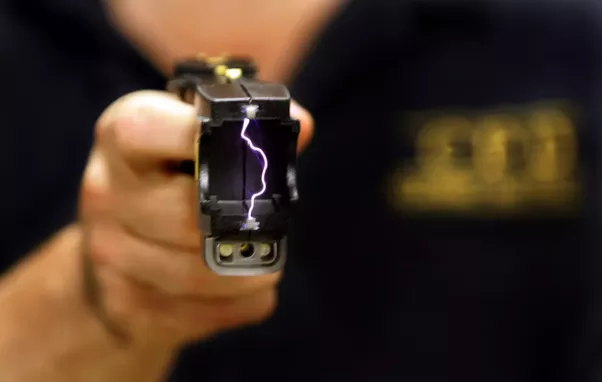 In "Shock Tactics," a six-part series of articles published between August and early December, Reuters news service takes a critical look at use of Taser stun guns, their connection with deaths, and related litigation.
A part of the series delves into use of the device to control inmates in state and local prisons and jails. The investigation into the device, which uses a pair of dart-tipped wires to deliver a strong pulsed electric shock, examined official reports, autopsies, wrongful death lawsuits by relatives of fatally shocked individuals, payments made by governments, and interviews with academics, manufacturing officials, lawyers, and people who survived Taser shocks.
According to what Reuters claims is a first-of-its-kind database — no federal agency collects such data —1,005 deaths have followed Taser use since it was first introduced in 1993. It became widely adopted in the early 2000s as a less-lethal alternative to firearms, and has been issued by an estimated 18,000 local police forces. Most Taser use takes place in encounters between officers responding to calls, often for mental health emergencies. Winnowing through the data, the Reuters series claims that last year, Taser use played a part in at least 20 deaths in U.S. jails, primarily local and county jails. Tasers are not used in federal prisons or by the two largest private prison companies, but are employed in the prison systems of 27 states, most commonly by officers performing high-risk duties, such as emergency response or inmate transportation. In incarceration settings, Tasers are by far most common in local jails.
Out of the 1,005 total deaths of individuals who have been shocked with the device, 104 were jail inmates. Reporters obtained autopsy reports covering 84 of those incidents, and felt they had full details on 70. Examining each incident – and securing videotape from local jails for 22 of them – the reporters concluded Taser use caused or contributed to the inmate's death in over a quarter of those 84 fatalities. Of the 104 inmates who died after being tasered, only two were armed when shocked with the device, but 18 were assaulting guards or other inmates. Far more often, the inmate was already under officers' control when the Taser was deployed: 34 were in handcuffs or other restraints, and in the 70 best-documented cases, 49 inmates were pinned to the ground or being held by officers.
Searching through legal records, Reuters found 442 wrongful death cases in which Tasers use was alleged to play a significant role; in 120 (or 27 percent), a Taser discharge was the only force alleged to have been used. Of those, 336 cases included claims against one or more government units, and 232 resulted in a judgment or settlement for the plaintiffs. In the 193 cases where details were available, total payments by government units and their insurers amounted to $172 million. The manufacturer Axon (the name was changed earlier this year from Taser Industries) denies the product has caused more than 24 deaths, all stemming from falls or fires that killed individuals incapacitated by the device. Because of the extensive warnings it issues on proper use, it is less often sued than are its government customers.
Christopher Zoukis is the author of Federal Prison Handbook: The Definitive Guide to Surviving the Federal Bureau of Prisons, College for Convicts: The Case for Higher Education in American Prisons (McFarland & Co., 2014) and Prison Education Guide (Prison Legal News Publishing, 2016). He can be found online at ChristopherZoukis.com and PrisonerResource.com.
Related
Popular in the Community