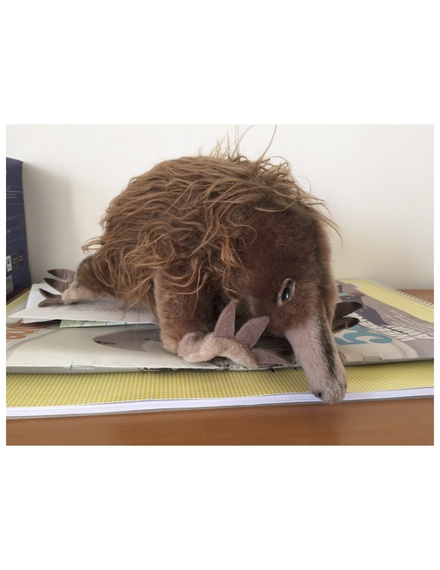 This Letter from Melbourne begins with a report on Tasmania (Tassie in Australianese). Hobart is the most charming southern town on the planet. I checked. Hobart's latitude is 42° S. Here are some other latitudes of major southern hemisphere cities: Buenos Aires, Argentina 34°, Cape Town, South Africa 33°, Santiago, Chile 33°, Wellington, New Zealand 41°. I actually wanted to begin this letter by writing "Hobart is the coolest, most southern town on the planet." But I feared the double entendre in this case, culture vs. low temperatures, would be confusing. Indeed, there may be other cool and charming cities below those towns mentioned above. But I don't know them nor were they listed in the latitude index I found on line.
I've just spent four days in Tasmania, Australia's smallest state, geographically and population-wise. It is the second oldest of the Australian regions, Hobart being founded in 1803. Only Sydney is older. Of course, an estimated 7000 indigenous Aboriginals were living on Tasmania when the British arrived at, what was then called, Van Dieman's Land. Within thirty years most of natives were dead by disease and by what we now call, "ethnic cleansing".
"Hobart, Tasmania": how exotic can you get? Growing up, my generation only "knew" of Tasmania through the Looney Toons cartoon character, the Tasmanian Devil . Real Tasmanian devils are currently a threatened species. For a change the threat to the devils is not solely human. Rather, the culprit is devil facial tumor disease, a virus that disfigures and ultimately kills the devils. Their population has been significantly reduced since the 1990s. Efforts are being made to quarantine devil colonies away from the virus to maintain the species. Apparently the other major threat is human - cars hit them when they are feasting on other Australian road kill, a common occurrence in rural Australia.
Aaaannnyyyway...Denise and I were checking out Tassie with our oldest son, Martin, who was visiting from Los Angeles. We couldn't find a decent hotel reservation for the weekend part of our stay but lucked into a fabulous Airbnb home that was at the end of Salamanca Place in Hobart. Salamanca Place and Battery Point are amongst the oldest neighborhoods (200 years old) in Hobart. This house was probably over 100 years old but had been renovated within the last five years.
Its location was ideal for checking out the harbor side of the town which has been lovingly restored. There's a fine line between Disney kitsch commercial tourism and authentic-feeling renovation that tourists of all ages can enjoy and appreciate. Hobart's older sections definitely fall into the latter category despite a plethora of open-air restaurants, bars and shops that border on the water of the harbor.
The Salamanca Saturday market is known throughout Australia. Thus, our weekend timing was perfect. I've been to more craft markets than I care to remember - craft markets is a Denise thing. But I have to admit the Salamanca market offered some of the best and most interesting crafts I've ever seen exhibited in an open-air market. The place was jammed by 10 am. Virtually all the customers were Australian tourists. I didn't hear a single North American accent. I quickly broke down and bought a stuffed animal version of my now favorite Australian fauna, the echidna. I learned his name is Harry. Harry sits proudly in my Australian home office I use for Skyping California patients back home. His photograph graces the top of this page.
We could only stay at the market for two hours because we then caught the ferry to MONA, the Museum of Old and New Art. MONA is another must see of Australia. It has changed Hobart as a visitors' destination in the way Frank Gehry's Guggenheim Museum has done it for Bilbao, Spain. The origins of this unique museum are weird. Tasmanian native, David Walsh, who made his near billion by developing a successful gambling system, has spent up to $200 million AUD to renovate a site and add to his collection, which opened as MONA in 2011.
The ferry that takes your from the Hobart docks to MONA is special. The site and grounds are beautiful and well designed. The architecture (by Melbourne architect, Nonda Katsalidis, who also designed the less attractive Eureka Tower in Melbourne, Melbourne highest building at this time) is stunning and unusual. I'm going to quickly run out of superlatives here. Well, the collection is very interesting and unusual. Not all of it worked for me. But Denise who is the museum maven of my family, feels that MONA is the best "museum experience" she has ever had. 'Nuff said, but if Denise is an insufficient authority for you, check out what Jane Perlez of the New York Times had to say on MONA about a year ago . Basically Denise and Jane agree.
But I must add a final word of advice on MONA for my tennis-playing buddies. Hey, bring your racquets! After you ascend a long staircase from the ferry to the museum you first find yourself on a lovely artificial grass tennis court. I mean every single museumgoer must ask themselves, "What is a tennis court doing here?" - and then if they are players like I am, kick themselves for not bringing their equipment with them.
But hold on, this court is only for Mr. Walsh and his guests (I checked with one of the docents). Walsh lives on the premises and sometimes (not often, I hear) plays. He owns a Tesla as well and apparently parks in a car spot labeled "God". Next to that spot is another, labeled "God's Wife" - but I didn't think he was married. There are six living units facing the water that apparently rent from $800 AUD a night and higher (this information was according to Martin, who checked on-line, because he really liked the locations). Maybe if you spend the night, you can play on the court. I would consider it. If anyone wants to get me a birthday gift (hint, hint) ...
The next day, the three of us took a drive up the east coast of Tasmania, stopping for the night at Swansea, which was a bit of disappointment to me. It had been described as one of the oldest towns in Tasmania, with several historical buildings. The only one I could find was the general store started in 1838. The current building looks from the 1880s. Remarkable though, since 1868 it's been run by the same family for six generations. I caught a glimpse of the current owner working in his office - he looked only in his young sixties.
We thought Swansea was the gateway to Freycinet National Park, by reputation one of the most beautiful parts of Australia. The eastern coast, alone, up to Freycinet wasn't bad, much of it forest which reminded me of the American northwest (different trees but heavily wooded), rolling green countryside with way more sheep than people. I couldn't find an easy stat for the number of sheep in Tasmania but in 2015 there were 77 million sheep compared to 33 million people in all of Australia. This is down from 180 million sheep in 1969. Given the opposite directions of these trends, I predict that Australian people will outnumber Australian sheep sometime in the late 21st century. This is important to know - especially for investors.
Where was I? It turns out that Swansea is a good 45 minutes drive from Coles Bay, another charming, totally picturesque, small village which truly is at the entrance to the national park. This error (on my part) was important because it gave us less time to explore the park with a late afternoon plane from Launceston back to Melbourne pending. We managed to climb to a viewing area to see Wineglass Bay, deemed by many travel experts as one of the ten most beautiful beaches in the world and a national heritage site. It sure did look real pretty, though with more time (and energy), we could have hiked to the beach and appreciated it more fully.
OK, time for our Australian language lessons:
• walloper - a policeman, a male police officer (Scottish origin - a large but floppy penis - used as an insult). "into the hands of the wallopers"
• prime-mover - (multiple definitions but in this case) the means of towing a cannon, as an animal, truck or tractor. Australian for American tractor trailer. "His prime-mover and 4 wheel drive collided"
• doof - as in bush doof -- Originating in the Sydney post-punk electronic music scene of the early 1990s, the slang term refers to a type of outdoor dance party in Australia and New Zealand, generally held in a remote country area or just outside big cities in surrounding bush or rainforests and similar to raves or teknivals. "Farmers fight to keep bush doof."
• schemozzle - (must be some variant of schlemozzle says Larry Diller) slang: a confused situation or affair: a mess or muddle. "It's all been a bit of a schemozzle."
• craic - fun and entertainment, especially good conversation and company (often preceded by "the"). (origin: Irish/English in the sense of "wisecrack"). Sign seen on the Hobart Harbor strip "The best craic in Hobart"
• charge like a wounded bull - to charge an excessive fee for any item or service
• slashie - we may be witnessing the birth of a word (a neologism) as an apparently newish, yet another, Australian diminutive makes its first appearances. Even The Age put quotation marks around slashie as in "Ms. Davis is an impressive 'slashie' as in WAG/teacher/charity worker/shop assistant": slashie = lots of slashes to describe a multifaceted career (get it?). What's a WAG btw?
Enough already! Best from Melbourne, until the next Letter.