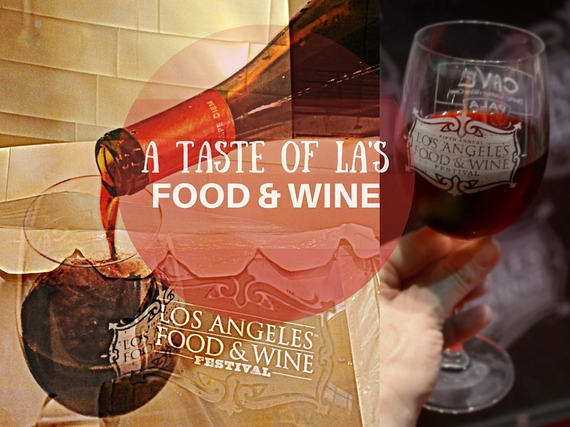 The LA Food & Wine Festival in downtown rolled out the red carpet for its fifth year this August 27th through 30th, a tasting event showcasing Los Angeles' finest culinary offerings. Among the white tents and celebrity chefs, I went in with a clean wine glass in hand, wading through the throng of food and wine seeking gourmands. What to taste first was my only dilemma. Many selfies were taken against the step and repeat areas, ad vinum. Of course, tipsy selfies are quite acceptable here. I'm guilty of that bourgeois indiscretion myself, given a little vino.
Wine, of course, was the first stop. I managed my food smeared Nikon camera with one hand, wine glass and plate with another, and went about gawking at the servings from all over the city.
In this foodporn-obsessed topshot-styled foodie era, we consult our phones and scroll through every Instagram bite, making sure our food snaps are all filtered, posted, tagged and hashtagged before it settles into our bellies. One can glean the celebrity chef prepared tastes via images from the #LAFW social media hashtaggery, however, it doesn't give you an actual forkful of some of the best tastes in town. Instagram can wait. Tastebuds cannot.
Thursday: The opening event, Lexus Presents Ultimate Bites of L.A., was hosted by Chef Curtis Stone of Maude Restaurant, featuring a stellar line up of the best of Los Angeles' chefs, such as Kris Morningstar of Terrine, Nancy Silverton of Mozza, Jessica Koslow of Sqirl, Steven Fretz of The Church Key, Vartan Abgaryan of Cliff's Edge, Pawan Mahendro of Badmaash, and Philip Frankland Lee of The Gadarene Swine, to name but a few. I've been to most of these restaurants yet having them all together was like being a kid in a candy store.
Chef Phillip Frankland Lee and his wife, pastry chef Margarita Lee, held their own culinary fort at The Gadarene Swine booth, offering potent sake shooters. These were pure plant-powered flavor bombs, causing an edible explosion.
Chef Phillip explained how to taste sake shooters in three steps: 1) eat the roasted tomato skewer first 2) take the shot of unfiltered sake, lime juice and tomato syrup 3) chase with the avocado mousse, cucumber and red onion. The sake shooter electrified my senses and was truly good medicine. After arriving late, enduring one very long day at work, taking an Uber ride all the way from the dry golden lawns of Van Nuys to the iconic steel curves of the Walt Disney Concert Hall, another sake shooter was indeed necessary. Tomato skewer eaten, sake knocked back, avocado mousse scooped out. Again, an explosion of flavor.
Chef Manouschka Guerrier dragged me over to dance to the beats of DJ Questlove. Chef Kris Morningstar was wildly rocking out and having a great time. Chef Curtis Stone graciously posed for photos with all of his fans. I asked Curtis Stone if he wouldn't mind taking a photo with me. Being a gentleman, he obliged. (What a guy.)
Starry Kitchen's Nguyen Tran wandered about the crowd in his usual banana suit. Yes, this was a quintessential Los Angeles food event alright.
I had many sips of dry rosé, refreshed my glass a few times with more Sauvignon Blanc, and finished the night with a floral Pinot Noir. Uber was taking me home. Wine was everywhere. Just hold out your glass and smile and someone will pour. It's a challenge not to drink too much, especially with all of those winery sommeliers tempting you. Did I mention the wine?
Friday: I completely missed Night Market hosted by Chef Tyler Florence, which meant missing Chef Viet Pham of Ray's and Stark Bar, and the "Seafood Samurai" Chef Joji Inoue of Chaya restaurant's downtown location. Alas, I only arrived to catch up with Chef Jet Tila and his wife Allison, which made everything worthwhile. Jet and I took a quick selfie, then talked about our kids. Next year I'll try not to be such a hard working busy mom and actually make it to this particular event, because Night Market had a spectacular line up of chefs, such as Tin Vuong (Little Sister), Akasha Richmond (Sambar), Jason Fullilove (Clifton's Cafeteria), Brendan Collins (Birch), Hannah An (The District & Crustacean), Alvin Cailan (Eggslut & Ramen Champ), Chris Oh (Seoul Sausage), and many more.
Saturday: The late August heat was sweltering enough to melt my first scoop of ice cream with strawberry sauce from Chef Tyler Melek of Salt & Straw, so of course, a second order was necessary. I was led about by Jenni Hwang, Chaya's Director of Marketing and food blogger (Hello Jenni) and she showed me first hand how to handle the tasting lines. We swooped in on as many bites as possible, snapped photos and savored. Plated had a display inside an Airstream with outdoor patio seating. My food blogger friends Tara Redfield (The Food Pervert) and June Quan (Stir and Style) found me in the crowd and, yes, we drank more wine.
Chef Chris Oh (Seoul Sausage) was spotted and waved a friendly hello to us while he swaggered about his way in the crowd. My friend Tara and I made Chef Bruce Kalman (Union) into a sandwich. After the night was over, a slew of sweaty, bedraggled chefs gathered about and went off to the rooftop after party somewhere. I gave my media badge over to a charming Frenchman who held a ticket to the party but did not have a badge to enter.
Next year I'll arrive early, take better photos in daylight, drink more wine, taste more food, and keep my media badge to attend the after party.
My glass of wine at LA Food & Wine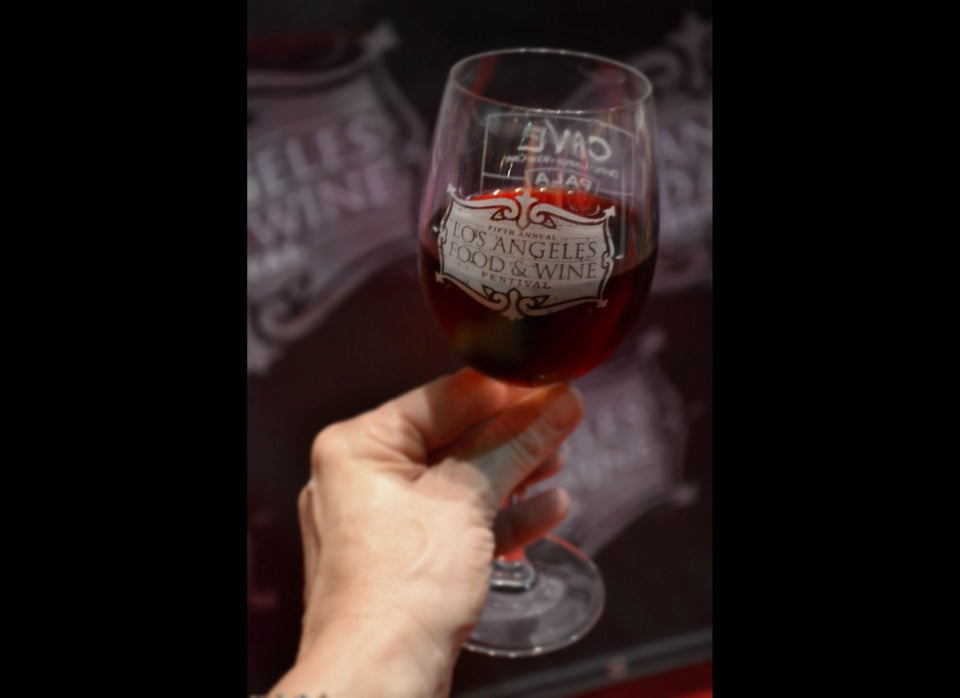 Dropping Flavor Bombs at The Gadarene Swine Booth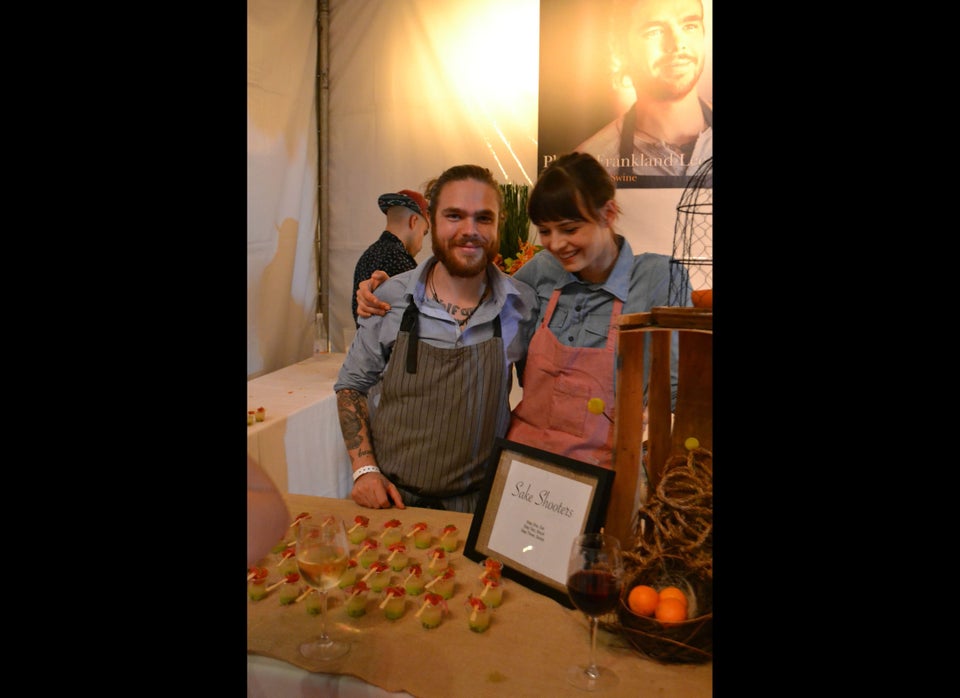 Sake Shooters by Chef Phillip Frankland Lee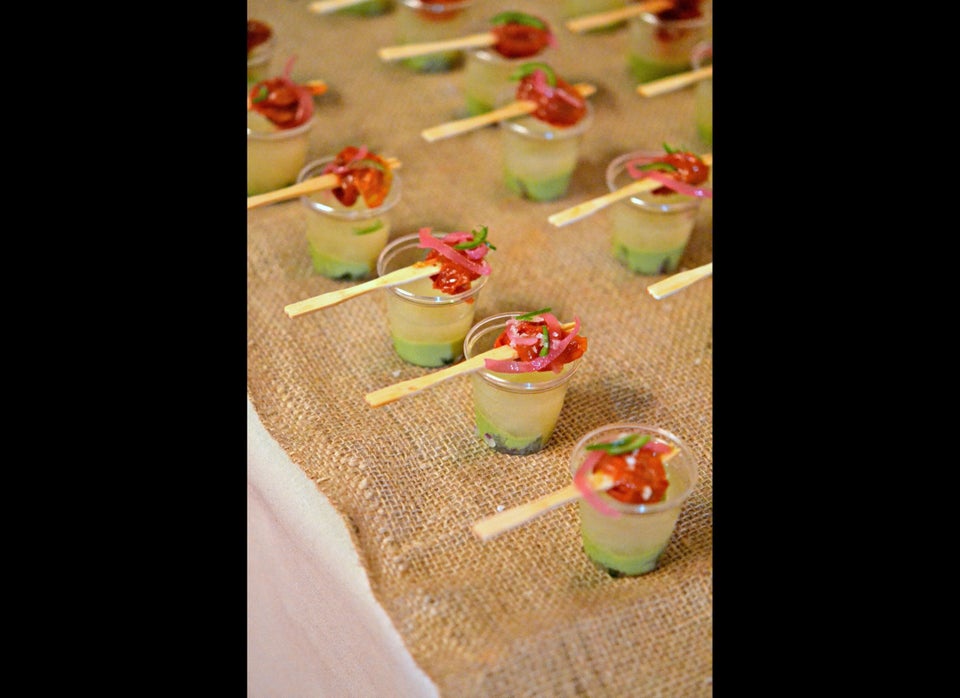 But first, lemme take a selfie.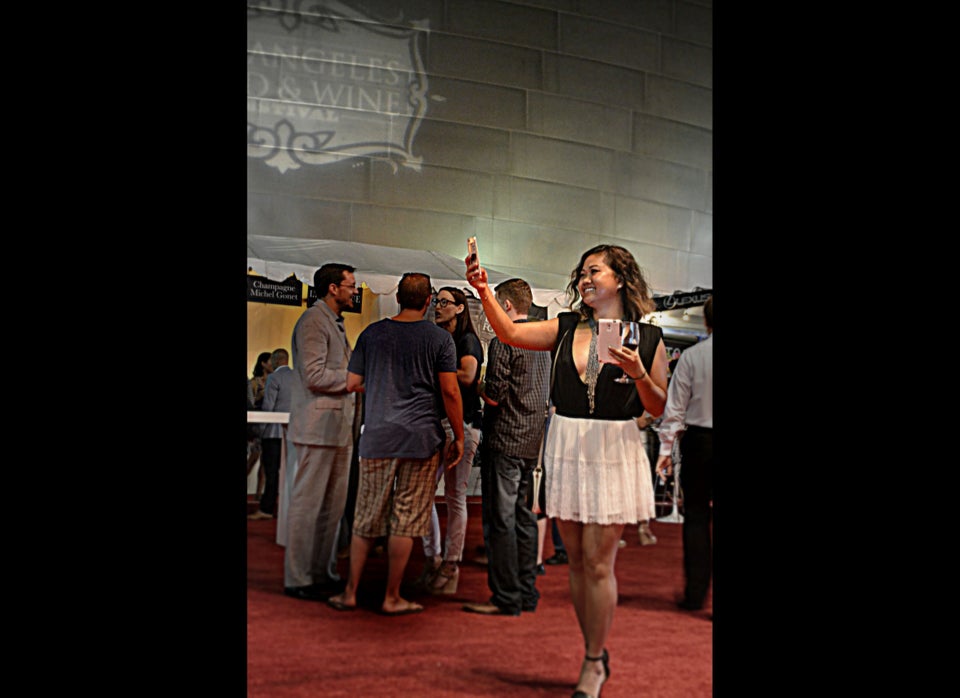 More wine please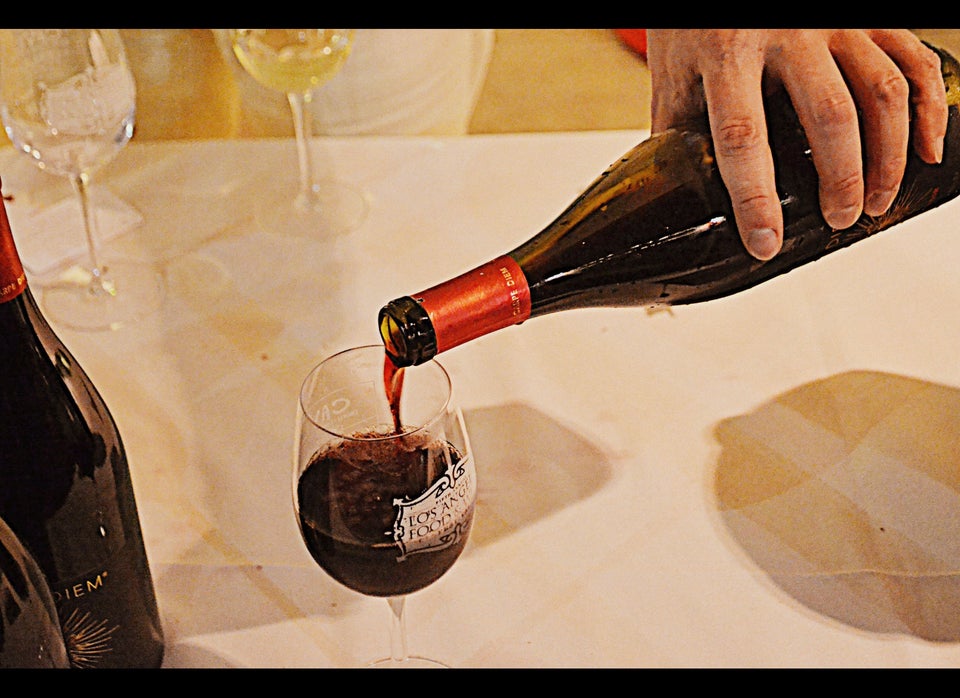 Chefs rock!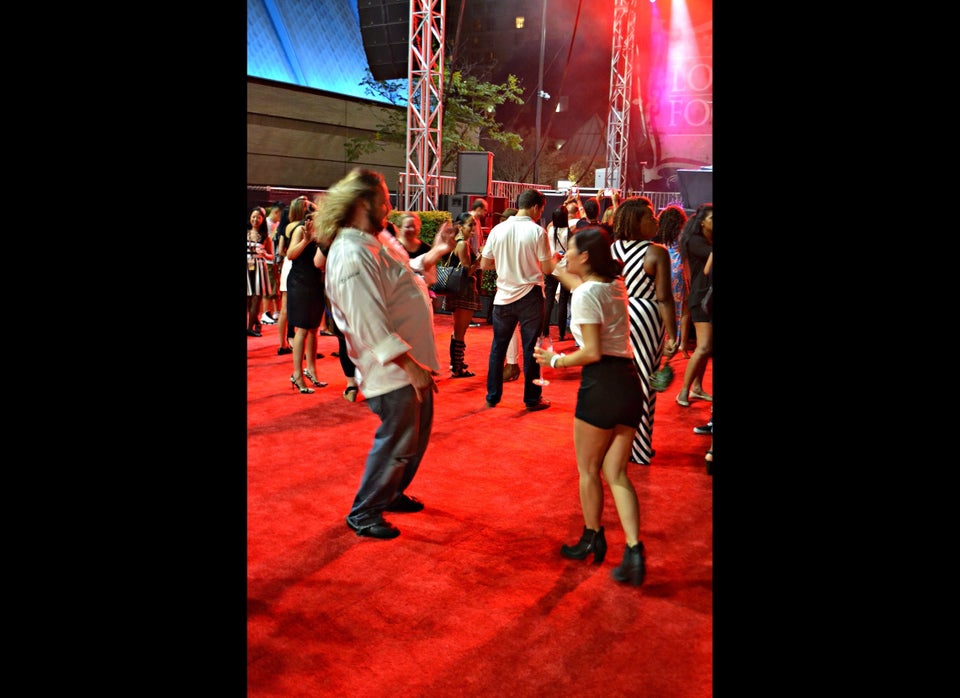 The Maude Booth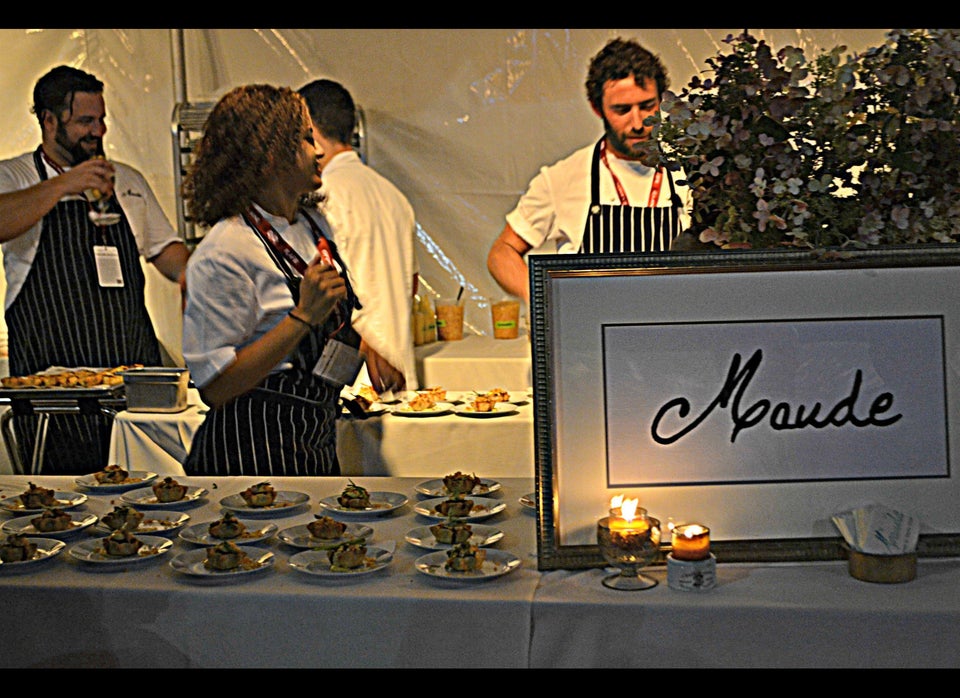 Chaya's Japanese Tai Snapper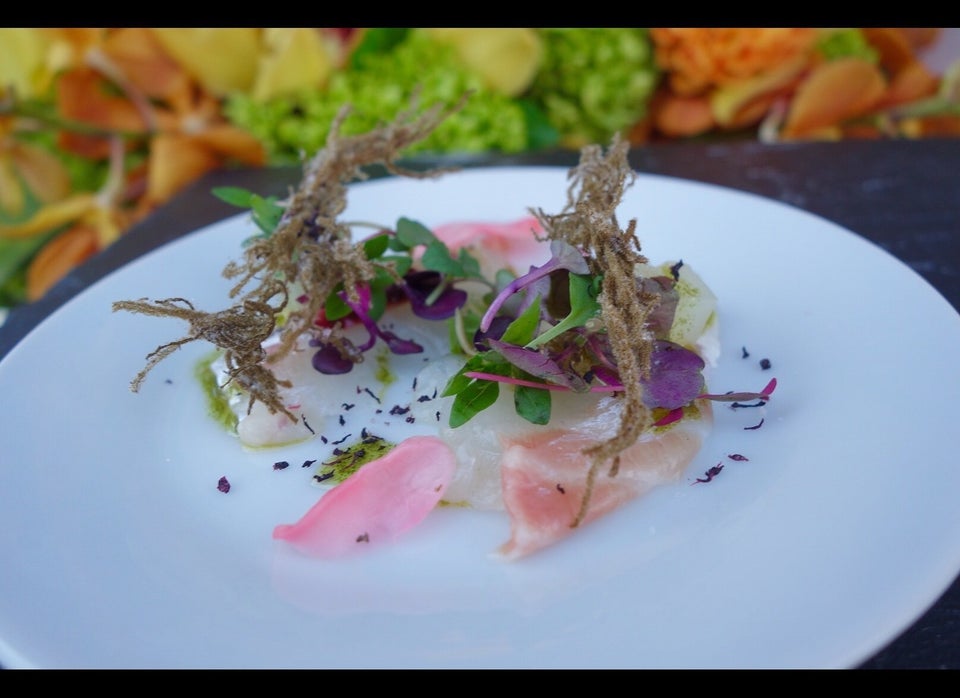 Starry sightings at the festival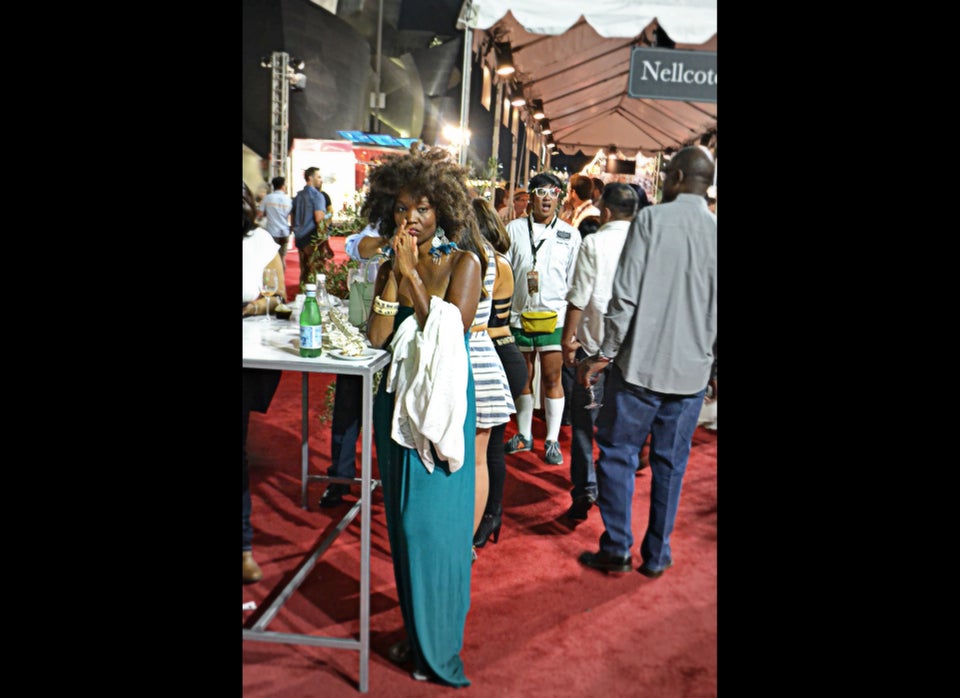 Everyone wants a photo with Chef Curtis Stone.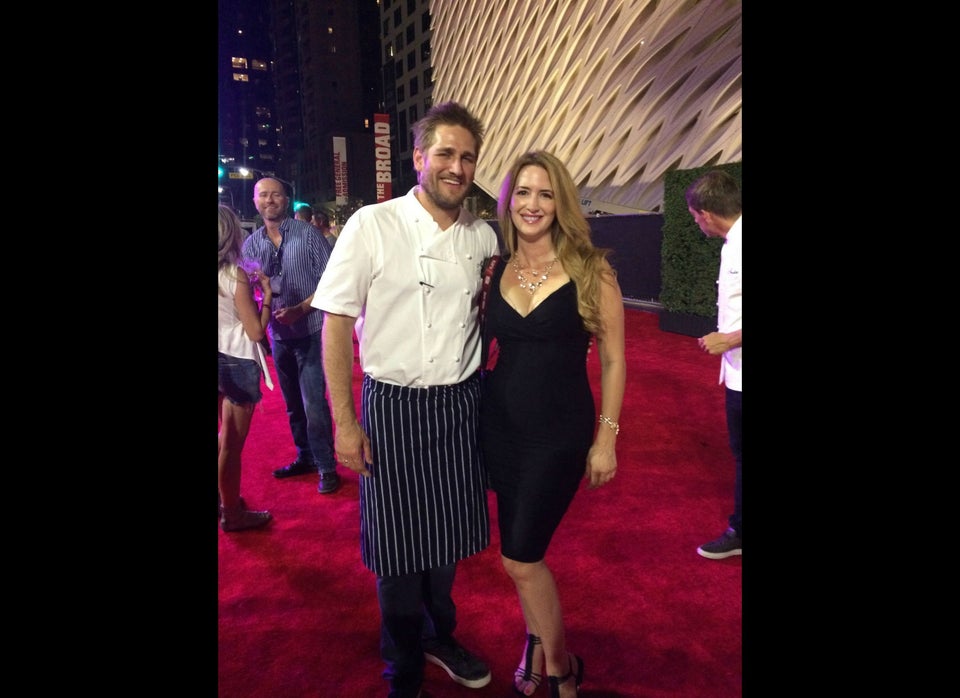 Plated arrived and made us hungry.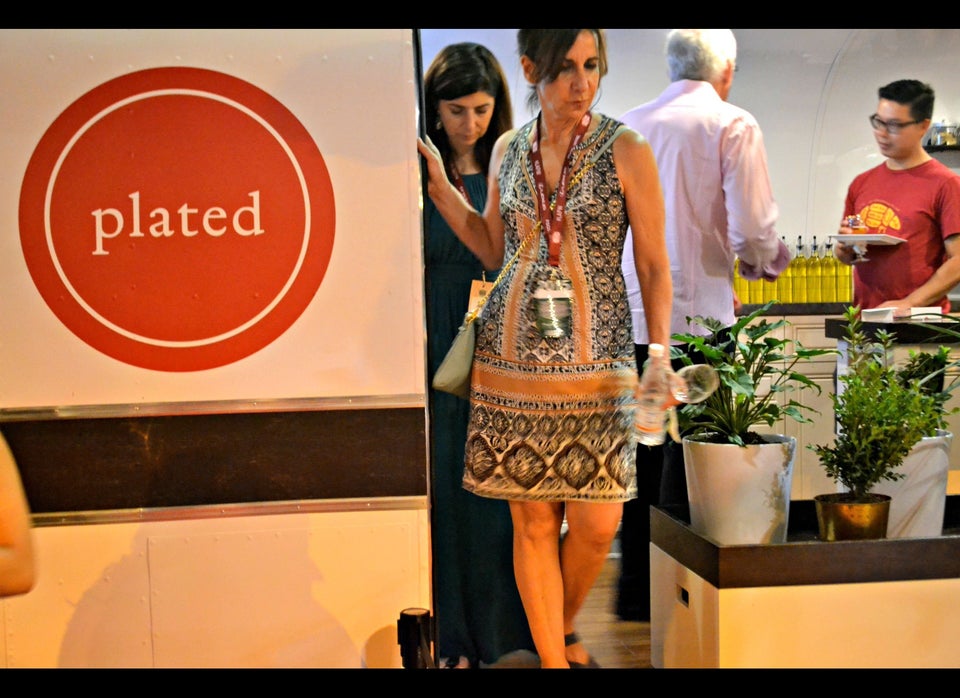 Kistler Vineyards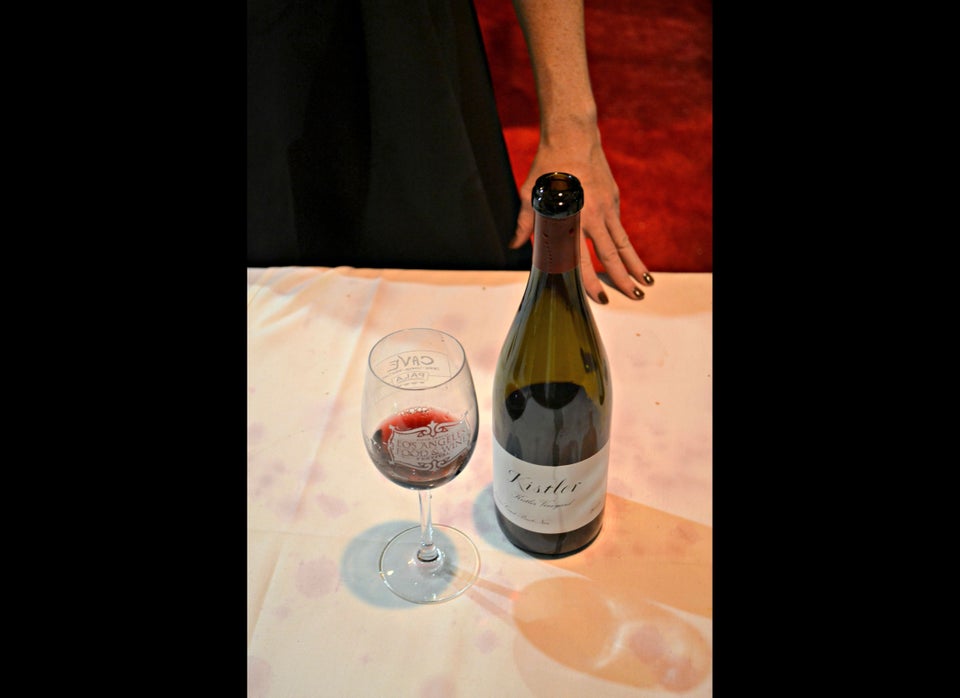 I'm with the chef!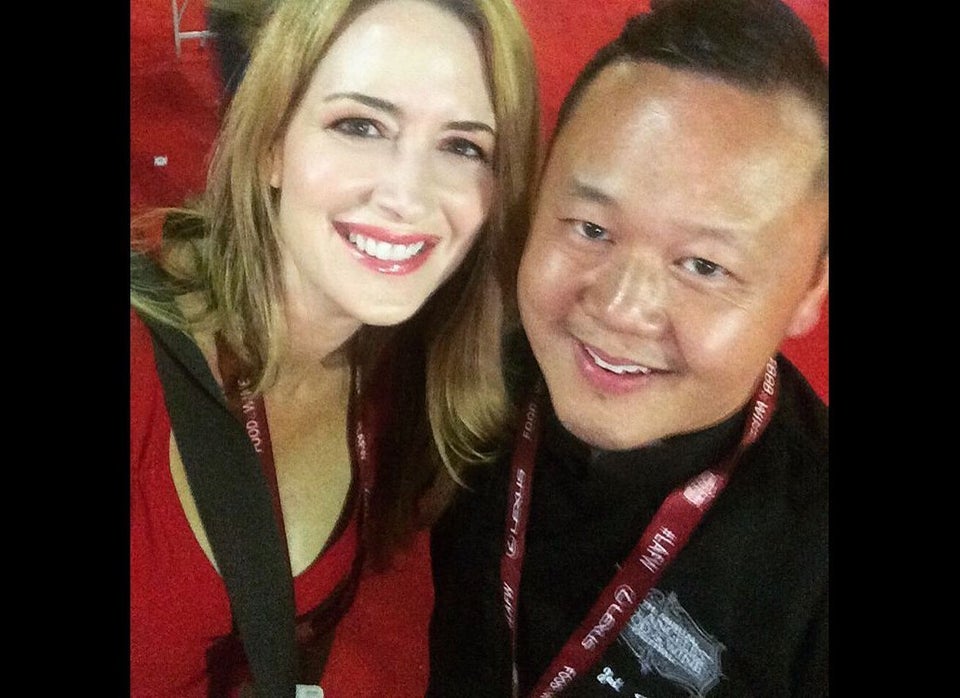 Chef Tyler Malek, Salt & Straw
Salt & Straw