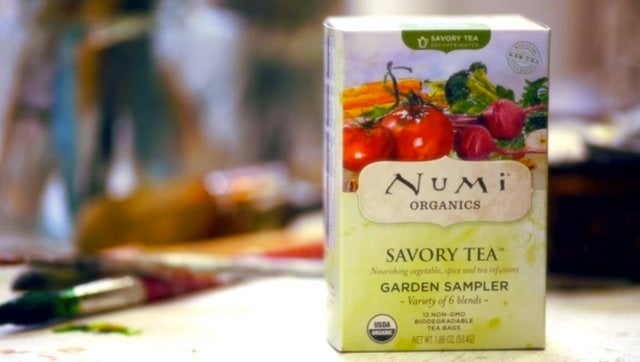 Numi Organic Teas announced recently that they are launching a line of savory teas. We weren't exactly sure what that meant. In our grand tradition of odd food curiosity, we obviously had to try them. The kind people at Numi were nice enough to send us a Garden Sampler box of their six new savory flavors, which meant we had some savory tea sipping to do.
We really weren't sure what to expect. Is it soup? Is it broth? Is it tea? The answer, truly, is that these savory teas are kind of all of those things at once. Nearly all are devoid of any sweetness (aside from the Carrot Curry and Beet Cabbage flavors, which had a little natural sweetness to them). The teas are salty, but the box notes that all sodium is naturally occurring. Think of the lightest, subtlest consommé you've ever sipped -- then add tea. Some of us actually really liked this new way of thinking about tea, while others just couldn't get past the soup/tea confusion. We universally agreed that nearly every one of these teas would be delightful with a squeeze of lemon.
A breakdown of each flavor, and some of our taster's comments:
Spinach Chive:"Like watery spinach soup, but not in a bad way. I'd drink this!" "If this were soup, okay. But this is DISTURBING AS TEA." "Smells like dirt, tastes like chives." "

Really

vegetal."
Fennel Spice: "Lovely fennel smell, but doesn't taste like much." "Tastes more like spice than fennel -- which is nice." "Smells like Ricard, which is a good thing. But tastes overwhelmingly like pepper." "Add citrus and we've got a deal."
Tomato Mint: "Nice and minty, but I want more tomato." "Tastes like Cup O' Noodles broth." "Very nice and hearty for a mint tea. Tastes naturally sweet." "Needs... cinnamon??"
Broccoli Cilantro: "Smells REALLY unpleasant, but I like the flavor." "Not drinkable as tea." "More subtle than some of the others." "I can't stop sipping it." "I want to use this as soup broth."
Carrot Curry: "Curry smell is kind of overpowering, but tastes sweet and carroty." "Very, very carroty." "Tastes like ramen noodle (the cheap kind) broth." "Barely tastes like anything."
Beet Cabbage: "Nice beet flavor. Cabbage smell not so appealing." "HATE. Cabbage." "The beet is overpowering in a good way." "Smells like a great broth. Tastes like sweet beets. Beautiful color." "This one I would drink -- with sugar added!"
Overall, we were surprised by how much we liked some of the flavors and kind of have to applaud Numi for getting into this brand new tea territory. The amount of savory flavor they were able to achieve while maintaining their commitment to simple, organic ingredients is really impressive. We've honestly never tasted anything like these and might find ourselves turning to them during the slow, winter afternoons in our immediate future.
What do you think of the idea of savory tea? Let us know in the comments!