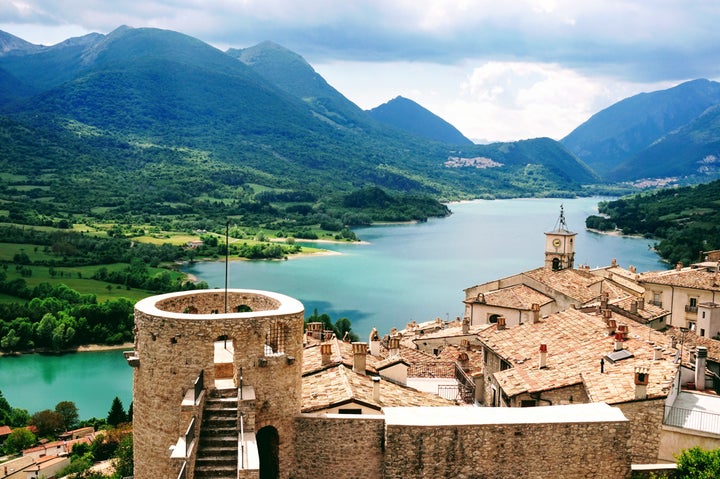 Heading to Italy and want to Instagram where (almost) no one has Instagrammed before? Point your Vespa in the direction of Italy's best-kept secret: the southeastern region known as Abruzzo. Boasting a rocky coastline studded with the country's last remaining wooden fishing contraptions (known as trabocchi) and three of Italy's national parks with stately mountain ranges, Abruzzo derives its culinary traditions from the animals and plants that have long withstood the region's tough climate and remote terrain. Take your taste buds on a tour through the natural beauty of this less touristy Italian region that's just a couple hours from Rome.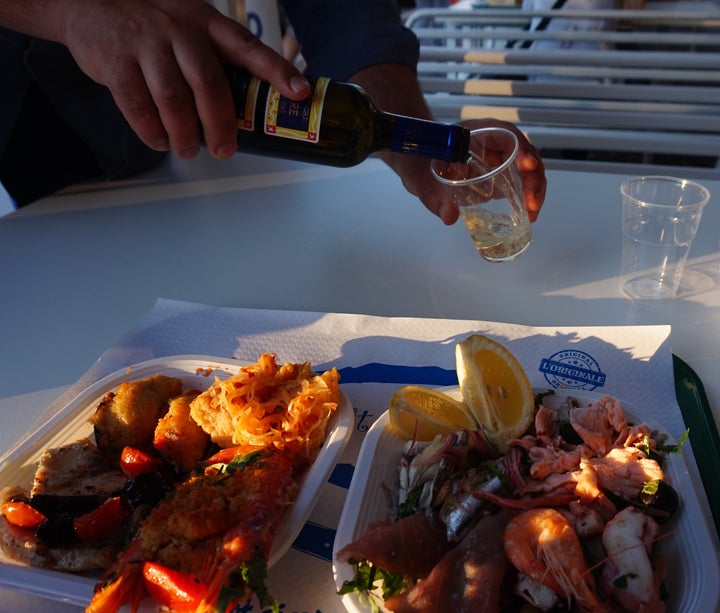 Seaside indulgence in San Vito Chietino
Along Abruzzo's Costa dei Trabocchi is a lively little town called San Vito Chietino. Seafood restaurants abound here, but one place stands out for its lively atmosphere, music and mouth-watering seafood menu: Le Frit, C'est Chic, which won last year's highly sought after Gambero Rosso prize for street food. Whether you prefer prawns to sardines or codfish to calamari, this cheekily named family business serves it all — and for only 5 euro (about USD 6) a portion. Pair your food with the excellent house white (produced by the family), grab a bench seat and take in the coastal town vibes.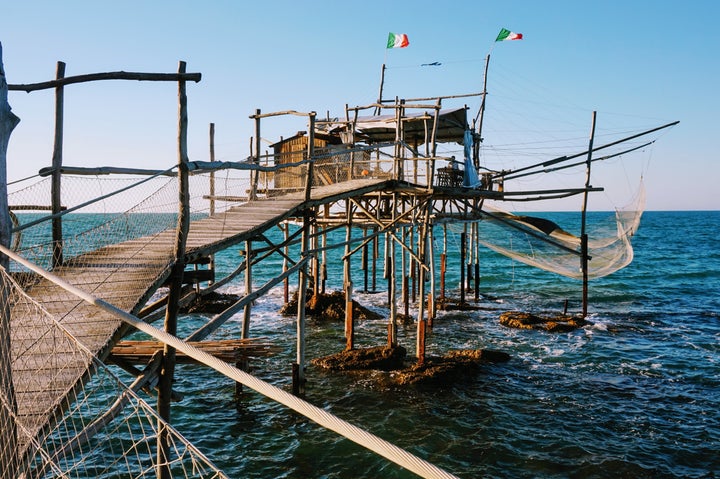 Santo Stefano di Sessanio, a medieval mountain village
Before you explore the 187 miles (300 km) of hiking trails, lakeside bird-watching spots and cinematic mountain views of Gran Sasso e Monti della Laga National Park, stop for a hearty lunch at the restaurant of Residence Il Palazzo, a 500-year-old farmhouse renovated into a B&B. Located just outside the well-preserved medieval mountain village of Santo Stefano di Sessanio — 4,100 feet (1,250 km) above sea level — the restaurant's main dining hall gets packed on weekends, so arrive before 1 p.m., or ask to sit in the smaller room.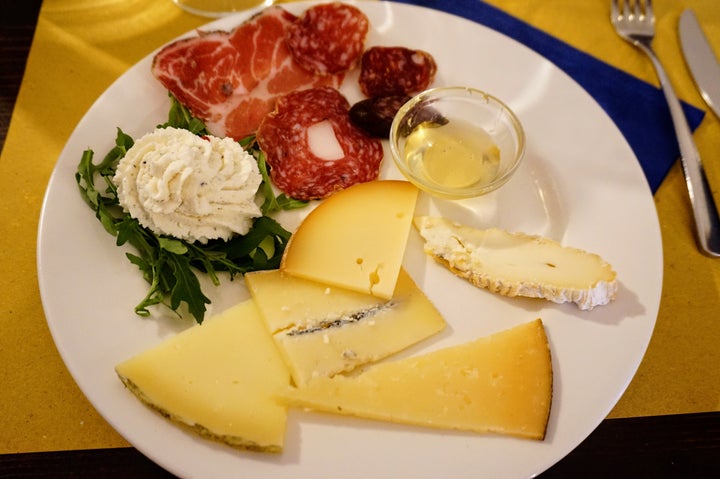 Dining here is like a crash course in the culinary history of Abruzzo. As you feast on a wide array of comforting Abruzzo specialties, you'll quickly learn that virtually every single ingredient on your plate, and in your glass, is locally (not regionally) produced. Start with a plate of cheeses and cured meats (ask the owner for a peek into the cheese cellar), then dig into a light lentil stew — and be sure to appreciate every bite, as the lentils are harvested by hand and grow only on the mountain slopes of Gran Sasso. This could be followed by a warm bowl of creamy barley and mushrooms, then tender lamb chops and finally ricotta drizzled with mountain honey.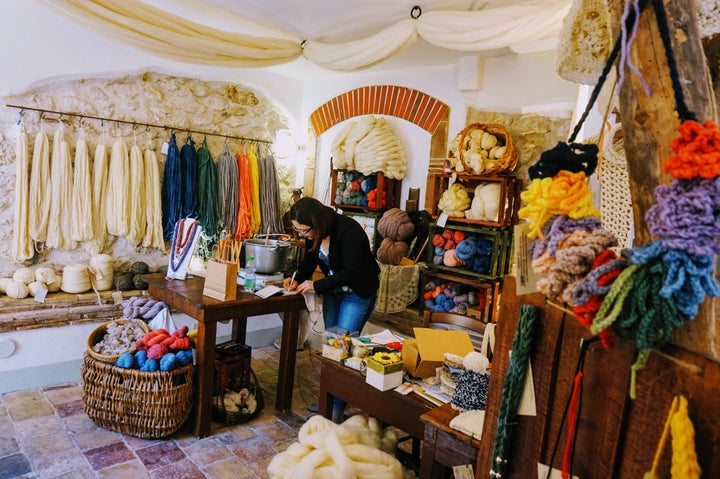 As you walk off your lengthy and memorable meal through the narrow, cobblestone lanes of this ancient village, you can peek into the little doorways of cafes, B&Bs and shops, like AquiLANA, where the owner sells yarn, clothing and accessories made from the wool of her family's sheep, and which she colors with plant-based dyes. On your drive down from the village, stop by the park refuge, Ristoro Mucciante, for the very traditional Abruzzense treat of arrosticini: skewers of juicy lamb meat grilled over an open fire. You'll find hikers, bikers and families with camper vans taking a break here to buy meat for grilling right on the spot, as well as cheese and other snacks.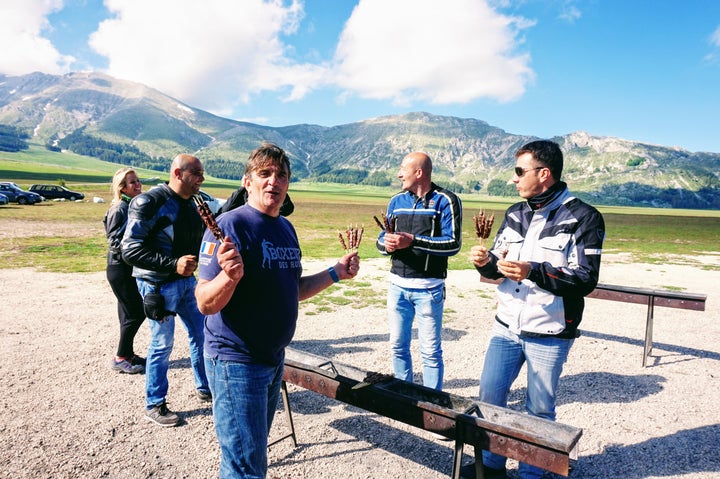 Sweet and savory in Sulmona
Sulmona locals must have a sweet tooth. They're surrounded by colorful confetti candy (sugar-coated almonds), which has been gifted on special occasions (like a graduation, wedding, baptism, birthday, anniversary, etc) since at least the 14th century. At the Pelino confetti factory, one of nine confetti factories in Sulmona, watch the confetti-making process in real time, dive into the sweet history of confetti traditions in the impressive mini-museum, and go tasting and shopping in the confetti wonderland downstairs. For a last blast of sugar, ask for the "confetti coffee," a house special, at nearby Caffe Ovidio (Corso Ovidio 224). The cafe, like several of Sulmona's streets and plazas, is named after the city's famous poet-son Ovid who was born 2,000 years ago.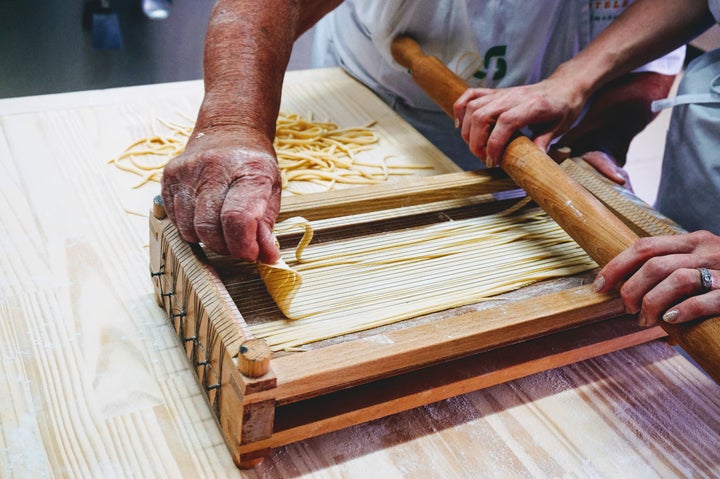 After the sugar rush, it's time for a savory treat, like Abruzzo's traditional pasta alla chitarra. 'Chitarra' means guitar, but not because the pasta is guitar-shaped — its name is derived from the many-stringed, wooden pasta-making contraption resembling a boxy guitar. If you want to understand the secret behind this timeless pasta tradition, who better to teach you than an Italian grandmother? Welcome to Sulmona offers a cooking class presented by a mother and daughter team in the professional kitchen of Hotel Santacroce Ovidius.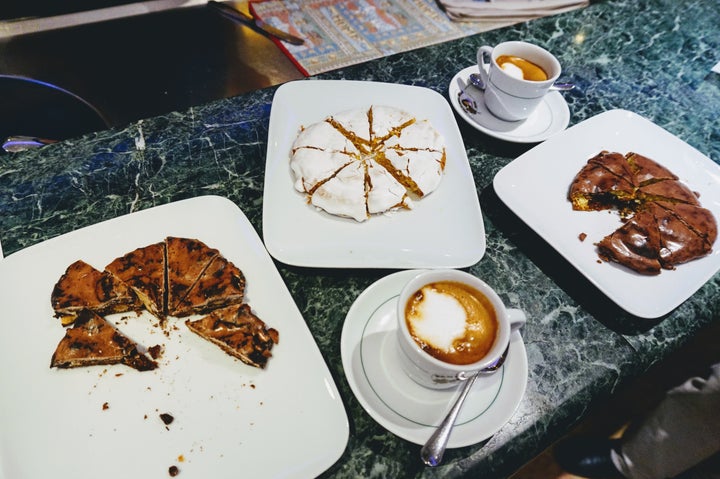 Scanno, where time stands still
From Sulmona, a long, winding forested road leads down past the heart-shaped Lake Scanno into Scanno, a picturesque town where a traditional way of life still adheres. To discover an edible Scanno tradition, head to Pan dell'Orso bakery and cafe, an elegant spot to linger over coffee and gorge on 'mostaccioli al mosto cotto,' a round, flat pastry made with mosto cotto, the sweet juice from pressed grapes.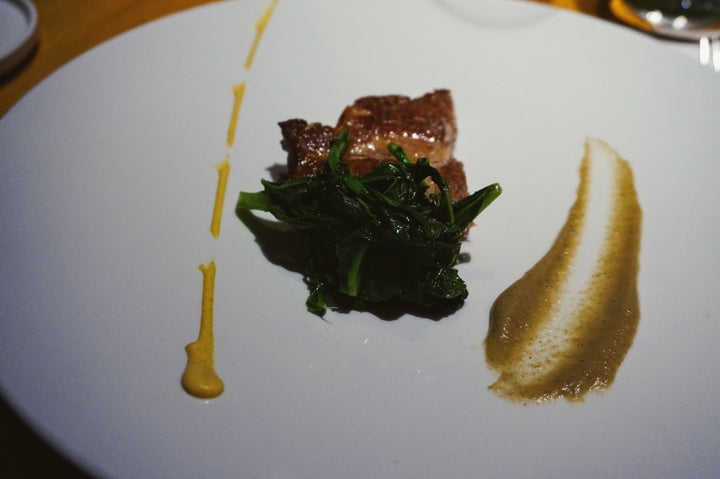 Redefining tradition in Avezzano
Allow Abruzzo to bid you a proper farewell – make a reservation at Mammarossa in Avezzano, on your way back to Rome, and let the feasting begin. In Abruzzo's second largest town, chef Franco Franciosi has been cooking creatively for his community for 15 years, but now his culinary prowess is on full display for locals and tourists alike at his new restaurant. Francioisi pays homage to Abruzzo's historical ingredients and recipes, albeit with a modern, worldly twist. Although the menu changes daily, you might encounter dishes like Il Cappuccino di Baccala (codfish bisque), Le Pappardelle (pappardelle from Abruzzo-grown saragolla wheat and sopravvissana sheep ragu) or Croccante di Maiale (wild boar with sauteed greens).
Popular in the Community