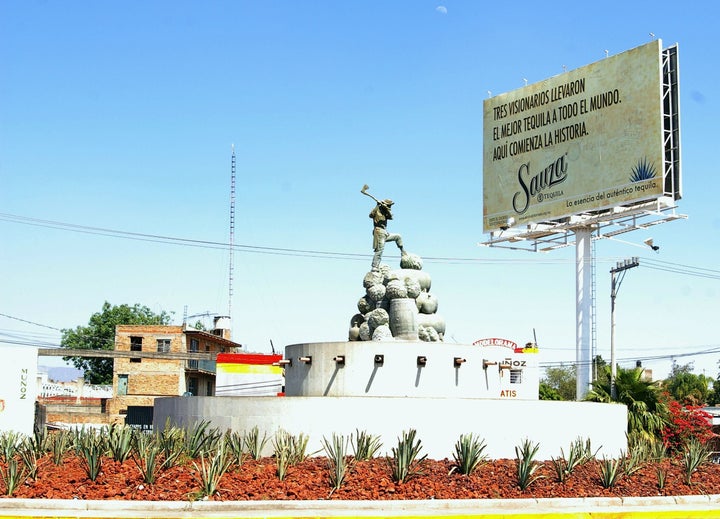 It's an ancient tradition in Jalisco, Mexico. The jimador in his wide hat and boots, the elegant arc of attack, the final swift plunging of the sword. Bullfight? Not exactly. It's harvest time for blue agave plants: giant pineapple-like blobs that are chopped, roasted and distilled here into the world's finest tequila.

Watching the tough but smooth harvesters at work is only the start of the spectacle for those on Mexico's Tequila Trail. Tours and tastings are free at the estates near Guadalajara that produce Jose Cuervo, Herradura, Sauza and the other famous brands that end up as the raw material in your margarita glass.

But you don't have to drink a single shot of the stuff to have fun. Though far less formal than a Bordeaux or even a Napa route du vin, the area around Amatitán and Tequila -- with its scenic plateaus and mountains like the "Tequila Volcano" -- is a UNESCO World Heritage Site. There's the National Museum of Tequila to roam through and you can ride The Tequila Express ($64 for adults, $36 for kids), a tourist train that runs from Guadalajara to Amatitán and includes onboard Mariachi music, snacks and a tour of one of the estates.

Guadalajara, itself, is Mexico's second largest city and a vibrant cultural center. One of the architectural highlights in the historic downtown is the Instituto Cultural Cabañas where you can stare up at famous murals by José Clemente Orozco like "The Man of Fire" which literally made me step back because of its size and power. Though it's tricky to pronounce, Tlaquepaque is a neighborhood packed with artisans on the outskirts of Guadalajara and a good place to have lunch or stroll around (many of the streets are pedestrian-only) while checking out shops and stands full of traditional ceramics, paintings and clothing.
For those who stick close to the Trail, each distillery shows off its own quirky air. At one stop you taste freshly-roasted chunks of blue agave (it tastes a bit like rhubarb); at another, you get a crack at sticking labels on bottles or dipping the tops into a drippy red wax for sealing. Patron Tequila has constructed a Hearst-like castle and gardens that are newly minted and so wildly over-the-top that you'd swear Bernie Madoff slept here. Tequila Cazadores struts out a Rockette-like troupe of cocktail cheerleaders ("Las Chicas Cazadores"), while at Herradura gimmicks are scarce, except for its studiously posh Mouton-Cadet air.

The area of Jalisco is said to be the birthplace of horn-blasting Mariachi music and tourists at a couple of the estates are serenaded by strolling bands and skirt-whirling dancers. At one distillery I was surprised to hear Mozart piped in over the P.A. "Oh, yes," the tour guide told me as we tourists stomped and clanged on the metal gratings around the fermentation tanks and a convoy of forklifts rumbled past. "This is to create a soothing environment for the yeast."
Peter Mandel is an essayist, travel writer, and an author of picture books for kids including his newest about a guy who runs a jackhammer and uses his belly on the job: Jackhammer Sam (Macmillan/Roaring Brook).