Silks Palace at The National Palace Museum is a tribute to both old and new. A modern masterpiece of architecture, the menu at Silks Palace is fashioned after the most famous works of art that you'll find in the museum itself. An expanse of bright space and deep flavor, Silks Palace was well worth venturing to the outskirts of Taipei to experience.
Our meal there began with a canapé trio of marinated octopus, mountain yam, and crab. From there we were served another hot and sour soup. Again, I loved it, making me come to the conclusion that perhaps I just don't like hot and sour soups made in America. The beautiful bowl in which the soup was served was created by Silks Palace to mimic the ancient Bell and Cauldron Inscriptions from the Mao Gong Ding and Late Western Zhou Dynasty found in the museum.

Hot & Sour Soup in "Cauldron" (Regina Varolli)
The next item proved to be my favorite, a chicken wing stuffed with glutinous rice. This crispy, juicy and tender handful of loveliness is something you'll find all over Taiwan in restaurants and street vendors, so I had it more than once. But at Silks Palace they prepare this humble dish to perfection, elevating it to a form of gastronomic art not so out of place next to a museum.
In The National Palace Museum, one of the most famous works of art is an ornate jade carving of a simple cabbage dating back to the Quing Dynasty. Having seen the piece on our whirlwind tour of the museum, I was more than happy to find it on my plate at lunch. The "Jadeite Cabbage with Insects" (yes, insects), looked a near replica of the piece found in the museum, only thankfully this one we could eat, insects and all.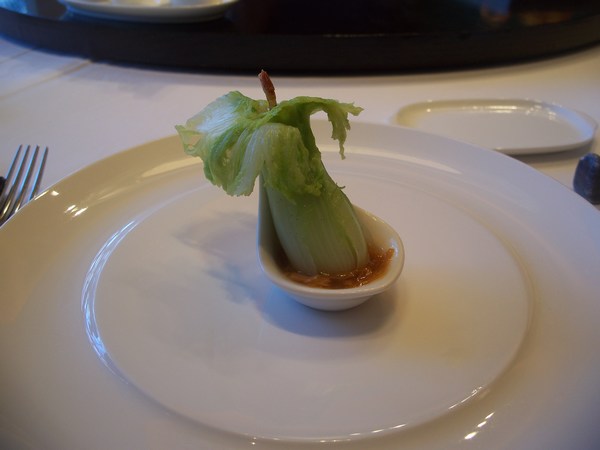 "Jadeite Cabbage with Insects" (Regina Varolli)
Our last dish was the "Braised E-Fu Noodles" that were created by the personal chef of Cantonese calligrapher E Bing Sho. E Bing Sho was known for gatherings at his home, parties that would often overwhelm his chef with their size, frequency, and often last-minute nature. One day, Bing Sho suggested his chef make some simple noodles of flour and egg, and pan fry them anytime unexpected company would arrive. It was Bing Sho's guests who named this new noodle "E-Fu Mein" meaning "noodles of the house of E."
From this elegant, artistic lunch, I take you to the streets of Taipei, on my first adventure to a Taipei Night Market. Had I not been tagging along with Pichet Ong, who speaks the language and had previously been to Taiwan, I would have been completely lost in the tiny streets and giant crowds that made up the Shilin Night Market. Located in the Shilin District, just off of the MRT subway's Jiantan Station stop on the Dansuei/Red Line, Shilin Night Market was founded in 1909 and is considered the largest in Taipei.
Loud, steamy, packed with people and crammed with everything from purses, clothes, and pets, to food and drink, the Shilin Night Market leaves you wide-eyed, dizzy-headed, and loaded down with things you bought, though perhaps didn't quite need. The scents are overwhelming, some so tempting they make you salivate, like grilling spiced meats, others not so much at all, like "stinky tofu" that sends you running in the opposite direction in a desperate search for air that smells like something--anything--else.
Popular in the Community