Tiki Oasis, summer's coolest festival for the denizens of underground hip and fans of American exotica, hulas into San Diego this weekend, bringing with it gals in tropical print dresses, dudes with elaborate facial hair sporting vintage fezes, ukulele music and a tsunami of tropical beverages created by both amateur and professional mixologists.
Mixology and tiki revival surf the same wave of retro-reinvention: Mixologists seek to recreate and improve upon classic cocktail recipes, while developing new cocktails. Tiki enthusiasts update the past into an idealized present and like to drink. It's all part of the aloha spirit.
Some of country's greatest exotica mixologists/historians will be at this year's Tiki Oasis 13: Hulabilly, three days of non-stop day and night events with several symposiums covering a wide range of cocktail and party themes, plus tastings and boozy book signings -- all part of tiki weekend full of events: Art, fashion and car shows; vendors; a tribute to the King by El Vez; live bands; and dancing (both hula and square!).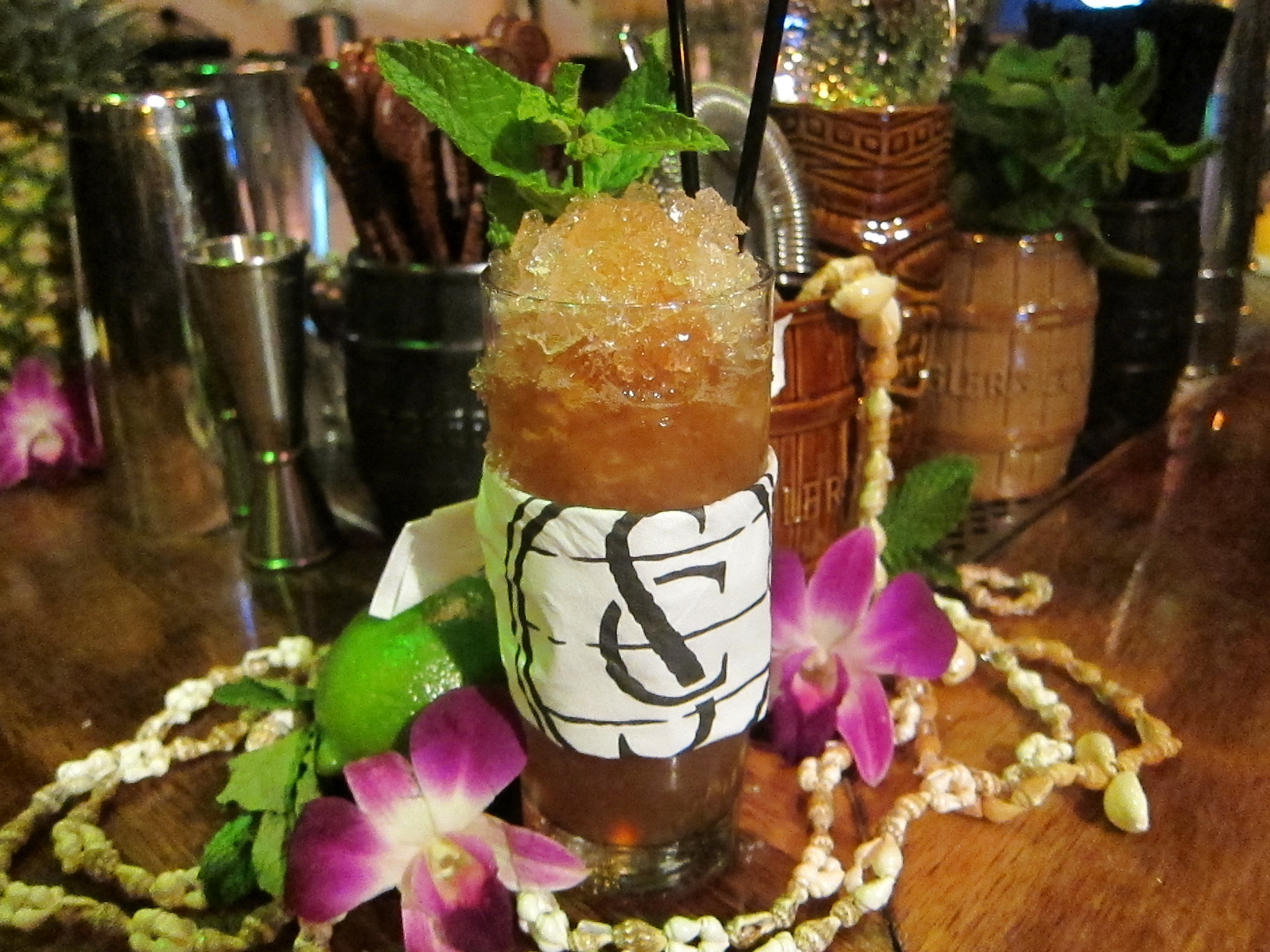 Martin Cate, a rum and exotic cocktail expert and proprietor of Smuggler's Cove San Francisco, is a natural for Tiki Oasis where he'll be delving into the history of restaurateur Steve Crane, founder of the Luau restaurant in Beverly Hills and husband of film star Lana Turner. The keys, Cates says, to any good mixed drink are quality ingredients, skilled preparation, and good balance, a sentiment echoed by P Moss, author of Liquid Vacation: 77 Refreshing Tropical Drinks from Frankie's Tiki Room in Las Vegas and owner of the Double Down Saloon in Las Vegas and New York and Frankie's Tiki Room in Sin City who will be delivering a mixology seminar at Tiki Oasis. Moss adds: "A cocktail does not have to be complex to be good. A perfectly made gin and tonic is every bit as good a cocktail as the more complex Puxado or Ramos Gin Fizz."
While both Cate and Moss agree that you don't need to use the most expensive liquor when making mixed drinks -- instead rely on the taste of liquor and judge how it will blend with other ingredients--they differ in their approaches to treating hangovers. Cate recommends having a glass of water for each drink the night before, but Moss takes a more traditional, hard-boiled view: "Hair of the dog is a great hangover cure. It worked for your dad and it will work for you."
You can experience the all the exotica and mixology of Tiki Oasis this weekend, Aug. 15 through 18 at the Crowne Plaza in San Diego, and throughout the year with these recipes:
Golden Gun, created at last year's Tiki Oasis
1 oz Appleton V/X rum
1 oz Montanya Platino rum
.75 oz fresh lime juice
.5 oz fresh grapefruit juice
.75 oz simple syrup
.5 oz apricot brandy
Dash Fee Bros Old Fashioned Bitters
Shake and strain over fresh ice.
Fink Bomb
, a fun and simple American tiki original created at Frankie's Tiki Room in Las Vegas:
1 ounce Cruzan Coconut rum
1 ounce Midori melon liqueur
3 ounces pineapple juice
1/2 ounce Stroh 160 proof rum
Fill a 14-ounce double ol-fashioned glass with ice, then add in order, coconut rum, melon liqueur and pineapple juice.
Float the Stroh rum on top and serve without garnish
Courtesy P Moss from Liquid Vacation
Tiki Oasis runs Thursday, Aug. 15-Sunday, Aug. 18 at the Crowne Plaza Hotel, 2270 Hotel Circle North, San Diego, Calif., 92108. Limited number of weekend passes, day passes, and Sunday Evening Showcase/Burlesque Show tickets available at the door ($30-$110). Weekend and Sunday night tickets only available online ($25-$95).
P Moss will be signing Liquid Vacation: 77 Refreshing Tropical Drinks from Frankie's Tiki Room in Las Vegas on Saturday, Aug. 17 at 11 a.m., Martin Cate's symposium, and The Third Man: The Incredible True Story of "Tiki Restaurateur to the Stars" Stephen Crane. A Tinseltown Tale of Mai Tais, Movie Stars, and Murder is on Saturday, Aug. 17 from 3:30-5:30 includes tastes of The Luau's famous exotic cocktails.There is a separate $35 fee for Cate's lecture, and attendees must be 21+.
Photo: Courtesy of Martin Cate, used by permission.