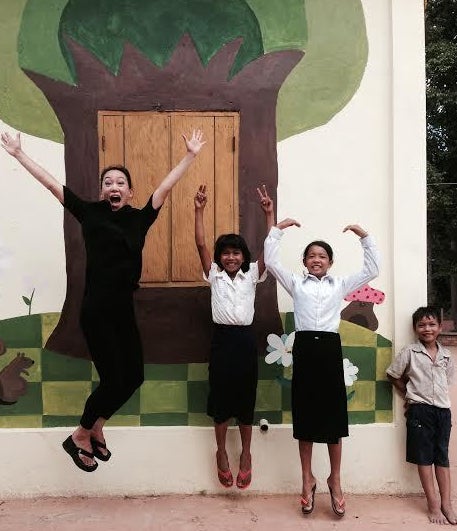 One Founder's Journey to Support Educating Girls Globally & Inspiring Beauty Within
When I first met Vicky Tsai, founder of the trailblazing and timeless beauty brand TATCHA, I was attending a Parlay House salon at Anne Devereux-Mills home here in San Francisco. To know Vicky is to be inspired and moved as she is passionate about her company, fiercely loyal to her employees and customers, and an outspoken advocate for the amazing work TATCHA supports with the non-profit girls education program Room to Read (RTR). A Mother, an entrepreneur, and self-described Chief Treasure Hunter, she is a quiet, humble visionary that sneaks up on you with her wisdom and beautiful spirit. A true pioneer and unconventional leader she started TATCHA after leaving a high powered, perfect-on-paper finance career in New York post 9/11 to take a leap of faith and pursue a more meaningful, fulfilling life. Her journey led her to Japan where she fatefully met and became close with the revered Geisha, soaking up all of their timeless traditions and beauty rituals. The name of the company TATCHA comes from the Japanese word tatehana, a form of Japanese flower arranging in which you use only a single bloom, displayed to show the quiet beauty and strength of an individual flower. To TATCHA, this has two meanings: the importance of pure, minimal formulas, and the unique beauty and internal strength of each of their clients and the girls they support with RTR. Recently, TATCHA celebrated an incredible milestone, over 1 million days of school sponsored. I reconnected with Vicky to learn more about her efforts with RTR as well as lessons learned since she began the company and the legacy she hopes to leave behind.
CG: Out of all the girls empowerment and education initiatives, why support Room to Read? What makes its efforts so different?
VT: When I first heard of Room to Read, the story of the founders resonated with me—they had also left a life in the corporate world to follow their dream. The more I learned about the organization, its reputation for transparency and excellence, and its commitment to growing and learning, the more inspired I became.
"Educating a girl impacts not only her quality of life, but the community around her. She is likely to create a smaller, healthier family and educate her own children, creating a powerful cycle of literacy and empowerment. She is also likely to earn a higher wage and contribute more to her community." — Vicky Tsai, Founder & CEO, TATCHA
We partner specifically with the Girls' Education Program, which grew out of the realization that girls are so often pulled out of school to help at home. Educating a girl impacts not only her quality of life, but the community around her. She is likely to create a smaller, healthier family and educate her own children, creating a powerful cycle of literacy and empowerment. She is also likely to earn a higher wage and contribute more to her community.
Room to Read's Girls' Education Program goes far beyond textbooks and classrooms. Local mentors, called social mobilizers, work closely with the girls and their families to advise and advocate for the students. The girls also receive life skills education like career-planning, time management and emotional skills.
CG: 1m Days of School this March is an incredible milestone. What is next in TATCHA's support for these exceptional initiatives?
VT: Thank you! We're honored and humbled to have reached 1M days with the support of people like you. As far as what's next, I hope that we can contribute millions more days of school, while also raising awareness about the importance of girls' education and the incredible work that Room to Read does around the world.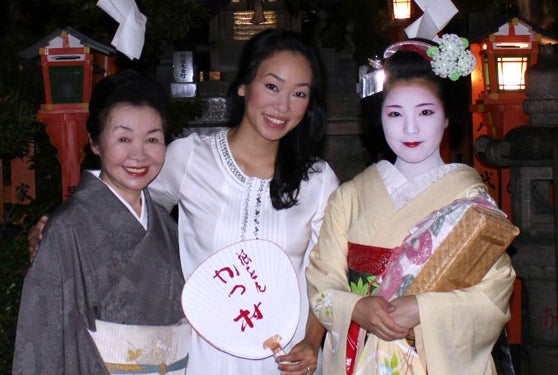 CG: At TATCHA you are all about preserving the heritage and ancient wisdom of the Geisha. In addition to preserving their beauty and anti-aging wisdom, what life lessons have you learned from them that you incorporate into the company culture and in your own life?
VT: I have always admired how deeply values-based geisha and their communities are. Their commitment to their values inspired us to identify our own, which continue to inform us every day:
Shojin: dedication to excellence, striving every day to do something better
Seiren: integrity and humility, drawn from Buddhist and samurai Bushido principles of beauty and enlightenment in simplicity.
Yuki: having the courage to challenge convention and push boundaries in order to benefit others.
Kizuna: a deep human connection that transcends time and space.
Makoto: authenticity; a deep sense of being genuine and true.
CG: Creating TATCHA was in many ways a leap of faith and a complete departure from your educational background and professional journey to that point. What precipitated this jump and if you had it to do all over again is there anything you would change about how the founding unfolded or tell your younger self just starting out?
VT: It certainly felt like a leap of faith. I felt disillusioned after working in the corporate world, and began to travel in search of a different approach to life—I yearned for simplicity, authenticity and joy. My time in Kyoto healed and inspired me. I created Tatcha to share these beautiful experiences and discoveries from my journeys.
if I could tell my younger self anything, it would be to worry less about balancing being a mom and an entrepreneur. My daughter was born on the same day that we launched into retail, and I felt guilty about focusing too much on work or too much on her. Now, my daughter has turned out to be more wonderful than I ever could have dreamed, and she is learning from my experiences. She knows that she can do anything she wants in life, but hard work and sacrifice come with that territory. She also visited Cambodia with me and met girls from Room to Read's program. She returned with a passion for giving back to others
Beauty begins in the heart and the mind. — Vicky Tsai, Founder & CEO, TATCHA
CG: Favorite mantra, insight or quote from all your journeys?
VT: Beauty begins in the heart and the mind.
CG: At TATCHA you've launched several capsule collections, heirloom limited edition products that each tell a different part of the Geisha story. Several of those products incorporate the color red. Can you share the meaning behind this color, why TATCHA chose to feature it, and why it is such a powerful message for the women who wear it?
VT: The first time I met a geisha, I was entranced by her iconic red lips. Her makeup was almost translucent, creating the perfect backdrop for the shade: not too red, not too bright, but defined and elegant.
I learned that this color, known as shu-iro, is deeply rooted in tradition. The distinctive vermilion is one of the most symbolic colors in Japan, often used to paint shrines, gates and other landmarks. It is believed to bring happiness, good luck and protection.
We wanted to incorporate this timeless shade to create modern-day treasures, bringing the beautiful heritage of shu-iro to life for a new audience.
CG: What do you hope your personal legacy will be? And what do you have left to do in life, professionally?
VT: That is a great question and I must admit I hadn't thought much about it. Professionally, I would love for Tatcha to be around for 100 years and to fund many more days of school for incredible girls around the world.
Personally, I think our children can be our greatest legacy. I hope that I raise a kind, generous, joyful person who does her part to make a difference, too.
Popular in the Community