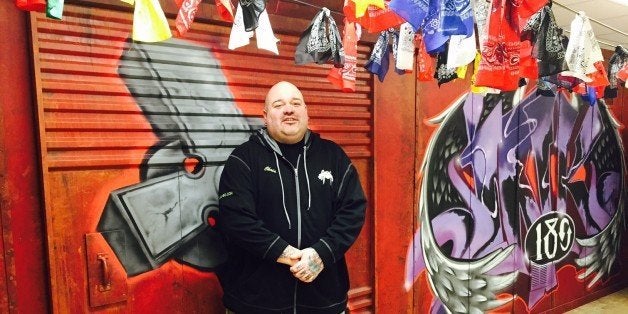 For some others, especially people who have survived trauma, tattoos related to the past can be a hindrance in their efforts to progress in their lives. Coverups and especially tattoo removals can be prohibitively expensive.
This is where Chris Baker steps in. Since 2011, Baker, who is based in the far west Chicago suburb of Oswego, has been offering free coverups and removal services for people including ex-gang members and survivors of sex trafficking and domestic violence, whose ink serves as unwelcome reminders of the lives they're trying to leave behind.
Since Baker's tattoo shop, Ink180, opened its doors, he estimates they've done over 2,000 free coverups or removals. Though his shop offers regular, paid tattoos and piercings, Baker says 80 percent of the work is pro bono services for survivors. Beyond that, the shop runs entirely off donations.
Though money's tight, and Baker admits he sometimes struggles to pay his bills, he has no plans to cut back on the shop's free services.
"I can't do it, because I see the look on their faces when [a domestic violence survivor] doesn't have to look down at their ex-husband's name on their wrist or arm," Baker told HuffPost. "I see that relief that he's physically gone from their lives and they're physically safe, but now they're mentally safe as well. They don't have to look down and have that tattoo trigger horrible reminders of what they've been through."
Prior to moving to the Chicago area and starting up his shop, Baker, 43, lived in Los Angeles with his family, which includes three children, aged 9, 12 and 16. When he relocated to Oswego about eight years ago, he said he went through a difficult time not knowing what direction he wanted his life to take. Having rediscovered his faith, he began to pray regularly about what he should do — and that's when Ink180 came to mind.
Baker then approached friends who worked as probation officers and shared his idea. His friends "both laughed and said we would have people lined up around the building for it," Baker, who has been tattooing for 16 years, recalls.
Though Baker was initially skeptical of that claim, the demand has been high and the shop is generally booked out for appointments about a month in advance.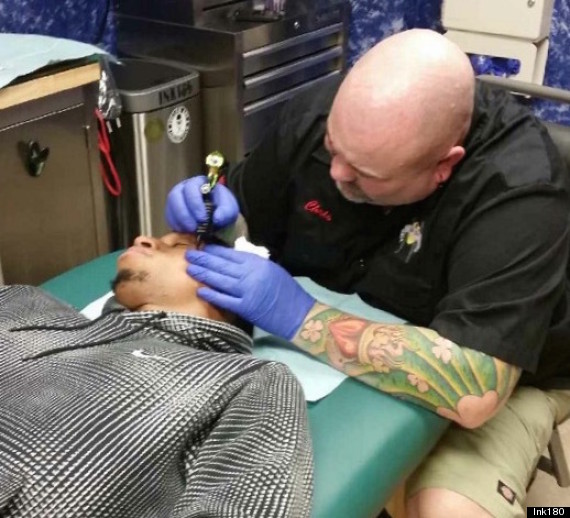 Baker says Ink180 has done over 2,000 free tattoo coverups or removals for ex-gang members, sex trafficking survivors and others since the shop opened in 2011.
Being a "tattoo ministry," Baker's shop is a little bit different than the average tattoo spot. The shop has a "clean and peaceful" vibe — there probably won't be heavy metal blasting on any given day — and also features a prayer wall lined with requests submitted through the shop's website. Ink180 also has a clause on its website describing work it will not do, namely "any images that are gang related, satanic, vulgar or degrading to women," nor any tattoos or piercings of "private areas."
Everything the shop does, according to Baker, is based on one Bible verse, 2 Corinthians 5:17: "Therefore, if anyone is in Christ, the new creation has come: The old has gone, the new is here!"
That message resonates deeply for Baker's clients. In the case of an ex-gang member, a tattoo of gang-related symbols can be mistaken as continued affiliation, hindering employment opportunities and leading to unwanted altercations with gangs or police officers. Many of the sex trafficking survivors referred to Baker's shop were given tattoos — such as barcodes or a pimp's name — that forever mark them like property.
About nine months ago, the ministry expanded its free coverup and removal services to domestic violence survivors. Six months ago, Baker began offering coverups for scarred survivors of cutting and self-harm. On top of that, the shop also works with former intravenous drug users looking to coverup old track marks, recovering addicts with drug-related tattoos and young people hoping to enter the military that have tattoos on their head, neck, hands or other locations outside new regulations set by the U.S. Army last year.
Not everyone is on board with Ink180's work. Some critics in the tattooing community view him as competition for their paid work, according to Baker.
"They view it as taking money off their table because I do this work for free, which really, if you think about it, is absurd," Baker explained. "The folks I get to help a lot of times haven't eaten for a day or two days when they get down here, so we order them sandwiches or pizza so they can eat before we do the work we do."
Many other tattoo artists and the religious community have embraced Baker, despite reservations about body art in some conservative Christian communities. He travels around the region to speak to churches on Sundays, the one day a week his shop is closed, to screen and discuss a documentary centered on the shop's services.
"By and large, whether people like or don't like tattoos, they love the ministry work we're doing because it's all about giving people a second chance," Baker told HuffPost. "We're letting people know that no matter what you've done or what life you've lived, you can be redeemed and change it if you want it bad enough and put in the work to change yourself. It can happen."
Because the shop is located in a suburb with few public transit options from the city, Ink180 also operates two mobile tattooing units that regularly travel into Chicago during the warmer months. In order to meet other needs survivors might have, Baker partners with local organizations who offer services such as GED training and accessible medical, dental and vision care, creating a resource fair-type environment.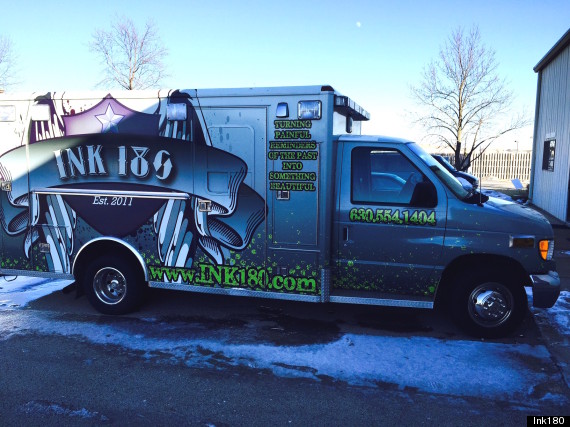 One of Ink180's two mobile tattooing units.
Most of the shop's trips into the city end with a meal shared between survivors, service providers and tattoo artists alike. At a barbecue this past summer, Baker says former members of two rival gangs sat next to each other after receiving services, a peaceful scene that would have been practically unimaginable just a few years before.
"I just wanted to do something to try and give people an option, to help people who wanted to change and get out of that lifestyle and not have that constant reminder, to allow them to go out and get a job and live their life without having to look over their shoulder every five minutes," Baker said. "We wanted to give people a second shot."
Before You Go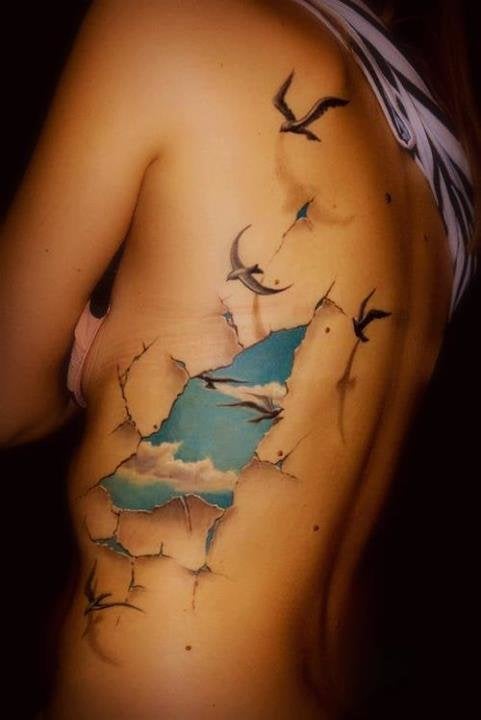 Amazing 3D Tattoos
Popular in the Community