Around this time last year I wrote for a local magazine interviewing tattoo artists. For reasons out of my control some were never published. The interview you are about to read is the first of the one's that haven't seen the light of day... until now. Enjoy!
This week we caught up to Todo from ABT Tattoos. Todo is a renowned tattoo artist who has tattooed rock stars and popular recording artist such as 2 Chainz. He also came up with realism and chrome tattoos. He talked with us about how he got his start with inventing that and he gave advice for up and coming tattoo artists.
Carmen Lehtimaki: Let's start from the beginning. How did you get started? What were your early inspirations and what are they now?
Todo: Back in the day, in the 70's and stuff the thing that appealed to me was the stuff I saw in biker magazines, such as Outlaw Biker magazine. They didn't really have tattoo magazines back then, so I was really limited on checking out the scene. Nowadays everywhere you look is inspiring.
CL: Growing up did you take art classes or were you self taught?
Todo: Totally self taught. The only classes I got were from my grandma. She taught me how to shade with crayons so I would get a better concept on shading among other things.
CL: You went on tour during May of last year. What is it like to be on tour as a tattoo artist? Do you do any tattoos then or is it just all meet and greets?
Todo: I have tattoo work lined up before I get out there. I pick the most interesting subject matter that has the wow factor behind it and hopefully win a couple of rewards while I'm out.
CL: On your Facebook page you post links and mention the types of machines you use, such as the Stingray X2. How important is it to stay up to date with the latest tattoo machine?
Todo: I used coil machines for 20 something years and the weight started getting to my wrist real bad. Then companies started sponsoring me to use other types of machines and the wrist pain went away. The new X2 that is out is probably the best machine I've ever used. It's close to the coil but it's a lot more precise. It is capable of perfect blends and is better when doing realism tattoos.
CL: Tell me about the book of tattoo art you were in.
Todo: I was asked by a lady named Jinxie to be a part of it. One book would be about black and white art, charcoal work etc. as long as its black subject matter. You would send work you've done on that. It's a treasure trove collection of artist that have created some of the best work I've seen.
CL: What did you expect the reaction to be from fans and what was it in actuality?
Todo: From the beginning I wasn't into it for the fame. I was into it to be able to create an airbrushed look for the skin. I was into creating this hyper-realistic imagery on illustration board. I figured out a formula similar to tattooing and I did it with needles instead of air. Nowadays with fame it just came about that way. It was a word of mouth ting. One thing led to another and next thing you know I've got 30 world famous super stars under my belt and its helped my drive so that I could become the best that I can.
CL: Recently you mentioned finishing a piece that took you 5 months to complete? What kind of process is it to work on something that takes so long to complete?
Todo: In her case she had a large cover that needed to be dome on the top and bottom of her back. She already had sea life imagery on the front side of her body so I suggested turtles and an underwater scene. And I used the depth of that to use a cover up. She put it in my hands I got things drawn up and in the process she came up with the idea of swimming with the turtles and that that lead to more fish and more coral type imagery.
CL: What is the most memorable tattoo you've created?
Todo: Recently the one with the most impact is the realistic eyeball. That piece has brought so much to our Facebook page and my work in general and it has opened up a lot of new doorways because people have seen I can do more.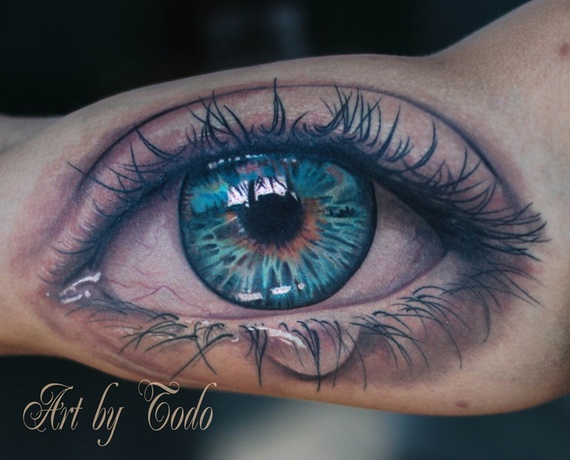 CL: You specialize in realism tattoos. What made you choose that route?
Todo: The realism came about because I was into that technique with my airbrush. I use to do a lot of custom motorcycles back in the day. It kind of went hand in hand and one trained the other. I tattooed and it would help me in airbrushing. It was one thing teaching the other and it just evolved from there.
CL: How much of a tattoo is the idea of the client and how much of it is things you thought best to put in it?
Todo: Usually when a client comes in to talk to me its 90 percent their idea and once they give me the run down I put in my vision of it. I put in a picture of what they're talking about and with my artist background I put in recommendations and usually they tell me it's really great and we take off from there and 90 percent of the time I nail it. It's whatever they want. Dealing with people for so many years, I've learned to read people real good. I can tell what they want before they even say anything
CL: You have a pretty hefty following. How has the popularity changed your life?
Todo: It hasn't really changed my personal life because I really don't do anything different than I use to do. I paint and draw and tattoo when I'm at the shop. I'm on the computer doing website developing and not much else. The popularity bought me better finances I can get better tools for better artwork.
CL: How does it feel to have received recognition as being one of the best tattoo artists in Atlanta?
Todo: I've been told that by a lot of my clients. There's a lot of artist out there and I tell them there are 1000s that are just as good as me or better. I tell them not to just stick with me. There are tons of great artist. You have a whole body don't just stick with one theme or one artist. Though I do love being recognized as that.
CL: Do you do your own tattoos? If not, who do you trust enough to do them for you?
Todo: I use to do them myself back in the day. Back in the 80s there weren't apprenticeships. You had to teach yourself that way. The first portrait I ever did was on my own leg of captain hook from the movie Hook and it made a magazine before I was in a shop.
CL: You have oil paintings and charcoal art for sale. Which came first the tattoos or the oil paintings?
Todo: They are all a challenge so I can say one is a favorite over the other. For example, I'm working with coped markers. I told myself I need to learn these different mediums. So when it comes down to my favorite it depends on what I do the best at. I can do graphite style artwork and now the markers. It opens variety for people with different taste. My favorite will change and in 5 years and it may be different.
CL: What is the overall change in perception of tattoos over the past few years or so?
Todo: People are more educated now because of the TV shows. They don't walk in and say I want G32 off the wall. They say I want something custom and it isn't just the cookie cutter shops down on the beach where you get your dolphin.
CL: What advice can you give to artists who are just starting out? What rookie mistakes can they avoid?
Todo: Don't tattoo on your friends until you know what you do and you have the proper training.
Everyone wants to be a tattoo rock star, but they should get an apprenticeship under someone who is reputable. It'll tarnish you for your career if you don't. People will not trust you to work for them later on. You have to be picky on who you choose to teach you.
CL: What would you like your fans to know about you that they probably already don't?
Todo: I'm an artist from the renaissance period. I was one of the first artists to develop hyper realism on skin. If it wasn't for me and a few other artists it wouldn't be around. I was the first to do chrome on skin. Nobody knew it was possible. It wasn't being done on anybody at the time. I started the movement at the time.
CL: What made you try it to begin with?
Todo: I airbrushed it first. I did a robot painting on a story board with an airbrush and I did a formula and applied it in reverse but on skin. I created my own needles back in those days. There were no pre-made needles. I was one of the only artists back in the day that actually mixed those colors. I broke those primaries made to produce shade and variations to create more of a hyper realism affect.
To check out more of Todo's work follow him on Facebook: https://www.facebook.com/ABT-TATTOO-210410666290/
Calling all HuffPost superfans!
Sign up for membership to become a founding member and help shape HuffPost's next chapter