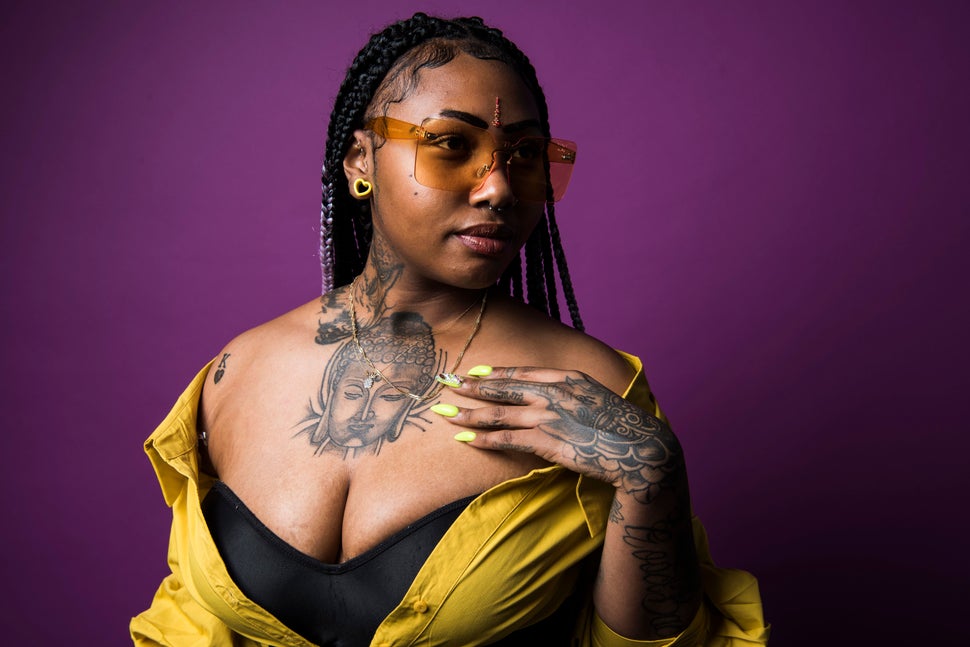 Every picture tells a story, but every tattoo tells a few.
People get tattoos to honor people or things they love. Their body art honors things both deeply meaningful and utterly meaningless. The experience of getting one can be shared with loved ones or flown solo. 
But one truth exists across the board: Whatever leads a person to put a permanent marking on their body, chances are that person has at least something to say about it.  
Part of the beauty of tattoos is that they allow us to express something about ourselves without words. Still, we constantly find ourselves wanting to know more about the why, when, where and what behind the ink we see on other people.
Lucky for us (and you!) a group of HuffPosters, plus a few friends, opened up about their prized body art. Some stripped down; some had trouble picking just one; all had their own anecdotes to share. 
Check out 23 beautiful tattoos ― and listen to the touching, funny and sometimes downright inspiring stories behind them ― below. 
Gabi
"I got this C tattooed for my pup Cookie. Cookie passed away December 2014. She was born on my birthday, and I like to think she was my soulmate." 
Candy
"I didn't get my first tattoo until I was 39, and a friend of mine designed it and did it for me. Since then, I've gotten two dozen basically." 
Teela
"In high school one of my best friends and I decided to go to the same college. She gave me this bracelet on our first day. It had kind of a heart design on it. A few years later, she ended up passing away in a car accident." 
Noah
"I got the ghost for my dad because I wanted to get something to memorialize him. He died about 10 years ago, and he was a goofball." 
Emma
"It serves as a reminder to get up and make a difference every day." 
Rudy
"I got this tattoo because I lost a bet with my friend." 
Jeary
"What's really significant about it is that we haven't always been friends, we've just always been siblings. As we grew up and got older and developed an actual relationship and an intimate relationship, it kind of connected us and bonded us." 
Claire
"She loved daisies. She carried daisies at her wedding to my dad, and we used to always get daisies from friends on the anniversary of her death. It makes me think of her to have a daisy on my arm."
Emily
"I guess she's kind of my higher power. She just represents everything that's good in the world." 
Maxx
"When I look in the mirror in the morning, when I get up and get out of the shower I'm just like 'you need to be zen, you need to be good, you need to repeat good karma so good things can happen to you.'" 
Jenna
"It's sort of a pet name my grandfather calls me, and it's done in my grandmother's handwriting. I frequently refer to them as my best friends so this seemed like the best way to commemorate them." 
Priscilla
"Her name is Princes Butterfly and she was part of a book of princesses that I made. And she loves junk." 
Yaz
"I have the words 'be still' in a script that I designed, just as a message to remind myself to be present and pay attention to what's important." 
Alexandra
"The surgery has changed me so much for the better, despite how hard those experiences were. This serves as a reminder to always push yourself to change, because it's the only way you're ever going to become the best version of yourself." 
Jenavieve
"Intersectional feminism is the most important thing in my life." 
Chanel
"I love both my tattoos because they are extremely customized because I drew them both." 
Jamie
"When I was 13, I made a contract with my mom that I could get a Grateful Dead bear tattoo in honor of my dad who passed away ― when I turned 18. At the time it was the least scary Grateful Dead artwork I could find, so I picked the bear."
Ji Sub
"Swallows are a big symbol for good luck in Korean culture so I decided to get that as my first tattoo." 
Sam
"It was something I found in my teenage years and helped transform my world view, and the way that I see music and my obsession with music." 
Katherine
"My tattoo is based on a drawing by Louise Bourgeois. She's one of my favorite artists and one of my favorite human beings in general, and I'm very happy to walk around with a little piece of her on me at all times." 
James Michael 
"This is a recreation of a Robert Mapplethorpe piece, a seminal queer artist who generated a lot of conversation surrounding obscenity laws and censorship in the '80s."
Calling all HuffPost superfans!
Sign up for membership to become a founding member and help shape HuffPost's next chapter
BEFORE YOU GO