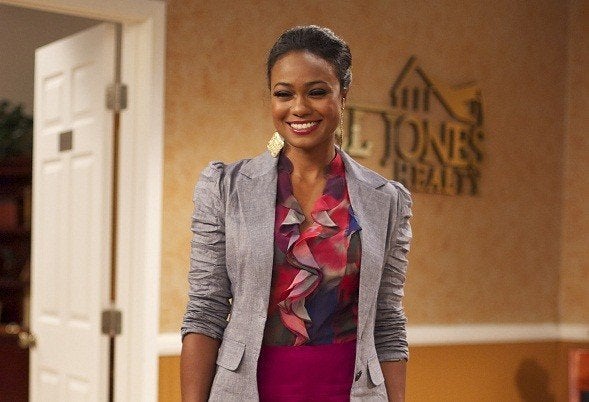 After Season Two's finale last spring, TV One's original scripted show, "Love That Girl!" has returned to the network (already) for another dose of laugh-out-loud comedy. Produced by Bentley Kyle Evans and Martin Lawrence, the 30-minute sitcom centers around Tatyana Ali's character, Tyana Jones, a recent divorcee who is readjusting to single life in Southern California. This season, the show's producers have decided to delve into Tyana's past.
"Everything has gone up: our production, the writing, the drama on the show," Ali told the Huffington Post. "It's still really funny, but there's more drama. There's great guest stars, and I think you get to learn a lot more about the Jones family. Some of the things that were mentioned in the past are kind of brought to light this time, and we really dig into it. Tyana's ex-husband shows up, she goes to therapy, she gets trained in boxing by Laila Ali. So it's a lot of fun, we go deeper."
Between production duties for the show (alongside her sister, Anastasia) with their company, HazraH Entertainment, and the show's rigorous schedule, Ali might need a crash helmet. "We work at a breakneck speed, so you try to prepare as much as possible," she said. "But traditionally a sitcom is shot one episode a week, and we do three episodes a week. So when we go into that studio in L.A., it's like we're going into battle."
Ali states that Lawrence is a very laidback producer and lets everyone do their job. "He definitely comes to visit on set," she said." And the great thing is he and the creator of the show, Bentley Evans, have worked together many times in the past. So it's really nice," Ali explained. "When Martin comes on the set, he's kind of like 'The Godfather': he just sits back and watches and really trusts what we're doing. Which is amazing when you have that, because you feel like you can be totally free."
Earlier in her career, the 32-year-old Brooklyn-born triple threat made a name for herself as Ashley Banks on "The Fresh Prince of Bel-Air," alongside Will Smith. In retrospect, the actor-singer likens Lawrence to living legend Quincy Jones, who served as producer on the hit 1990s sitcom.
"Quincy was kind of like the godfather, too. Very similar and very brilliant, talented men, in business as well as creatively," Ali added. "I had a great relationship with Quincy and used to call him Mr. Jones until he told me to stop doing that, but I still called him Mr. Jones because that's how I was raised. I was 11 when I first met him. He was actually in my audition in New York when I first auditioned for the 'Fresh Prince.'"
Aside from acting and producing television shows, Ali says she intends to return to music. "Now that this show has come out, I'm now talking with some of the same producers who I worked with on that first album. So I'm not just thinking about it, I definitely want to," she revealed.
Since releasing her 1998 gold-selling debut, Kiss the Sky, Ali has put her solo career on hold to pursue her education at Harvard University, among other things. She says the life she's lived since then has provided her with new experiences to mine for her songwriting.
"It's been so long that the challenge and the exciting part is really nailing down what my sound is now and what I want to speak about, because I've been through so much life since then," Ali said. "Music is really personal for me -- acting is as well, but it's different. I'm not playing a character when I'm singing, I'm myself. So what's really important to me is talking about where I'm at now and what I've been through."
PHOTO GALLERY
Tatyana Ali Photos
Calling all HuffPost superfans!
Sign up for membership to become a founding member and help shape HuffPost's next chapter