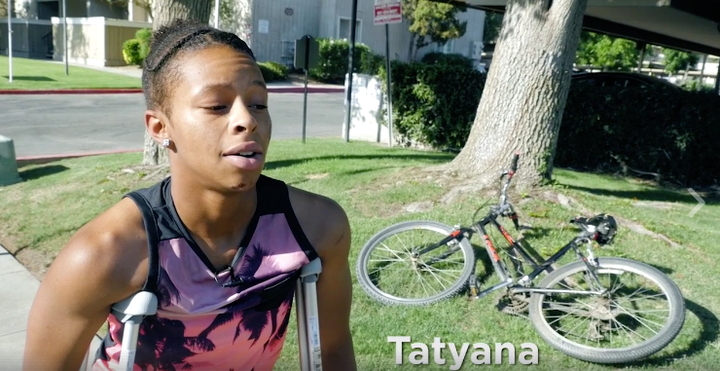 Tatyana Hargrove says she was heading home from buying her dad a Father's Day gift on June 18 when she stopped to take a sip of water in the 103-degree heat. When she turned around, she says, she saw three Bakersfield, California, police cars.
In a Facebook video by the Bakersfield NAACP, the 19-year-old Hargrove recalls that one of the officers drew his gun and asked her if she was inside the Grocery Outlet, a local convenience store. Hargrove says she responded "No" before turning to another officer, who asked her to hand over her backpack.
"Do you have a warrant?" Hargrove recalls asking the officer.
According to Hargrove, the officer pointed behind her and said "Look," prompting her to turn around and see a police dog. Hargrove says she got scared and told the officer to take the backpack.
That's when Hargrove says one of the officers grabbed her by the wrist and neck and punched her in the mouth before throwing her on the ground, where the police dog bit her on the leg.
″[The officer] put his other knee on my head, and I told him, 'I can't breathe, I can't breathe' and I started yelling out, 'Somebody help me, somebody help me, they're going to kill me,'" Hargrove says in the video.
Christopher Moore, the officer who arrested Hargrove, provided a different account of what happened in an arrest report provided to HuffPost.
After stopping his squad car, Moore said he yelled, "Police K9, put your hands in the air" and pointed his firearm at Hargrove. "She turned and looked at me and said, 'What you all stopping another black person for? I'm out of here,'" the officer wrote.
Hargrove placed her feet on the pedals of her bike, Moore said, which he claims led him to think she would flee.  According to the officer's account, Hargrove said, "This isn't happening. I'm leaving."
Moore goes on to say that he removed the police dog from the squad car as Vasquez, another officer whose first name is not provided in the report, pulled his firearm and ordered Hargrove off her bike.
"[Vasquez] told Hargrove she was being detained because she matched the description of a suspect armed with a machete. I said, 'Police K9, do what we say or you will get bit,'" Moore wrote.
Once Vasquez approached Hargrove and grabbed her hands to "gain control of her," Moore said the teen spun into him with her left shoulder, which caused Vasquez to fall onto his back and get tangled in the bicycle.
"This caused Senior Officer Vasquez to be at a great disadvantage to Hargrove," Moore wrote. Hargrove "quickly turned over on top of Senior Officer Vasquez in a mounting position," he said.
Moore acknowledged that Vasquez punched Hargrove "one time in the mouth in an attempt to force her off of him," but said she "quickly maneuvered her body to get back on top of" Vasquez again.
Considering that Hargrove might have "matched the description of the suspect that had brandished a machete" and "had decided to assault Senior Officer Vasquez instead of just trying to run or escape on her bicycle," Moore said he then decided to release the dog. 
But one thing remains consistent in both accounts: Hargrove wasn't the suspect for whom police were searching.
The suspect, according to multiple police reports, was a 25- to 30-year-old bald man weighing about 170 pounds and standing at 5 feet 10 inches tall.
Hargrove is a 19-year-old woman who stands 5 feet 2 inches tall and weighs 120 pounds, according to the police report. 
In the report, Moore wrote that he didn't know Hargrove was a woman until she was in the back seat of a squad car. "I asked what her name was and when she provided it as 'Tatyana' I said, 'Don't lie to me, that's a girl's name. What is your name?'" he said.
"Hargrove said, 'I'm a girl, I just don't dress like one.' This was when I first discovered she was a female," Moore wrote.
Hargrove has been charged with suspicion of resisting or delaying an officer and aggravated assault on an officer.
Detective Ryan Vaughan, a spokesman for the Bakersfield Police Department, told HuffPost on Wednesday that the case was being reviewed by the Kern County District Attorney's office. He added that there was no open investigation into the officers' conduct during the arrest, nor was there any dashboard or body camera footage of the incident. 
However, in a statement released later on Wednesday, the department said Chief Lyle Martin had ordered the launch of an internal investigation into the allegations. 
The Bakersfield Police Department has previously come under scrutiny for its use of force. In a 2015 report, the Mapping Police Violence project revealed that the department killed 13.6 people per million residents that year ― more than any other large department in the country. That same year, The Guardian published a five-part investigation of police in Kern County, California, where Bakersfield is located. The report was called "America's deadliest police." 
"In all, 13 people have been killed so far this year by law enforcement officers in Kern County, which has a population of just under 875,000," read the investigation. "During the same period, nine people were killed by the NYPD across the five counties of New York City, where almost 10 times as many people live and about 23 times as many sworn law enforcement officers patrol."
Most of the victims in Kern County were killed by officers in the Bakersfield Police Department.
HuffPost has not been able to contact Hargrove.
The Bakersfield NAACP did not immediately respond to a request for comment, but has organized an active petition to hold the officers accountable, as well as a fundraising campaign for Hargrove's medical bills.
Read the arrest report below.
This story has been updated to include a Wednesday evening statement from the Bakersfield Police Department.
Calling all HuffPost superfans!
Sign up for membership to become a founding member and help shape HuffPost's next chapter
BEFORE YOU GO
PHOTO GALLERY
Hashtags That Helped Black Twitter Combat The Trauma Of Police Brutality