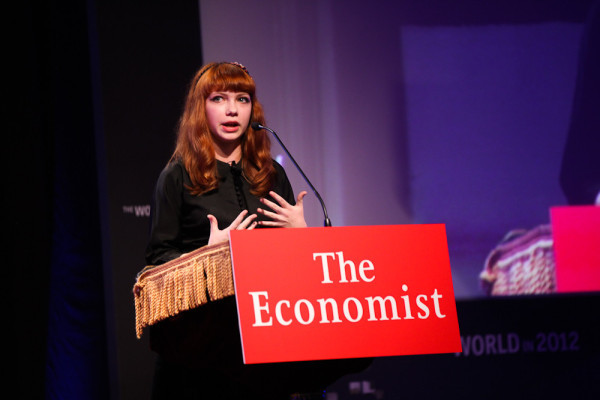 "I will be begging her for a job," 44-year-old writer Cintra Wilson, best known for her cutting "Critical Shopper" column at The New York Times, said introducing Tavi Gevinson at The Economist's World in 2012 Festival, "even though I have shoes older than she is." Won't we all. At only 15 years old, Gevinson is a style blogger that almost needs no introduction, the teenager has already achieved more than most could in a lifetime (even Anna Wintour knows her name). "She's a phenomenon," Wilson elaborated, "I mean, she's as interesting as any of my adult friends, who went to Harvard and are, you know, half as accomplished. Let me just say, she's exponentially more successful than I am."
While both writers are clearly successful (Wilson is currently working on her 4th book "Fear and Clothing: Unbuckling America's Fashion Destiny "), they were also being unnecessarily modest. Tavi frequently apologized for her speech, admitting, "I'm a better writer than I am a talker...I don't know why I'm so apologetic. It's actually super annoying. [Apologizing] is such a stupid thing that girls are supposed to do when they feel bad for talking or taking up space."
It is this kind of modesty that has, in part, contributed to her success. "You're not gonna fade out," Wilson told Gevinson, who responded, "I hope so. Well that's the question – will she or will she not? It's always, 'Look at her, she's so small.'"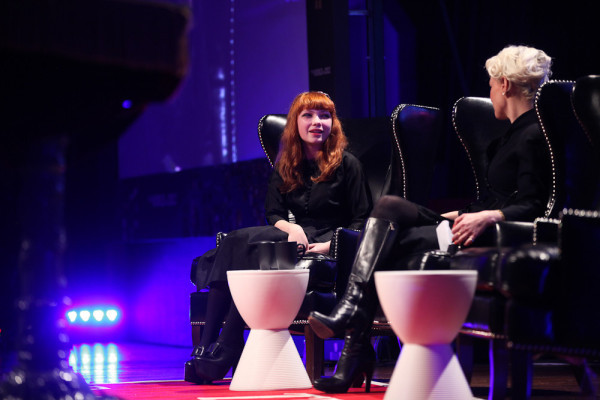 Although she may be petite, Gevinson has recently blossomed into a young lady, abandoning her blue-haired Grandma style for more adult dresses: "I was always very 'I dress how I want and I don't care what people think,' and I still don't, but I would be ridiculous to pretend that I haven't become more a teenager and want to look more... pretty." Would fans who fell in love with her crazy hats and dollar store accessories appreciate her new look? "I've always dressed in a really unflattering way because I hated all the beauty politics. I felt like a sell out when I got contacts. It just feels like as a girl you can either be smart or pretty and I think I felt like now that I'm kind of pretty I'm not allowed to be smart or funny." A self-described feminist, Gevinson recalls a pivotal moment during fashion week, "I was at the Rodarte show this season and I sat next to the Fanning sisters – Dakota and Elle Fanning- who are gorgeous and I felt like Liz Lemon. And it's not like I'm a beast," she deadpanned, "and it's not like I'm smart and ugly and they're pretty and stupid, but you have these ideas."
A desire to counter these ideas and create a forum for teenage girls to discuss the politics of beauty and have a safe space online led to the development of Rookie. "I basically started it because I didn't feel that there was much pop culture that spoke to teenage girls in a way that was respectful of our intelligence, I just kind of saw a void and I found that I had the resources to start something like that." Gevinson is serious about fulfilling this goal, Rookie is not a space meant for adults, "One thing I really don't like is when adults leave really long, thousand-word character comments that are just like, 'I feel this way, I don't know why kids don't feel this way. Blah, blah blah.' It just feels wrong to me because it's not your space. There's so many other places on the Internet where they can talk about that and this is about giving girls a voice."
Now that Rookie has successfully launched and Gevinson is already on her second career, what's next? "The wife and I just bought a really nice house in the Hamptons, so we'll be playing polo in 2012," Gevinson joked, "Wearing lots of white polos. I'm so excited, I went to Ralph Lauren the other day and I just stocked up on polos to wear while I play polo."