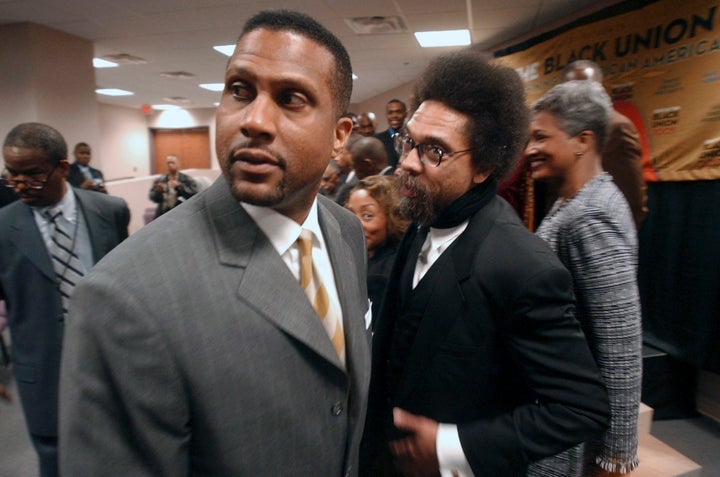 There's been a lot of controversy over the last few weeks surrounding the Poverty Tour organized by Tavis Smiley and Cornel West. The pair has used the nine-state, 18-city event to both highlight the struggle of the nation's poor as well as to criticize President Obama for what they say is a laissez-faire attitude toward economically marginalized Americans.
But in response, they have been labeled as self-promoting, self-serving Obama haters. They have become pariahs in some circles. The blowback has even become personal and nasty, with the comedian Steve Harvey recently calling the duo "Uncle Toms" and the Rev. Al Sharpton and radio personality Tom Joyner taking various shots at them.
But as Smiley sat on the Poverty Tour bus on Friday headed to Memphis, Tenn., the final stop on their trip, he said the tour had gone exactly the way he and West had planned.
"I am very clear on who I am and who I am not, what I can do and what I can not," he said during a phone interview. "I have a platform that I can use to bring awareness, to draw attention and create a conversation."
He then rattled off a list of news outlets that covered some aspect of the tour, including "Nightline," C-Span and CNN, the Chicago Tribune, the Chicago Sun Times, Life Magazine, The Root, The Nation, the Associated Press, NBC, CBS and The Huffington Post.
"The tour did everything it was supposed to do," he said. "And its not just about raising awareness, it's about starting a dialogue about poverty and the poor in this country. I don't get intimidated by haters. Not only are we not intimidated, if we had more resources and time, we would extend the tour," Smiley said. "The question that I would pose to the critics is not why are we doing what we are doing or saying, it's 'If you care about poor people, why aren't you doing anything?'"
He said he and West are considering a follow-up to the tour next year during the 2012 election season. And in late September or early October, Smiley said an entire week of his television show on PBS will be dedicated to "all that we learned" and footage gathered during the tour.
Along the way Smiley said he has been heartbroken, if not enlightened, by what he discovered in America's heartland and on Native American reservations and on the streets of places like Detroit and Washington, D.C. He said he was most shocked by the number of poor young people and children he encountered.
"I've been somewhat devastated," he said.
Smiley said he and West spent several nights on the streets with homeless people, many of them in their late teens and early 20s. He particularly remembers one night in Washington, D.C., when he met a 23-year-old woman sleeping on the street, who had been evicted from her home, lost her job and had been forced to drop out of college where she had been studying architecture. Near her was another 23-year-old, a young man with a troubled past who struggled to get on the right track.
"The new poor are the former middle class," he said. "We've seen so many people on this tour who are now part of the new poor, and those stories were arresting in every city we went to."
These rising rates of poverty, he said, are why he has been so critical of the president.
"We have to make poor people a priority. When we prioritize something in Washington, they do get done. We prioritize bailing out Wall Street and it gets done. We prioritize funding the wars in Iraq and Afghanistan, and it gets done," he said. "The president has said repeatedly, 'And now we're going to focus on jobs.' It's time for the president to do something about it."
A few days before the tour began, Smiley went a bit further in his criticism of the president on his attentiveness to the poor, and particularly poor minorities.
"The presidents response is always, 'I'm the president of all Americans, and a rising tide will lift all boats," Smiley said. "We are Americans too and the most loyal part of your base," he said. But, the president seems to "be afraid of addressing our condition because you are afraid of being accused of being tribal."
"'These Negroes are naive,' they say. 'These Negroes are egoists.' We say kiss our behinds," West said. "We are true to our calling. We have to love poor people and working people."
"I think part of the fault lies with black people. Most black people fell in love with the symbolism of Obama, a black man in the White House," West said. "I know I did too. I like having a black man and a black woman and precious black kids in the White House. But black people are not in love with policies that are tied to the rich and well-to-do."
But Smiley said the bad vibes from the president's supporters has taken a toll.
"For me it hurts, when this jumped off a few years ago and I was the one person nationally and personally raising questions of accountability," Smiley said. "They wanted Barack Obama to win by any means necessary. I got that then and I get it now, but it hurts and I shed a lot of tears, had a lot of conversations with Dr. West."
"So, it hurts, and it brings me to tears, but at the end of the day I don't know any other way to live," he added. "And so what I've said to black people is, 'I love you and ain't nothing you can do about it.' These Negroes have tried, but I love them anyway."

Popular in the Community