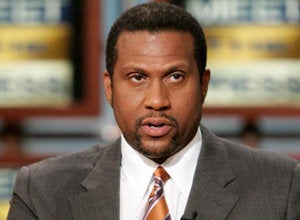 Update: Tavis Smiley has posted a statement on Huffington Post regarding his decision to leave the "Tom Joyner Morning Show." The statement reveals that he did not quit effective immediately and will, as mentioned below, more fully address the situation on Tuesday morning. Read the statement here.
"He called me yesterday and said, 'I quit,'" Joyner said.

Joyner said Smiley told him he was working on too many projects, but believed the real reason was that "he can't take the hate.

"He can't take the hate he's taken over Barack Obama. He's always busting Barack Obama's chops. They call. They e-mail. They joke. You know Tavis like I do. He needs to feel loved"...

Smiley had been critical of Obama for not attending Smiley's annual "State of the Black Union" symposium on Feb. 23. Of the presidential candidates, only Sen. Hillary Clinton accepted the invitation. Obama said he would send his wife, Michelle, but Smiley insisted that was not good enough.

"I'm catching hell," Smiley acknowledged in an interview then with Michael H. Cottman of BlackAmericaWeb.com.
Friends and Supporters:

By now, you may have heard of my departure from the Tom Joyner Morning Show.

I am traveling today and am not available to respond directly. I will address what you heard on the Tom Joyner Morning Show next Tuesday at 8:25 AM EST, during my normal commentary on the show.

Warmest Regards,

Tavis
REAL LIFE. REAL NEWS. REAL VOICES.
Help us tell more of the stories that matter from voices that too often remain unheard.