The lack of diversity in the media has long been a source of frustration for media watchers. Turn on network or cable television and its clear that the value of racial, ethnic and gender diversity continues to be ignored by decision makers at mainstream television broadcast outlets. The result of the lack of inclusion of new and varied voices in the national media is a largely white, male, elitist perspective devoid of the richness and complexity of American experiences.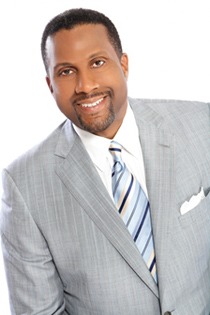 "We live in the most multicultural, multiracial, and multiethnic America ever, but there is no appreciation for diversity in our conversations and in the media," said PBS talk show host Tavis Smiley during our one-on-one telephone interview today. "There is value in bringing our whole selves to the table, including our race and our gender."
Smiley is promoting his 'America's Next Chapter' forum--a nationally televised discussion scheduled January 13 in Washington, D.C. at George Washington University. The event, which will broadcast live on CSPAN and air the following week on PBS, features Cornel West, Princeton University professor and author; Arianna Huffington, founder of The Huffington Post; John S. Chen, chairman of Committee of 100; Maria Bartiromo, anchor of CNBC's Closing Bell with Maria Bartiromo; David Frum, speechwriter for former President George W. Bush and founder of FrumForum; Dana Milbank, lead political columnist for The Washington Post; David Brody, CBN News chief political correspondent and Maria Teresa Kumar, executive director/co-founder, Voto Latino.
Smiley promises to use the program's primetime billing and multiple airings on PBS to highlight issues such as poverty, urban decay, crumbling schools and unemployment. The three-hour discussion will explore how to "return America to its greatness" and involve citizens in the recovery. Known for his State of the Black Union forums and outspoken critique of President Obama, Smiley says his conversation with mainstream media heavyweights will provide diverse racial, ethnic and ideological viewpoints often missing on Sunday morning talk shows and cable networks.

During our conversation I also asked Smiley about his reference to a Rasmussen poll that found a significant percentage of Americans hold a bleak outlook about the nation's future. "Will the panelist, especially the members of the media, address the role that the news media plays in shaping this gloomy outlook and the increased polarization of American politics?" Since "America's Next Chapter" is about shifting public discourse, it seems an opportune time to discuss this issue given the primetime airing of the event and prominent media personalities on the panel.
Despite the ever expanding outlets for news and information, I agree with Smiley when he says "there is less and less ideological diversity in the media." Speaking in reference to cable networks, Smiley says "they're preaching to the choir. Fox [News] springs one way, MSNBC is counter spinning and CNN is trying to figure it all out. No one is learning, no one is growing. It's about scoring points for your side."
Smiley may ruffle some feathers during the forum. He points out that the conversation is strategically timed in advance of the President's State of the Union address and official the marking of Obama's two years in office. "What I bring is different, so the conversation is different."
America's Next Chapter is free and open to the public. Advance registration is requested at www.americasnextchapter.com. The conversation will rebroadcast for three nights on Tavis Smiley on PBS beginning Tuesday, January 18 through Thursday, January 20.
Related
Popular in the Community