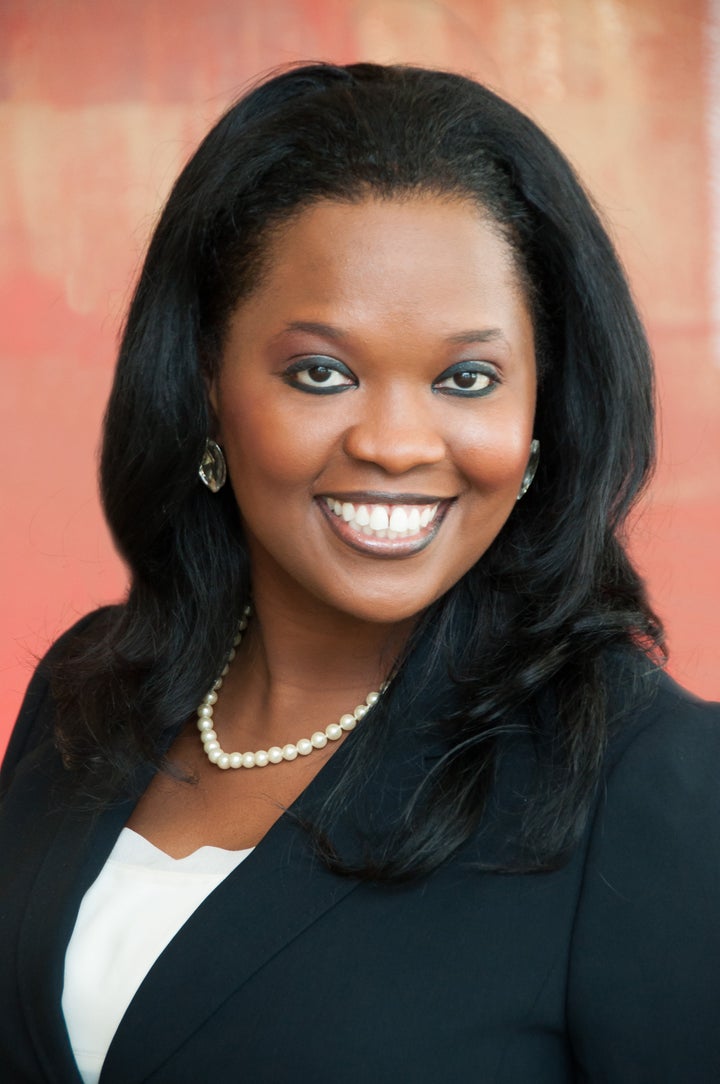 Tawana Cadien, Democratic candidate for the U.S. House of Representatives from Texas, is a mother of two and a registered nurse. According to her website, she's also a public speaker for the Julie Rogers "Gift Of Life" program which raises awareness about breast, prostate and testicular cancer.
In anticipation of the November 6 congressional elections, HuffPost Women caught up with he about who she is, why she's running and how to get involved with her campaign.
What's your favorite quality in another person?
Kindness in another person goes a long way with me. Kindness reflects so many other virtues including respect and love. You never forget how a kind person makes you feel...even if they don't say a word.
What three words best describe you?
Three words that describe me include committed, compassionate, and determined (I strive for excellence).
What's your biggest flaw?
Sometimes I spread myself way too thin.

What failure are you most grateful for?
I love the theater and had planned to go to New York or Hollywood as soon as I graduated from high shcool to pursue an acting career. Although I still love the theater, I am very happy that I chose a different career path.

If you weren't you, who would you be?
Wow....this is a tough question. I am really grateful for the person God made me. I really can't say that I would just want to walk in anyone else's shoes. There are so many people, past and present that I admire, but I would not want to trade places. I know that I am uniquely and wonderfully made and that there are some things that only I am destined to do, just like the other women participating in this survey. My grandmother-in-law always says, "Never envy what someone else has, you don't know what they had to do to get it, and you don't know what they have to do to keep it." I do believe that it is important to be the best YOU that you can be.
If you could live anywhere, where would that be?
I haven't traveled everywhere just yet to make a final decision, but my ideal environment would be surrounded by a beautiful blue body of water with white sand, lots of very colorful flowers, fruit and palm trees.
What woman do you most look up to?
The woman that I most look up to is my mother, Virginia A. Webb. She exemplifies strength and perserverance. As mother myself now, I can see in my children what she saw in my siblings and I. She took time to teach us values such as loving all mankind. My mother not only taught us to care for the others in need, but she showed us through her actions-she fed the hungry, clothed those that needed clothing, was a friend to the friendless and a mother to the motherless. My mother has never made differences in people. She just loves. This is such a wonderul heritage that she passed on from her mother, grandmother, and great-grandmother. Although I am almost out of my thirties, she is still teaching me. I now am passing these everlasting values down to my daughters.
What's the best advice you've ever been given?
My great-grandmother Rosia Charles Dent taught me "honor your father and mother so that your days will be longer." She would add to that "you see, that's why I am living so long." She was born on January 10, 1886 and passed on April 11, 1986. My mother taught us and I still live by, "Do unto others as you would have done unto you." This advice is timeless.
What's your joy trigger?
Children are my joy trigger. My children are hilarious. They are just full of life and hope. Just having children in an environment, changes the environment. Although they don't try to be funny, they can trigger off unexpected laughs by their simple honesty.
What is your favorite book?
"The Heart of A Woman" by Maya Angelou.

What is your favorite album?
Whitney Houston's first album "Whitney Houston"... I loved every song and practiced every note. She had such a beautiful voice and winning smile and personality to accompany.
Where did you have the best meal of your life?
I don't know why, but I cannot forget the meal at my mother's 51st birthday celebration in November of 2000. Cane's Catering provided the most delicious meal that consisted of cajun talapia and crawfish creole. It was perfectly seasoned with just the right amount of spice.
What is your favorite thing you've ever worn and why?
My mother purchased a two piece yellow and hot pink sweater skirt and shirt for me when I was in the seventh grade. I loved that outfit. The top was yellow and hot pink stripes, and the skirt was full yellow. It was bright and just felt great.
What talent do you wish you had?
I wish that I could play a piano and sing at the same time. I love the sound of the piano especially when someone is singing while playing. I sing, but I can't play the piano...yet.
What quality or accomplishment do you want people to know you for?
I want people to know me for helping in times of need and empowering others to be the best that they can be. I know that if everyone does a little to help in times of need, it will go a long way. As an RN Educator with "The Gift of Life", I thoroughly enjoy speaking to young adults, men and women about early detection for breast, testicular, prostate, and cervical cancer. The information that I am able to share transcends into homes and families, neighborhoods and communities. Thus, lives are saved. I like to share good news and information, especially when it helps to save lives.
What makes you feel the most free?
I have shared with many how I felt an enormous sense of freedom once when riding a horse through the ocean years ago. But these days, I feel most free when accomplishing set tasks whether large or small.
Why are you running?
I know that it is imperative that I run. The current representation in District 10 has put policy over people. Texas has the highest number of uninsured citizens in the country. The current representative has participated in 31 attempts to repeal the Affordable Care Act. As a nurse, I know what happens when people are diagnosed late. I think about the children that lose parents early due to late diagnosis and inadequate healthcare. I will bring compassion to the table and remember that behind every number and every statistic is a human life that deserves true representation.
What is the most important issue for women in this election?
The value of women is the most important issue for women in this election. The future for our mothers, sisters, daughters, aunts, and nieces are what is important for this election. I have seen and heard some of the most degrading comments in regards to women in the last several months. These actions simply say that women are not valued. I know that out of many mouths many have said that we are valued, but just follow the vote. We must listen with our ears and our eyes. The fight against the Affordable Care Act hits every woman. This Act has provisions that simply state that insurance companies can no longer consider being a woman as a "pre-existing condition." We are mothers, educators, receptionists, lawyers, business owner, pilots, nurses, chefs, community volunteers, and the list goes on. But we are not a "pre-existing condition." So when members of Congress fight against measures that try to stop women from being considered as such, they are fighting against all of us....regardless of our party affiliation. When members of the U.S. Congress fight against the Fair Pay Act, they are fighting against all women. I have spoken with many women over the last few weeks that were unaware of what the Fair Pay Act was about. They didn't realize that their representatives have been voting against them. We must get involved and stay involved.
I want every woman in America to think independently. Women must get involved and really analyze whether or not their representatives value them. If your representative votes against you, vote against them. We are not asking for perks, but we want what is right. Women support your women candidates that are working for women. You have an opportunity to have a voice at the table. It's homework time. If your representative is voting against you, it is time to speak through our votes. You are valuable and so is your vote.
How can readers get involved in your campaign?
Please visit my website at www.tawanacadienforcongress.com or www.facebook.com/tawana.cadienforcongress or follow me on Twitter at @Cadien4Congress. Our campaign contact is 713.294.0196. I would love to have you on my team!

Also, please join me in spreading the word across the country about Women's Day Wednesdays. For the state of Texas there will be two Wednesdays during Early Voting. We want women to go out and vote for women candidates that will represent the basic rights of women on those days. Remember, if your representative voted against you(Fair Pay, Health Care), it is time to vote against them. You can email womensdaywednesdays@gmail.com and join Womensday Wednesdays on Facebook.

Women can make the difference!
Popular in the Community