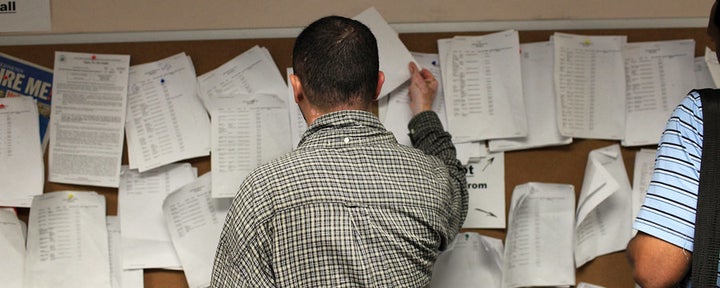 UDPATE: President Obama reached a deal with Republicans to extend Bush-era tax cuts for two years and unemployment benefits for one year. Congress is expected to vote on the deal this week.
WASHINGTON — President Obama has insisted that a reauthorization of the Bush-era tax cuts include a reauthorization of federal unemployment benefits. But will the programs for people laid off through no fault of their own be kept in place as long as the tax cuts for the rich?
Republicans have said they want the tax cuts reauthorized for at least two years.
"I've said that neither side has the votes to get what they want so I think we're going to have to kick it over for about two years," said Sen. Orrin Hatch (R-Utah) on CNN Sunday.
Nobody has said more than one year of unemployment is on the table (though the White House has declined to reveal the specifics of its demands in ongoing negotiations with congressional leaders). Last week Democrats in the Senate pushed a yearlong reauthorization of the benefits as part of a bill that would have allowed tax cuts for the rich to expire. Republicans defeated the bill on Saturday.
In a report last week, the White House Council of Economic Advisers analyzed the potential economic benefit of federal jobless aid in terms of a yearlong reauthorization. (It found that a failure to reauthorize the benefits would result in a 0.6 percent drop in economic growth next December.)
"If it is true that consensus seems to be building toward a two year high-end tax-cut for the top two percent of wage earners, it certainly would make sense to also provide a two year reauthorization of the federal unemployment insurance programs, something that would truly stimulate the economy in the most significant manner possible," said Judy Conti, a lobbyist for the National Employment Law Project.
"However, two years does not seem to be on the table or a realistic expectation right now, which is a shame," Conti said.
The programs Congress created in 2008 and 2009 in response to rising unemployment provided up to 73 weeks of jobless aid for layoff victims who exhaust 26 weeks of state aid without finding work. The programs lapsed last week, potentially cutting off benefits for two million people during the holidays, according to the Labor Department.
The federal benefits are designed to wind down automatically as state unemployment rates decline. Congress has never let extended unemployment benefits expire during a recession before the unemployment rate has fallen below 7.2 percent. Economists expect unemployment to stay above 9 percent through 2011. If federally-funded benefits expire then, a Republican-controlled House of Representatives means reauthorizing the benefits again will be even more difficult than it already is.
Republicans and conservative Democrats have opposed reauthorizing the benefits without offsetting their deficit impact by cutting spending from elsewhere in the budget, something Democratic leaders have absolutely refused to do.
Hatch signaled Sunday that Republicans would relent in their deficit demands so long as the tax cuts for the rich are preserved. "Let's take care of the unemployment compensation even if it isn't -- you know, even, it isn't backed up by real finances," he said.
Calling all HuffPost superfans!
Sign up for membership to become a founding member and help shape HuffPost's next chapter