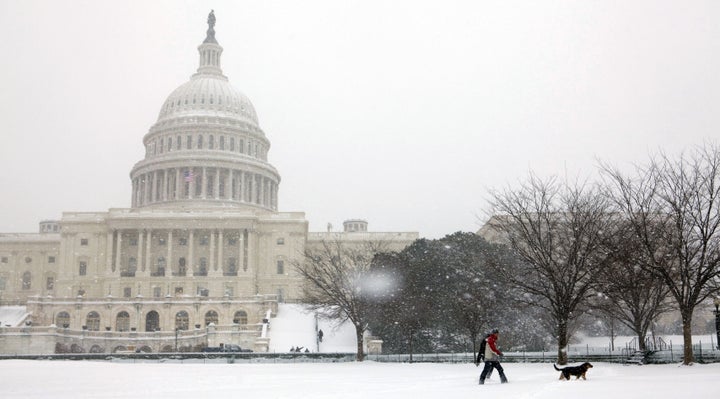 UPDATE: The House of Representatives is slated to vote near midnight Thursday on the bill to preserve extended unemployment benefits and tax cuts for the rich now that Democratic leaders appear to have addressed concerns from rank-and-file members.
After several hours of recess, Rules Committee Chair Louise Slaughter (D-N.Y.) said members will be allowed to vote against the underlying bill even if an amendment to the bill's estate-tax provision is approved. Previously, if the estate-tax amendment carried, the entire bill would have gone to the Senate immediately without another vote on final approval. Several Democrats who supported the amendment but not the overall package had objected to being forced to vote the same way on both items.
WASHINGTON -- House Democrats planning to push through the Obama tax bill unchanged ran into problems on Thursday as rank-and-file members refused to play their part.
After an hours-long meeting of the Democratic caucus, lawmakers said plans for the vote were still in flux as leadership attempts to determine whether its current plan has enough votes to move forward.
Rep. Henry Waxman (D-Calif.) said some Democrats criticized procedures that would only allow lawmakers to introduce one amendment to the bill, and which, if passed, would send the amended package immediately back to the Senate. The current rule allows each party one amendment and an hour and a half of debate time, with 45 minutes of the Democrats' time being granted to those in opposition to the bill. The likely amendment would be a change to the bill's estate-tax provision, presented by Rep. Earl Pomeroy (D-N.D.).
"A lot of members are saying 'I'd like to amend it, but I'd like to vote against it,' " Waxman said.
Democrats will likely have to alter the rule if they want the bill to pass -- meaning delays in what some had hoped would be a smooth process to approve a bill the Senate passed 81-19 on Wednesday. Though a leadership aide said that Democrats were still whipping support for the rule, Rules Committee Chair Louise Slaughter (D-N.Y.) said leadership is looking for a way to allow members to vote in favor of the amendment raising the estate tax without voting for the underlying bill. Slaughter said a final vote should happen by the end of the day.
"It may well be that they come to the decision that you just put it out there and you either vote to concur or vote not to," Waxman said. Still, others who opposed the bill said they think it will eventually pass. Rep. Elijah Cummings (D-Md.) said he supports the amendments but not the final bill, which he plans to vote against.
"I think there will be attempts at amendments, but I think it will be difficult to get those amendments through," Cummings said. "You've got the Republicans who like it, so you don't need a whole lot of Democrats. When you combine the Republicans with the Dems, it should pass."
Rep. David Wu (D-Ore.) said he wasn't happy with how the rule was put together. Earlier this week, he withdrew his proposal to equalize the duration of unemployment benefits and tax cuts for the rich. The deal, brokered by the White House and congressional Republicans, provides two years of tax cuts for the rich in exchange for just 13 months of extended unemployment benefits.
"Obviously I'm very disappointed that my proposal wasn't included," Wu told HuffPost. "I think it also indicates that we can better perfect the small 'd' democratic process within the Democratic caucus. I think the result might have been different if we had used a different process to determine what we were going to do on this bill."
Rep. Donna Edwards (D-Md.) echoed that sentiment.
"There's a pathway that they seek for this bill to move forward," Edwards said, and measures that interfere with the pathway are "not in the cards."
Come 2012 another reauthorization of the federally-funded benefits, which provide up to 73 weeks of aid for people who exhaust 26 weeks of state benefits, would face tough sledding in a Republican-controlled House, even though the unemployment rate is expected to remain above 9 percent.
The benefits lapsed two weeks ago because Congress failed to reauthorize them on time. More than a million people have already missed checks.
Rep. Peter Welch (D-Vt.), who led the charge against the tax deal, said he wants Democrats to be given a chance to make additional amendments to the bill, including changes to tax cuts that could threaten revenue for Social Security.
The leadership is not allowing debate over Social Security because "they don't have the time," Welch said. He said Democratic leaders were not "twisting arms" on the matter and would allow dissenting members to state their case.
Still, he said the momentum from the Senate would make it difficult to block the bill.
"I think the die was cast basically in the Senate," Welch said. "Where we had an opportunity ... was by making senators who were going to hold the middle-class tax cuts hostage to the tax cuts at the high end, make them debate that and vote that over and over again."
Popular in the Community