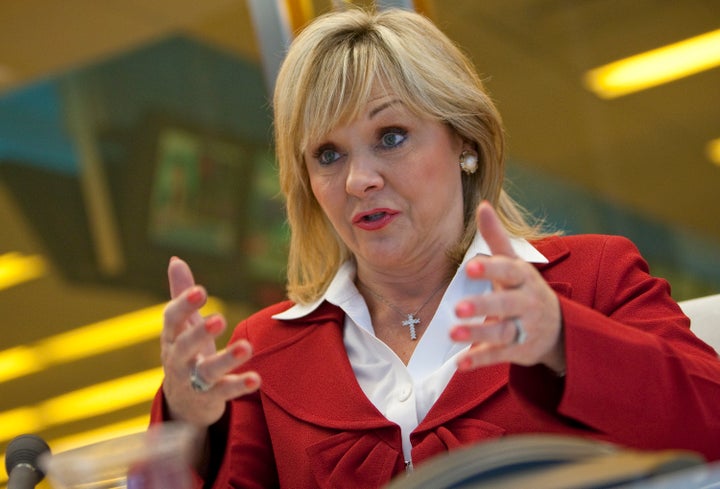 Jessica Jernegan joined her fellow teachers to rally at the Oklahoma state Capitol in 2014 and demand more funding for schools. Despite the pleas of an estimated 25,000 protesters, the Republican-dominated legislature had other priorities in mind.
Lawmakers went on to approve, and Gov. Mary Fallin (R) signed, a measure reducing the top personal income tax rate ― one of several tax cuts that left the state struggling to pay for basic services like public education.
"That was really insulting," recalled Jernegan, a fifth-grade reading teacher in Bixby, which is outside Tulsa. She noted that energy firms have been a prime beneficiary of the state's tax cuts over the years.
"We feel our state legislature has chosen the oil and gas industry over our kids," she said.
States like Oklahoma are now dealing with the reckoning, as educators and other public servants revolt against shrinking budgets that have stretched their workloads and left no money for pay raises.
Teachers in Oklahoma have decided to follow in the footsteps of those in West Virginia, where a historic strike this year shut down schools for nine days. They say they'll walk off the job on April 2 if lawmakers don't pass legislation boosting money for schools and guaranteeing raises for workers. The success of the West Virginia work stoppage, which secured a 5 percent pay hike, has prompted discussions about walkouts and protests in Arizona and Kentucky as well.
"Teachers and support [staff] are tired. Tired of not being listened to. Tired of not getting raises," said Alicia Priest, president of the Oklahoma Education Association, the union organizing the walkout. "The state legislature has the power to make a school closure not happen by funding public education."
The parallels between the funding crises unfolding in West Virginia and Oklahoma are hard to miss.
Both states embarked on a series of bipartisan tax cuts when their local economies appeared to be doing well, with Republican and Democratic leaders alike arguing that they needed to make their states more attractive to businesses. Beginning in 2006, West Virginia gradually reduced its corporate net income tax, phased out its business franchise tax, and eliminated its tax on groceries. Those and other tax cuts have diminished state revenue by an estimated $425 million a year.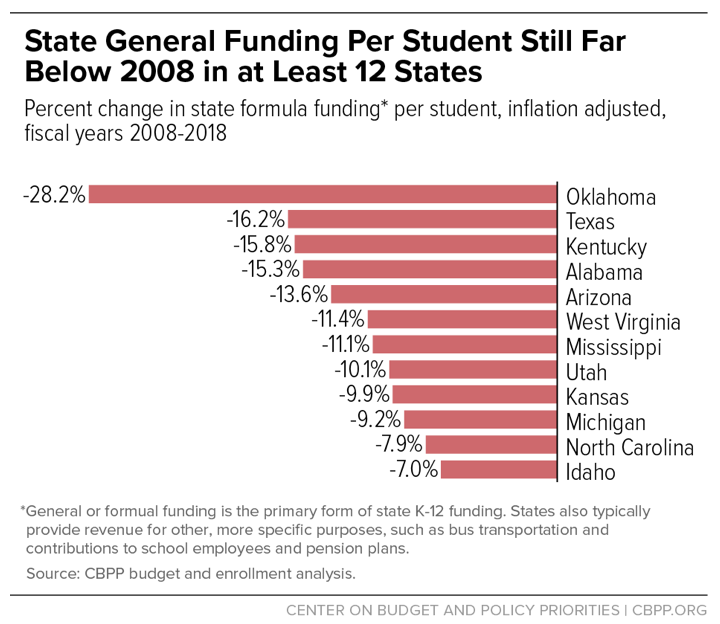 Oklahoma went on a similar tax-cutting binge starting in 2004. Legislators passed a series of bills gradually reducing the state's top income tax rate, which applies to the majority of tax filers. They also increased the standard deduction and exempted capital gains from Oklahoma property sales. The cuts to the income tax rate alone have cost the state $1 billion annually, according to the Oklahoma Policy Institute.
Many states were forced to cut education funding when tax revenue dried up during the Great Recession. Oklahoma now finds itself in an especially dire budget situation because it continued to cut taxes during the recovery that followed, according to Michael Leachman, an analyst at the Center on Budget and Policy Priorities. In addition to slashing income taxes, the state also cut the effective rate of its gross production tax on oil and gas firms.
"They sort of maximized the damage that the recession did to their schools and other public services, and as the economy improved, they kept cutting taxes," Leachman said. "You're just digging your hole even deeper."
Just as falling demand for coal helped dry up West Virginia's coffers, the drop in oil prices eventually hammered Oklahoma. The state has led the nation over the past decade in cuts to its education formula funding, which is the primary way individual districts get state money for schools. Oklahoma has slashed that funding by 28 percent since 2008 when adjusted for inflation, according to CBPP.
HuffPost readers: Are you an Oklahoma educator willing to talk to a reporter? Email us.
The squeezed budget has led to a grave teacher shortage, just like the one in West Virginia. Many Oklahoma schools have dropped to four-day weeks to save money. Each year the state has to certify an increasing number of emergency teachers to fill vacant roles ― it had 1,429 at the start of the current school year, up from 32 just five years ago. Teachers hired in these "emergency" roles do not have to meet the state's normal minimum requirements to teach in public school.
Bonny Reibert, who teaches fifth- and sixth-grade special education in Tulsa, said she knows of three roles in her school being filled on an emergency basis.
"It's not a knock on the emergency certified teachers, but the preparedness they lack is evident in the classroom," Reibert said. "I've been teaching 11 years and I'm just now starting to feel comfortable with my ability and my skills. If you're emergency, you're an amateur and you need that time."
The low pay in Oklahoma has made it difficult to retain educators. The state ranked 49th out of the 50 states and the District of Columbia in teacher pay in 2016, according to the National Education Association teachers union. With an average salary of $45,276, it fell just behind West Virginia and was one of five states where average pay had dropped from the previous year. Although teachers can receive modest "step" increases based on length of tenure, the state has not instituted an across-the-board raise in years.
"Good teachers know what they're worth, and if they can't feed their families, they're gonna go someplace they can."
All of Oklahoma's border states offer higher average salaries. The school district in Dallas, Texas, has taken advantage of the low pay in the Tulsa area by actively recruiting teachers there, Governing magazine reported last year. It distributes flyers that say, "Oklahoma, Join Us!" and advertises starting salaries that are $16,000 higher than those in Oklahoma.
Beth Wallis, a school band director who lives in Tulsa, told HuffPost that a fellow music educator raised his salary from around $32,000 to $50,000 by taking a job across the border in Arkansas.
"Good teachers know what they're worth, and if they can't feed their families, they're gonna go someplace they can," she said.
After years of tax cuts, it's especially difficult for Oklahoma to reverse course in order to raise revenue. State law dictates that any legislative effort to raise taxes must be approved by 75 percent of lawmakers in both chambers. Even proposals with strong bipartisan backing haven't been able to clear such a high bar.
"We're simply not bringing in the money to fund schools," said Gene Perry, a spokesman for the Oklahoma Policy Institute think tank. "We even had our Republican governor and many Republicans [in the legislature] saying and admitting that we have a revenue problem, but they don't have that 75 percent supermajority to do it."
The threat of a lasting school shutdown could change their calculus. As the success of the West Virginia teacher strike demonstrated, lawmakers can find money when they need to resolve a crisis and reopen schools ― even in a budget-strapped state. Several Oklahoma teachers who spoke to HuffPost said they were inspired by what they saw in Charleston, and that teachers from West Virginia have already reached out to offer advice on a shutdown.
Jernegan said she hopes it won't come to that, but she'll be ready if it does.
"I would love to be in my classroom teaching when that shutdown date comes," Jernegan said. "We feel we're giving [lawmakers] ample time to get it done. If not, they will be the ones responsible for shutting down our schools."
Correction: This story originally misspelled the name of the town Bixby.
Support HuffPost
The Stakes Have Never Been Higher
Popular in the Community