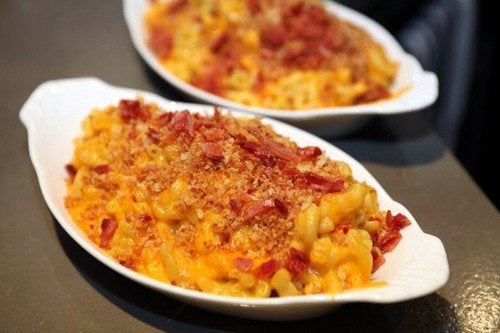 In honor of Tax Day, when comfort food is truly needed, I blissed out on my three favorite anxiety medications -- cheese, pasta and butter -- and set out to find the best mac 'n' cheese in town. Because even if the government said no to a refund check, they can't stop me from getting fat.
Dumont: I started my macaroni quest in the hip land of Billyburg, just off the Lorimer L stop. With enough "vintage details" to drown a cow, half of Williamsburg now looks like Dumont, but 10 years ago, these guys were probably just trying to build a restaurant in Williamsburg that didn't look like a bodega. And they did just that. It's tiny, cozy and masculine, like if Burt Reynolds had an apartment in the 1880s.
The Mac: There are two camps in the mac 'n' cheese world: super cheesy and super creamy. Dumont takes the creamy route. Their brain-crushing creamy sauce has the stinky elegance of Gruyere and Parmesan mixed with some down-home American cheddar. The fresh radiattore pasta, which looks like a mini honeycomb, gets major points for uniqueness, but at the end of the day I prefer a firmer, chewier pasta in my mac. But who am I kidding, this is still the kind of dish that makes vegans hate the rest of us. 432 Union Ave., Brooklyn; 718-486-7717
Macbar: This place looks like an old iMac computer got turned into a nightclub, then got turned into a mac 'n' cheese shop. The inside is canary yellow and sleek and looks like it's from the year 2047. Club jams were pumping from the speakers when I got there, and the smoke from the kitchen was hanging in the halogen lights like fog at a disco party. If it were dimmer I would have undone a couple buttons and gotten freaky on the dance floor.
The Mac: Macaroni with lobster and Cognac!? And mascarpone? And tarragon?! Holy Joan Rivers, Batman! Once ordered, it took forever to come; but when it came, it brought it. The Cognac is super subtle but gives a tangy sweetness that works perfectly with the sweet lobster meat, and the tarragon throws some bright, freaky, hip gyrations into the macaroni dance. It's so worth braving the insanity of Soho for. 54 Prince St.; 212-226-8877
Westville West: If restaurants had personas, Westville West would be a mom: simple, pretty, comforting. She's not sexy, and we don't want her to be. She's a mom. There's also the doe-eyed waitstaff, the bubbly doo-wop music, the soft white lighting. It's like a big, maternal, chest-in-face hug for dinner. Just be prepared to wait for your hug: the inside is tiny and it's always packed.
The Mac: Wow. For just a second, fork in hand, I wished every day was Tax Day. And that puppies never got old. And that eating another plate of mac 'n' cheese wouldn't make me sick. Their gouda bechamel is a creamy, silky, smoky miracle. The noodles are a twisted macaroni, perfectly firm and springy. The crumbles of thick-cut bacon are chewy, salty nuggets of flavor swimming around. Must. Stop. Thinking. About it... 210 W. 10th St.; 212-741-7971
S'mac: This little mom-and-pop mac shop isn't getting any design awards any time soon -- chintzy lighting fixtures, varying hues of clashing orange, etc. -- but that's OK because ideally, you're supposed to wake up in bed in the East Village, get it delivered and eat in your pajamas.
The Mac: What this place has going for it is the wealth of choices -- from the option to get whole-grain or gluten-free macaroni, to the free-for-all of the Build Your Own menu. As my professor used to say, "They'll give you just enough rope to hang yourself with." The La Mancha with cool, creamy Manchego melted in with a bright, punchy fennel and caramelized onions is more likable than a Spanish lisp, which for me is really saying something. 345 E. 12th St.; 212-358-7912
Cafeteria: When I got there at 1am on Thursday night, the Spice Girls were blasting and the place was packed. Never a bad sign. "White, soft lighting, hot guys in suspenders, more white, big flowers" pretty much sums up the decor. And the crowd? Well, let's just say there were six-packs everywhere and not a pint in sight. But no matter what your carnal persuasions are, who can turn down solid drunk-food that's available all night, any day of the week?
The Mac: Truffle oil + Mac 'n' cheese = best 3am food imaginable. Although truffle oil is kind of like Chanel No. 5 in the sense that it makes anything it goes on smell funny and seem instantly richer, it's still a genius addition to mac 'n' cheese. Besides the truffle oil, the macaroni is firm, and the bubbly, burnt layer of cheese on top is really nice. The cheese could be creamier, but really, when it's almost dawn and you've forgotten for a moment that you have a spinning class at David Barton with DJ Poppyhop tomorrow, who really cares? 119 7th Ave.; 212-414-1717
And the winner is. . . Westville West! It's everything you ever wanted in Mac 'n' Cheese: perfectly creamy, smoky, chewy, salty. And then as penance, you can get their plate of fresh grilled veggies to absolve you of your sins. Runners up? Dumont and 'Smac. Now go do your freaking taxes.